Destination Knoxville Holiday Inn World's Fair Park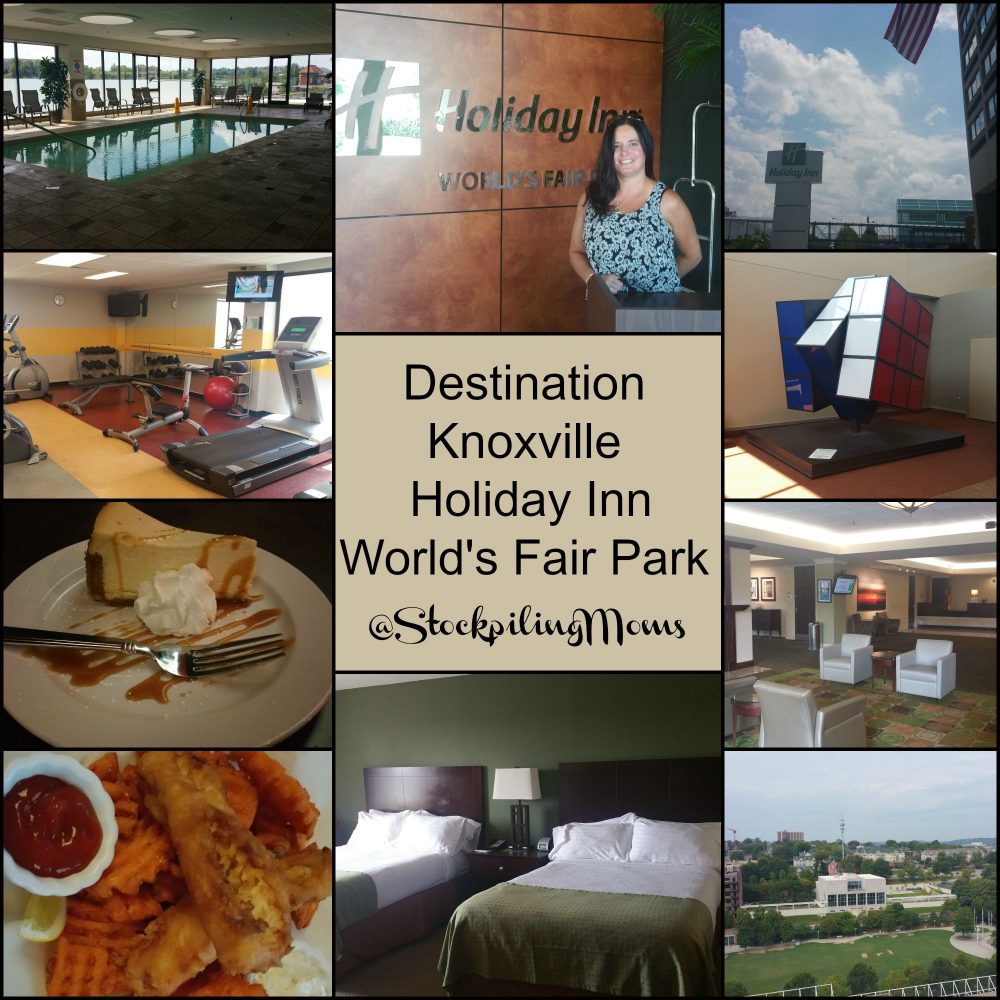 Destination Knoxville Holiday Inn World's Fair Park. The Knoxville, Tennessee Holiday Inn World's Fair Site is a perfect travel destination! There is so much to do within walking distance of the Holiday Inn World's Fair Park and fun for the whole family. We took a weekend trip to Knoxville and loved having so many dining options and family friendly activities within walking distance of the hotel.
Why you should stay at the Holiday Inn World's Fair Park
Accommodations – The rooms were very comfortable. I usually do not sleep well when I travel but I slept both nights on this trip. This hotel offers eco friendly rooms so make sure you listen closely when you are checking in. The eco friendly rooms are controlled by your room key. If you remove the key from the wall scanner it will shut everything off and only run the air conditioning or heat to their set temperature. My advice to you is get an extra key to keep in your wall scanner if you are a control freak about the air as I am! The fact that this hotel includes FREE WiFi is AWESOME.
Conference Center – Holiday Inn World's Fair Park is the home to many conferences and conventions. While I was there I toured their convention facilities and they were extremely nice and roomy. You also need to visit and think about staying at the hotel during UT games and events. The Holiday Inn offers great rooms and I have heard they have some amazing tailgating parties before UT home games!
Dining – Windows in the Park was a fabulous place to dine! Executive Chef Chris Leynes and his culinary team feature signature farm to table items made from fresh TN and regional ingredients. I had the pleasure of meeting Chef Chris and see the pride he takes in preparing a fresh meal for you. All of the serving staff was on top of everything and they made our dining experience fun and enjoyable. I recommend the fish and chips with sweet potato fries and my family had steak. Everything was prepared beautifully and tasted amazing. Breakfast was a treat because we love breakfast so much. They offer make your own waffles, fresh prepared eggs and omelets, and other breakfast foods were an early morning must!
Hotel Lounge – Windows on the Park Lounge Stylish, chic downtown lounge directly overlooking World's Fair Park features happy hour daily from 4-7 pm. You can choose from a large selection of craft beer, top shelf beverages, and wine. We met some friends we hadn't seen in years and it was a great place to catch up. The bar attendants were fun, interactive, and very attentive! It was a great night!
Pool and Workout Room – We did not use the indoor pool this visit but we did go in and look. The pool area is a nice size and VERY clean which is something I always look for. They also have a very nice, but small, workout room. It is equipped with elliptical machine, exercise bikes, treadmills, and a limited selection of free weights.
The World's Largest Rubik's Cube is located in the hotel! The kids will love seeing this!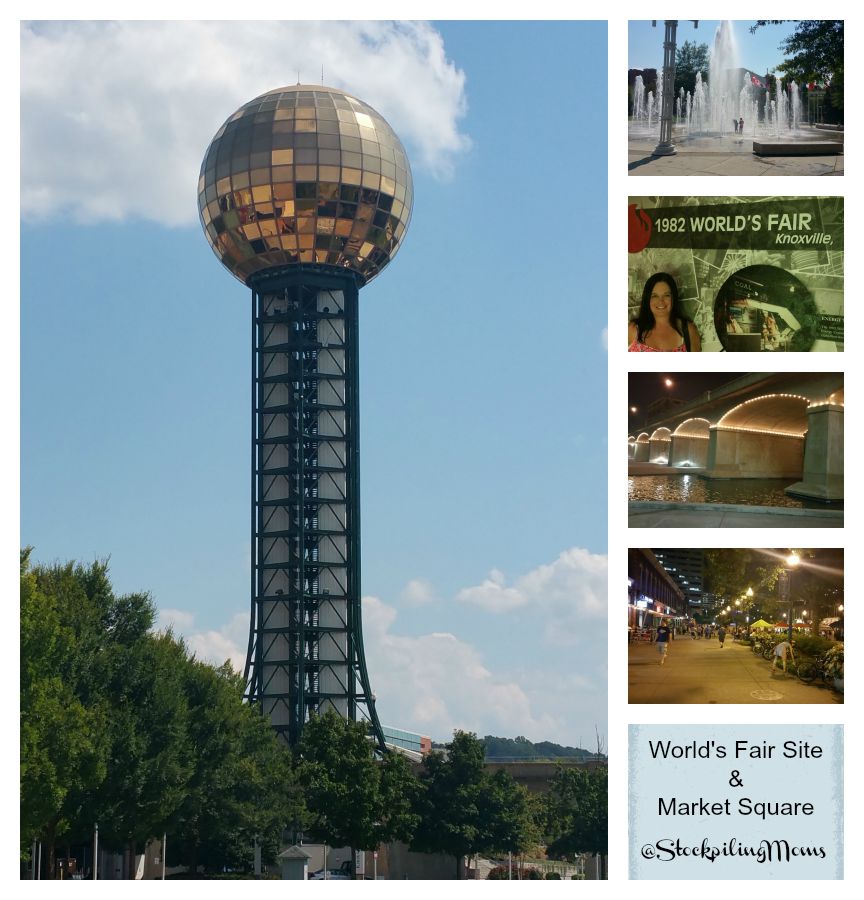 Destination Knoxville Holiday Inn World's Fair Park
Area Attractions
Knoxville Museum of Art – Just a short walk you can be at the Knoxville Museum of Art. The museum is free to all visitors and is the permanent home to the local but internationally acclaimed artist Richard Jolly's, Cycle of Life: Within the Power of Dreams and the Wonder of Infinity sculpture. This sculpture is one of the largest figurative glass and steal sculptures in the world.
World's Fair Park Sunsphere – The Sunsphere was constructed for the 1982 World's Fair. You can go up and see the city, dine in the restaurant, and learn the history of the Sunsphere and city.
World's Fair Park Court of Flags Fountains – These interactive fountains are amazing! This is perfect fun for children of all ages (including me). I sat and watched the kids have so much fun running through the high shooting geysers and the small ones they splashed through. This could be hours of fun and if you get tired of the water there is a playground next to it.
Market Square – Market Square is just a short walk from the hotel. This is a very beautiful area with lots of restaurants, bars, and shops. We were there on a Saturday night and we enjoyed street performers, live bands, and the people watching was a lot of fun! We love to see people enjoying life and having fun! The square also has two water play fountains for the kids. We had dinner at Trio Cafe because we needed something light. The serving staff was amazing and the food was very good. I had the Twisted Grilled Cheese with Mushrooms and I enjoyed everything about it! I hear they have a Farmer's Market during the summer but we were to late in the day to check it out!
Knoxville Zoo – You can be at the Knoxville zoo in no time. Check out the Williams Family Giraffe Encounter!
Gatlinburg and Pigeon Forge – You can be in the Mountains in 45 minutes! We like to go but we do not like to stay there the whole time. It gets really crowded and the traffic is honorific during peak times. This trip we visited Dollywood. Check out my article on Top 10 Things to do at Dollywood.
Disclosure: I was provided free rooms, dinner, and breakfast at the Holiday Inn World's Fair Site hotel but all opinions in this review are 100% my own.
Shelley is a boy mom, marine wife, and is blessed with an amazing family. She loves sharing recipes, travel reviews and tips that focus on helping busy families make memories.