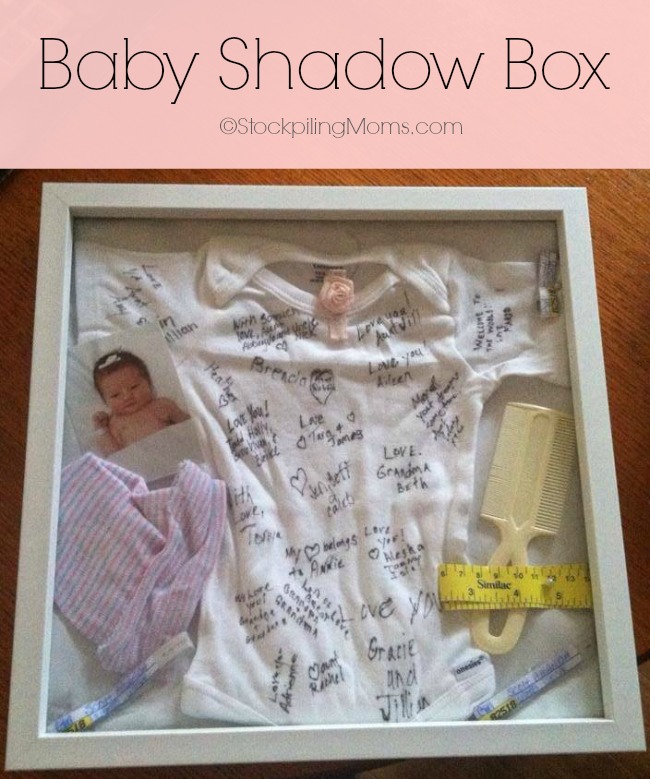 How adorable is the Baby Shadow Box! My former student and now lifelong friend Amanda shared this with me, and I asked her if we could share it with you! I love this wonderful project that is a treasured keepsake forever!
Baby Shadow Box:
She had all of the people who visited her in the hospital sign the onesie that her daughter wore and then she added all of her baby "firsts". She included her hospital hat, both hers and the baby hospital bracelet, baby comb, tape they used to measure with. She of course included her hospital picture too! I thought this keepsake turned out to be absolutely precious. I love making memories for my kids and she made this one that is absolutely priceless.
I love this keepsake. I wish I had been able to create one with Peyton but as an adoptive Mom that was not possible. Instead, I created this baby clothes keepsake quilt. This is a treasured keepsake for him and one that not only I treasure but that he will too in the years to come.
I hope you enjoy this Baby Shadow Box idea. It really is precious and one that can be hung in the baby's room and for years to come.
Baby Posts:
How to make your Own Baby Food
How to make your Own Baby Food – Part 2
Whimsical Vintage Baby Boy Nursery Ideas
How to Stockpile Diapers and Baby Supplies
How to make a Baby Diaper Cake
Melissa is a football and soccer mom who has been married to her best friend for 24 years. She loves sharing recipes, travel reviews and tips that focus on helping busy families make memories.