7 Ways to Incorporate Science into your Walt Disney World Vacation
Look below at 7 ways to incorporate science into your Disney World Vacation so you can get started. Did you know that Disney World is full of not just magic, but science too?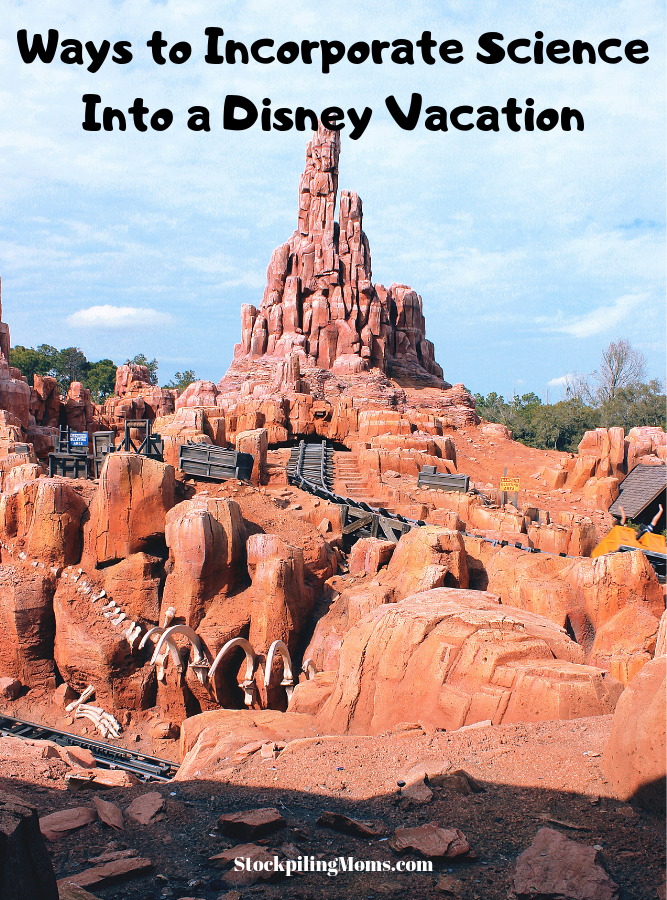 If you are planning a Disney World trip with the kids, see how you can incorporate science into your visit. Learning while at Disney doesn't have to be a chore, in fact, it can be quite fun and entertaining.
7 ways to incorporate science into your Disney World Vacation:
1. Read a thermometer to check the daily temperatures.
You will want to know the temperature for your day at Disney, so consult an outdoor thermometer or local newspaper to find it. Reading a thermometer is best, but even if you just need to practice pre-written amount on an app or the paper is still educational!
2. Use a device to see how many calories you burn during your day-long excursion.
Use an app or ther fitness device to see how many calories your body burns while walking during the day. If you want you can make an estimation before you go. Then, see how close your guess was to the actual number. Were you close? You might be surprised!
3. Look for examples of solids and liquids.
Look around the park for examples of solids and liquids. You can even look for examples of gas. For solids there are cups and plates, for liquids, there are water and soda, and for gas, there are helium balloons! Look for all of these examples and see how many you can locate.
4. Spy examples of chemical reactions.
Chemical reactions are taking place all around us whether we know it or not! Look for examples of chemical reactions while at Disney. These won't be as easy to spot, but if you are vigilant you should see a few!
5. Note the various types of plant and wildlife in the park.
Disney parks are full of wildlife, both plant and animal! See how many different species you can spot. If you wish you can write them down as you see them or just keep track in your head. If you need any assistance identifying, just ask a Disney cast member to help you out. Most are quite knowledgeable about the animals and plants located in the park.
6. Look for ways that Disney is trying to be more Earth friendly.
Disney is always trying to leave a smaller carbon footprint. Look for ways that the park is striving to be more earth friendly. This could mean using recycled products, having recycling stations, planting trees, and refillable water stations.
7. Talk about how science comes into play when designing rides.
Thrill rides especially have a great deal of science involved in the planning. You need to consider the slope and incline of the ride, the speed, the height, and all of the other elements to keep it safe. Take time to discuss a few rides and think about science plays a huge roll in how they are constructed.
Make your time at Disney an educational one. Consider these 7 ways to incorporate science into your Disney World Vacation!
More Disney Travel Tips:
Stockpiling Moms can be found in all your favorite places. Hop on over to Instagram and follow the fun. We love posting memes, family fun, travel, and whatever we are feeling that day. Pinterest is also an amazing place to visit Stockpiling Moms. This is where you can pin all your favorite articles from our Food, Travel & Lifestyle Blog.
Melissa is a football and soccer mom who has been married to her best friend for 24 years. She loves sharing recipes, travel reviews and tips that focus on helping busy families make memories.