7 Ways to Incorporate Reading Skills into your Walt Disney World Vacation
Look below at 7 ways to incorporate reading skills into your Walt Disney World vacation, and see how it is the perfect place to put the skill of literacy to use!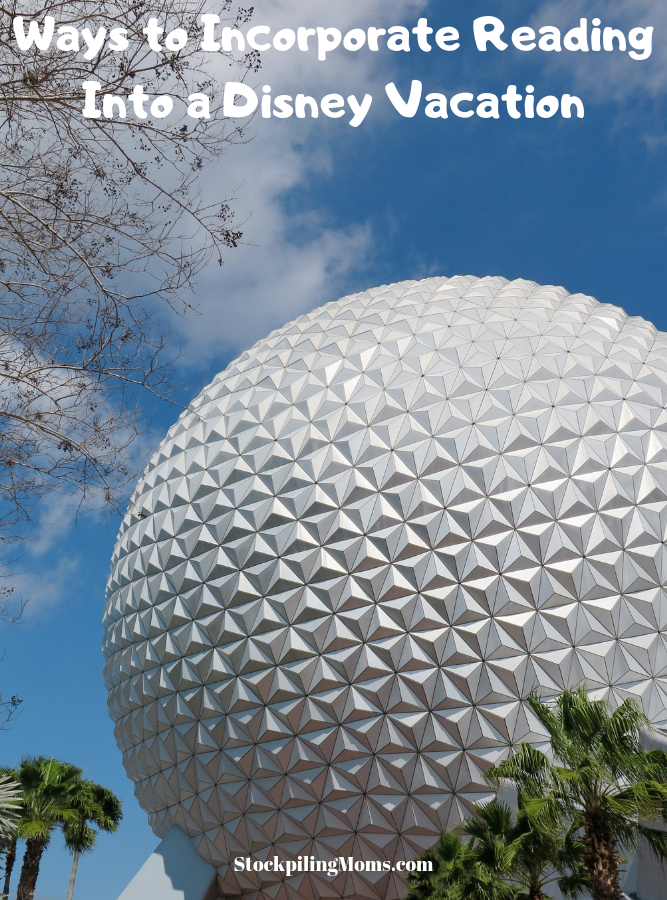 Do you have a child who loves to read, or even need to brush up on their reading skills? If so, Disney World is a great place to put reading into action! You might be surprised at how educational of a place Disney World can really be. Here is what you need to know!
7 Ways to Incorporate Reading Skills into Your Disney World Visit
1. Practice map reading.
Upon arrival, you will get a park map complete with all of the information you need for your visit. Now is a great time to practice certain map site words such as north, south, east, and west. You can also practice the various names of each section of the park, and point out points of interest.
2. Look for ways Disney uses symbols to represent words.
Disney uses a great deal of symbols in order to help guests find direction. Look for examples where a picture or symbol is used to represent a word. For example, many restroom signs have the male or female symbol on them, while many of the trash bins have a symbol on them as well.
3. Practice reading ride signs.
Have kids use context clues around the ride to read the ride sign. By seeing the theme of the ride they should be able to read it easier. Before you get on each ride see if they can read the sign on the attraction. Read the rules together, guiding them as they go. Or read to them and have them follow along.
4. Create a list of 5 sight words and see how many times you can spot them.
There are some words you will see at the park more than others. Create a list of site words and encourage kids to point them out as they see them. Examples include EXIT, MENU, MEN, WOMEN, FAST PASS. Show kids these words ahead of time and see if they can spot them!
5. Practice letter sounds while waiting in line.
While waiting in line you can help pass the time by practicing letter sounds. Name a letter and have your child say the sound it makes. You can also think of a word that starts with this letter. This is a fun and educational way to pass the time while you wait and learn in the process.
6. Take a book to enjoy while you have a snack.
It is always nice to enjoy a shady spot and have snack time midday. Take a favorite book with you so you can open it up and enjoy it while you are there. It is a great way to relax for a bit, and a fun way to work on those reading skills in the process. Now is even a good time to get out the map and point out words that kids might recognize.
7. Don't forget to snag a new book from the gift shops!
You want to remember your educational day at Disney, so don't forget to snag a book or two from the gift shops before you go! This way, you can keep reading even after the Disney trip is over. Now THAT is magical! I hope these 7 ways to incorporate reading skills into your Walt Disney World vacation help you.
More Disney Vacation Tips:
Stockpiling Moms can be found in all your favorite places. Hop on over to Instagram and follow the fun. We love posting memes, family fun, travel, and whatever we are feeling that day. Pinterest is also an amazing place to visit Stockpiling Moms. This is where you can pin all your favorite articles from our Food, Travel & Lifestyle Blog.
Melissa is a football and soccer mom who has been married to her best friend for 24 years. She loves sharing recipes, travel reviews and tips that focus on helping busy families make memories.