7 Best Diabetic Snacks That Won't Raise Blood Sugar
7 Best Diabetic Snacks That Won't Raise Blood Sugar. Diabetic snacks can seem daunting to find, but the reality is they are quite simple. Just because you are diabetic doesn't mean you can't still enjoy some of your favorite foods. With the fact that we understand more about how diabetes works, and about health – we can easily choose snacks that are healthy, full of flavor and great for not raising blood sugar levels but satisfying cravings.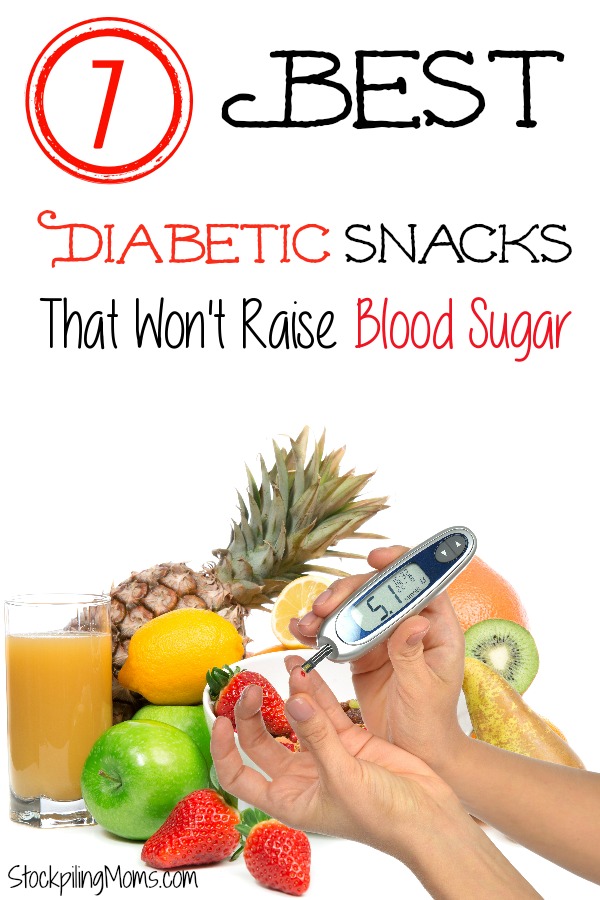 7 Best Diabetic Snacks That Won't Raise Blood Sugar
Low-fat cheese. Cheese is high in protein and satisfying, but you still want to be careful about fat intake. Low-fat cheese is a great choice. String cheese is an easy portion-controlled favorite, but you may also look for 2% cheddar and cube into 1-ounce portions. Cheese pairs well with fruit, but especially apples and pears for a well-rounded snack option.
Peanut butter and fruit or vegetables. Peanut butter has a bad rap at times but is a great high protein snack when you choose ones with no added sugars. Natural and organic peanut butter is great for slowly elevating blood sugar when it is too low, but also a great option alongside some fruit or vegetables like celery or carrots. Remember to portion this and other diabetic snacks in appropriate servings. Indulging in too large a portion makes it unhealthy no matter what you choose.
Hummus with vegetables. Hummus has become one of the hottest snack foods around and is ideal for diabetics. This high-protein dip is made of garbanzo beans and is naturally low-fat and low in sugar. Served with vegetables instead of high carbohydrate chips makes it an even healthier option for a diabetic snack's choice.
Trail mix. Trail mix is a handy choice and easy to make in large batches. While there are tons of ready-made options out there, the salt and sugar content make them not as great a choice. Grab some almonds, pecans, walnuts and cashews and mix them with dried fruits like raisins, apricots, pineapple and mango chunks. Portion into 1/4-1/2 cup portions and use this as a healthier option instead of candy bars or chips.
Greek yogurt with fresh fruit. Greek yogurt has become wildly popular for good reason. This high-protein and high-calcium food is a great choice as long as you don't buy the ones loaded with added sugar and flavors. Choose plain non-fat Greek yogurt and sweeten with fresh or frozen fruit. If it is still in need of flavor, you can add a drizzle of raw organic honey.
Turkey Jerky. Jerky is one of our favorite diabetic snacks. With high-protein and low-sugar it is convenient, shelf-stable and satisfying. Choosing turkey over beef helps save calories and maintains the same flavor you love. Portion control is important, but this can easily fit into your diet along with a piece of fruit for a satisfying and hearty snack.
Tuna and crackers. Tuna has been a diet food for as long as I can remember, but that doesn't mean it isn't a great tasty choice for a snack. It is a great high-protein snack that goes great on some whole grain crackers. Eat your tuna plain or add a bit of spicy brown mustard and pickles for a tuna salad with half the calories and tons of flavor.
These diabetic snacks are great to keep on hand for those days when your blood sugar feels a bit low, or you find yourself hungry between meals. With great high-fiber and high-protein choices, you are sure to feel satisfied without sacrificing your healthier diabetic diet lifestyle.
HEALTHY LIVING POSTS:
How To Do Weight Watchers for Free – Check this out!
Healthy Cucumber Snack – My favorite snack when I am trying to flush toxins.
20 Calorie Sugar Free Hot Cocoa Recipe – A little sweet treat without increasing your calorie intake.
Healthy Palm Tree Snack Idea for Kids – Love this healthy snack for kids and adults!
Healthy Peanut Butter Chocolate Chip Apple Snack – My go to snack when I am craving something sweet.
Stockpiling Moms can be found in all your favorite places! Hop on over to Instagram and follow the fun! We love posting memes, family fun, travel, and whatever we are feeling that day! Pinterest is also an amazing place to visit Stockpiling Moms. This is where you can pin all your favorite articles from our Food, Travel & Lifestyle Blog!
Melissa is a football and soccer mom who has been married to her best friend for 24 years. She loves sharing recipes, travel reviews and tips that focus on helping busy families make memories.