5 Tips for Flying Allegiant Airlines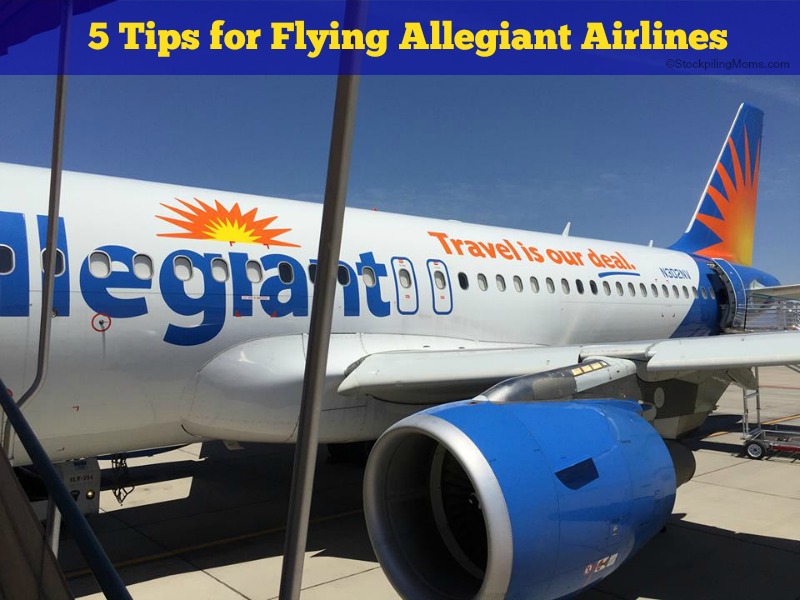 Here are 5 Tips for Flying Allegiant Airlines. We recently had the opportunity to fly Allegiant Airlines from Cincinnati to Phoenix. If you are looking for a discounted air fare and live near an airport that flies Allegiant Air, then we suggest that you price it. Their tagline reads "Travel is our deal." I had heard that Allegiant was a great way to save from friends and family who fly it often, but we had never flown it ourselves. When we started comparing prices, we couldn't believe the savings. We are sharing with you our experience and tips for flying with Allegiant Air in hopes to make your next trip with them as easy as possible.
Prior to booking our flight we compared several airlines to Allegiant. There was no comparison when it came to price. In addition to the price there were no other direct flights available which was another reason why we chose Allegiant.
Allegiant Air – Non Stop – $289.00 (including taxes, gov charges and fees) Did not include extra: Pay for Carry On – Pay for Checked Bag – Pay for Beverages and Snacks – Pay for Seat Assignment
Competitors (average price) – 1 Stop – $650 (including taxes, gov charges and fees) – Did not include extra: Free Carry On – Pay for Checked Bag – Free Beverages – Pay for Snacks – Free Seat Assignment
5 Tips for Flying Allegiant Airlines:
5. Seat Assignments – Allegiant Charges for Seat Assignments. What? Yes. It is true. The fee will vary based on where on the plane that you choose a seat. We did want a seat assigned because we use that time to talk business while in the air. Passengers who have not purchased a seat assignment — "Not assigned" — will be assigned a seat by the system at no cost upon check-in. If you would like to select your seats, simply log in to Manage Travel or download the Allegiant2Go App for iPhone or Android before you check-in online or get to the airport.
It is less expensive to purchase a seat prior to your flight. We found the app easy to use and a big time saver. We also logged in online to manage travel too and both were easy to access. If you are NOT traveling with someone or with children I would say it would be no concern to skip the seat assignment to save the money. Our seat assignment was $21 for one flight and $19 for the 2nd however that was for a seat in the first row. I noticed that seats further back were much less (as low as $7).
If you opt not to purchase a seat assignment you can still check-in online or via the app and avoid the boarding pass fee. If you do not check-in online or via the app you will be charged $5 per person to print your boarding passes and you will have to check in at the ticket counter prior to going through security.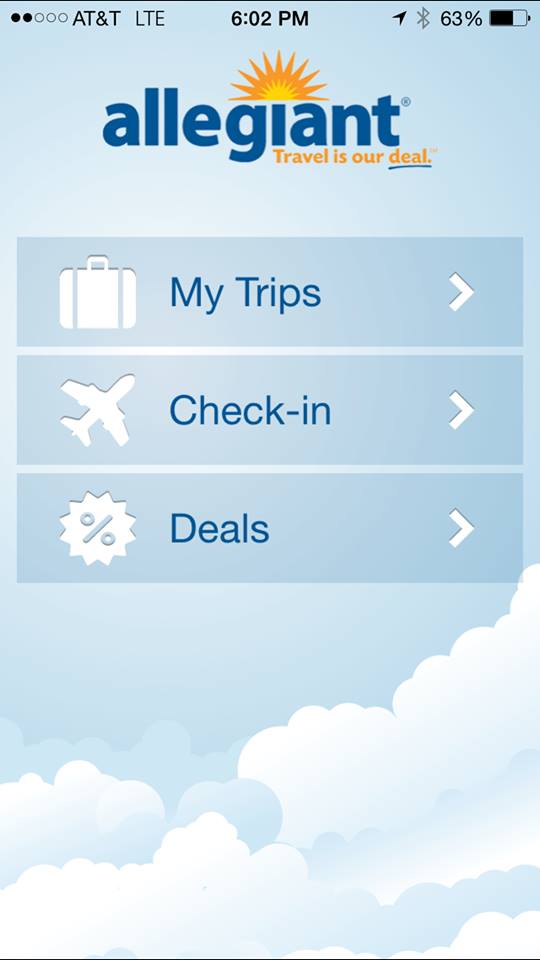 4. Smaller Airports – We personally love that Allegiant offers flights out of smaller airports. For us we consider this a positive because it took us less time to go through security in Mesa and the airport was not crowded at all. Parking was literally right outside of the airport entrance and was extremely convenient to fly in and out of without dealing with traffic and congestion. Though the airport was a further distance from our hotel it really was an added bonus for us. Our airport (CVG) is an International Airport so not every airport is small however many are so sure to consider that when you book your travel.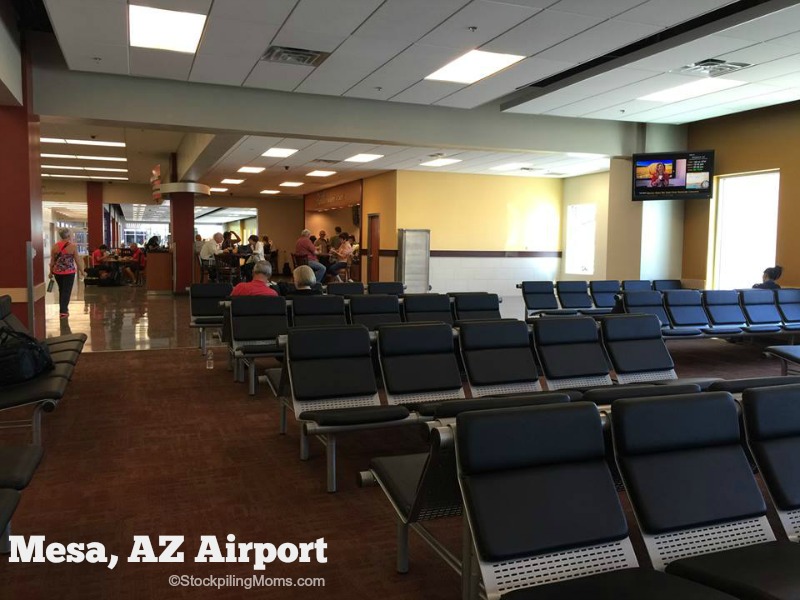 3. How Can You Save Money – By printing your boarding pass at home you will save yourself $5. You can also save money by adding seats, carry-ons and checked bags before you get to the airport. Visit Manage Travel or download the Allegiant2Go App for iPhone or Android for details. Baggage fees are higher at the airport. A helpful tip is to measure and weigh your bags carefully. Any checked bag weighing more than forty (40) pounds will be charged additional overweight fees. See the Baggage Fees section for additional information. You may travel with one Personal Item that can fit under the seat in front of you free of charge. Please measure your bags carefully. All exterior measurements include wheels, pockets, handles and decorations. Fees for checked bags and carry-on bag are by route and apply per bag, per segment.
Please note passengers may bring car seats/strollers, mobility aids or assistive devices, medical equipment such as portable oxygen concentrators or diabetic supplies, food for consumption in flight, a coat, jacket, diaper bag, or an umbrella on board the aircraft without charge. If it is possible to pack in a personal bag for your trip this is the way to go. If not, we suggest that you splurge for a checked bag so you can avoid trying to find space near your seat for your luggage. We did have to wait for a considerable amount of time for our checked bag because all of the Allegiant flights share the same luggage equipment.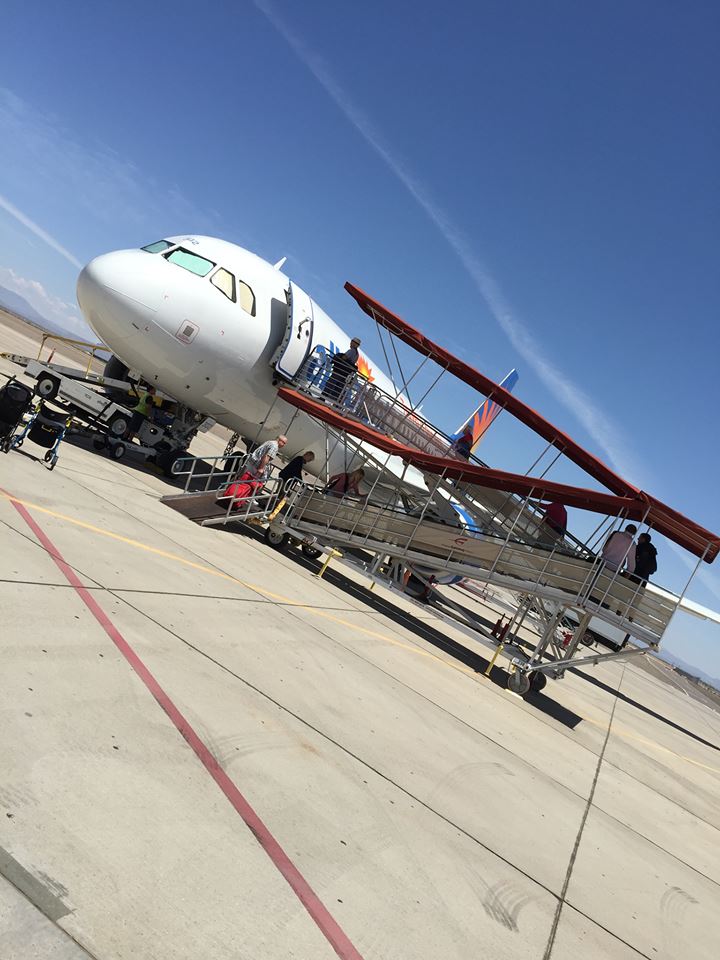 2. At the airport – You can not check in until exactly 2 hours prior to your flight if you do not print your own boarding pass and have a checked bag. There is no need to arrive at the airport before because they will not allow you to check in until that time. We actually arrived too early on our way to Phoenix and had to wait until they were ready to board our specific flight. They use the same ticket counter and luggage equipment for all flights so this is why they will not allow you to check in early.
Proof of age is required for all passengers, including passengers under the age of 18 who are traveling alone. Passengers who are unable to provide proof of age will not be permitted to board the aircraft. Passengers should be at the boarding gate at least one hour prior to flight departure. Flights will be closed out 10 minutes prior to scheduled departure. In accordance with federal regulations, any passenger who appears to be intoxicated may be denied boarding. Also be sure to note that Allegiant will not accept check, cash or a money order as a form of payment.
1. Bring Your Own Snacks – Allegiant charges for snacks and beverages. You are reading this correctly. We found the prices for on board refreshments are fair however a great way to save is to bring your own food. It is not possible to carry on your own beverages due to TSA guidelines unless they are less than 3 oz. However, we carried on our own snacks that we brought from home with no concern. The price for a soft drink and water was $2.00. We felt that prices were really fair considering that they were more than that in the airport. Snacks on board ranged from $2-$10 depending on what you purchased. Many people purchased food in the airport that wanted a hot meal and brought it on board.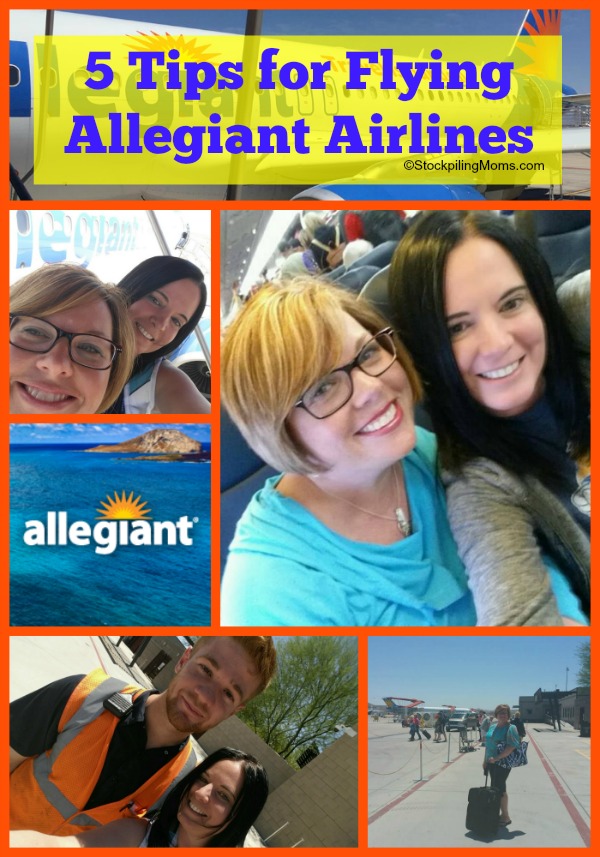 Our Review and More Tips:
We found the ground staff to be very friendly and easy going. As you can see one even took a selfie with Shelley! You can tell that they seem to have many "frequent fliers". We packed a small personal item (Shelley took a backpack and I took a tote bag). We each packed our purses inside our personal bag. As long as your personal bag fits under your seat you have no issues. We paid for a carry on and those must go above your seat. One thing that we noted was that people placed their carry-on bags at the front of the plane regardless where their seat assignment was so that made it difficult for those who had a seat at the front of the plane. You can pay additional for early boarding and that may help eliminate that problem if you chose to purchase that add on and we will consider that for the future.
The airplanes were no frill. There are no movies to watch on board and generally the seats were a little less comfortable than other carriers I have flown with. Our seats were leather and they were not extremely padded however they got the job done just fine. I would suggest that you bring your own travel neck pillow if possible (even an inflatable one would have been nice). Also my suggestion would be to dress in layers. I got chilly on the flight out to Phoenix and was warm on the flight back to Cincinnati. By dressing in layers this was something that I could control easily. We did think that aisle was slightly wider and the luggage storage was normal. I did find that the plane was little louder than other carriers and earbuds/ear plugs/noise cancelling ear phones would have come in really handy.
There were a lot of pets on our flight. When I say a lot I mean there were at least 5 that we counted easily on each flight. That seems a little abnormal to me but as a dog lover I found myself talking to the owners to find out their thoughts on traveling with pets via Allegiant. All of the pets were in carriers except for one which was a service animal. One of the owners told us they paid $100 for each leg for their pet to fly with them. In general I am not sure why there were so many animals on board but it just seemed to be noticeable. We actually shared some tips for flying with dogs with one of the owners whose dog was struggling.
In general, we found that Allegiant is a no-frills airline. They seem to be pretty relaxed and easy going and have a laid back state of mind. You need to have a similar frame of mind if you are going to fly Allegiant. We took the time to speak to literally everyone around us and what we found time and time again was that Allegiant has loyal frequent fliers. Everyone we spoke to flies Allegiant often and for the following reasons: 1. It is affordable. 2. Smaller airports. 3. No frills/easy going. Most everyone suggested to us to always pay for an assigned seat and to pay for early boarding. Time and time again we were told it is worth it to pay for these two additional fees. Also, several suggested to us to forget the carry on and go with the checked bag if you can't fit your items in a personal bag.
We personally had no issue with flight delays or cancellations. We did run into several people who had experienced flight delays and cancellations, but we did not. You need to remember that Allegiant is a small airline at this time and if they run into a mechanical issue with a plane or a schedule issue with a pilot that they may not have a backup available. I did find that their social media channels (twitter) responded to all of my tweets during our travels which was nice.
Also, a tip from our reader – you can't necessarily fly from one Allegiant airport to any other Allegiant airport. Each airport will fly to only a handful of airports. For example, you can't fly from Greensboro to Grand Rapids but you can fly from Greensboro to Orlando, even though they all have Allegiant Air.
Would we fly Allegiant again?
Yes, we would. If you are looking for an affordable weekend getaway or travel for a vacation, then we would suggest Allegiant. Because of the flight schedules you have to be flexible with travel and that is easier for leisure travel versus business travel. Allegiant Air is a great way to save money. We had a really positive experience and enjoyed the relaxed and easy-going environment that they provided. Allegiant is no frills but that didn't bother us.
I think to the words my mom has said over and over to me "You get what you pay for". With Allegiant Air you are paying for air transportation. You get what you pay for! You can save big when it comes to traveling with Allegiant and you can add to your flight to make it a little more convenient and comfortable or you can go as affordable as you want. It is definitely an À la carte way to travel and I really like that for those who are on a budget. Allegiant makes traveling affordable and that is a win/win if you ask me!
Disclosure: Allegiant Air provided our flights for our review however all opinions are 100% our own.5 Tips for Flying Allegiant Airlines
Travel Articles:
70 Things to Do in the Cincinnati Area
Why you should visit Loveland Ohio
How to save money at Great Wolf Lodge
Stockpiling Moms can be found in all your favorite places. Hop on over to Instagram and follow the fun. We love posting memes, family fun, travel, and whatever we are feeling that day. Pinterest is also an amazing place to visit Stockpiling Moms. This is where you can pin all your favorite articles from our Food, Travel & Lifestyle Blog.
Melissa is a football and soccer mom who has been married to her best friend for 24 years. She loves sharing recipes, travel reviews and tips that focus on helping busy families make memories.