10 Reasons to Stay at The Chattanoogan Hotel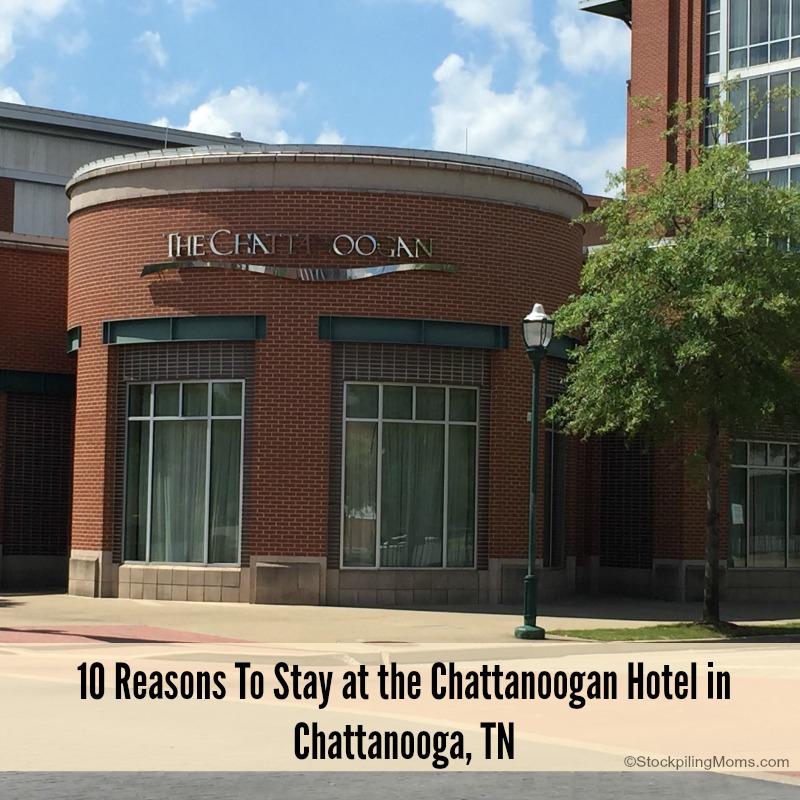 Here are 10 Reasons to Stay at The Chattanoogan Hotel. We are home from a great weekend visit to Chattanooga, TN. If you are looking for a fun family friendly destination look no further than Chattanooga. We had the best trip! We had the opportunity to stay at The Chattanoogan Hotel and it really was a fabulous place to stay. We are sharing with you 10 reasons of why we think you should stay at The Chattanoogan Hotel if you visit Chattanooga, TN.
10 Reasons to Stay at The Chattanoogan Hotel in Chattanooga, TN
The recipient of numerous awards and accolades, The Chattanoogan features superior service, elegant décor, upscale amenities and state-of-the-art conference facilities. It is a AAA – 4 Diamond hotel too! The upscale Tennessee hotel is within a two-hour drive from many cities in the Southeast, including Atlanta, Nashville and Birmingham, and is within walking distance of the downtown's top attractions, Chattanooga restaurants and shopping. It was a six-hour drive for us from Cincinnati and the perfect destination for a weekend road trip.
1. The Location – Located in the heart of downtown Chattanooga with spectacular views of beautiful Lookout Mountain, the upscale downtown Chattanooga hotel offers 199 newly renovated guestrooms and suites. In addition to the upscale amenities at the hotel, there are many activities, sights and attractions in Chattanooga, making The Chattanoogan hotel an amazing destination for visitors. We were within walking distance to shopping and dining and only 1 block away from the free Electric Shuttle Stop that will drop you off at the Tennessee Aquarium.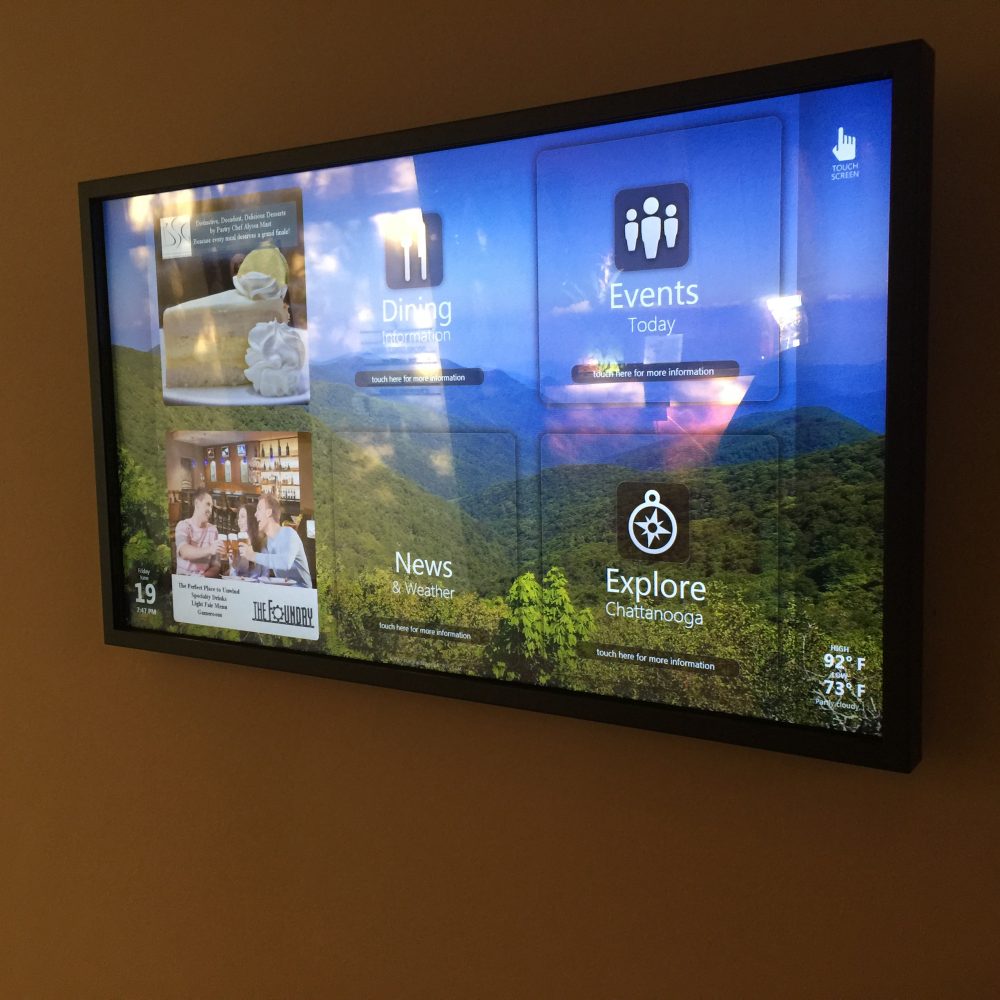 2. Clean and Comfortable – The hotel was clean and comfortable. This is truly how I judge a hotel. If I don't feel comfortable in a hotel that means I won't sleep well. If a room is not clean and the bedding is not comfortable then I won't return. I am happy to say that The Chattanoogan is not only clean, but the beds are also comfortable. So that is win/win for me! I slept great both nights and was well rested.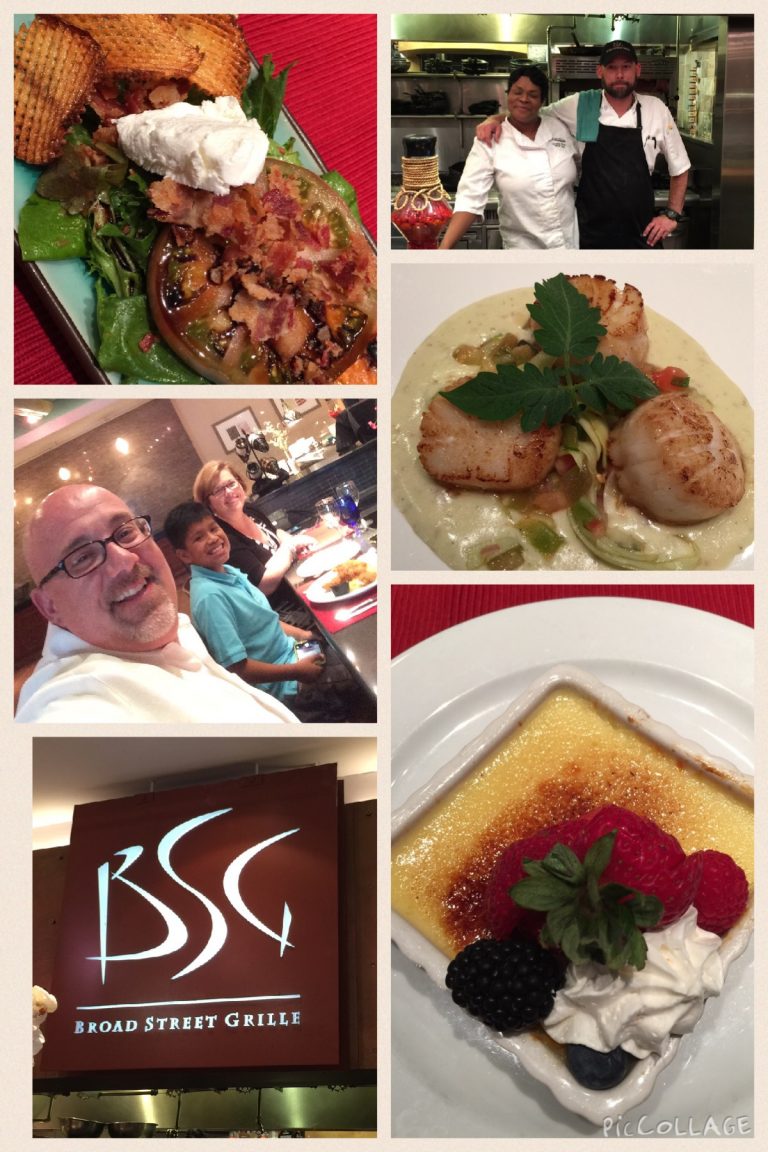 3. Dining – The Chattanoogan has three outstanding dining establishments. The Foundry lounge, which offers excellent food and drinks, live music on Friday and Saturday nights and a Game Room with pool and table shuffleboard. The Broad Street Grille offering delicious regional cuisine including a chef's table where we dined and the Stroud's Sidewalk Café. Our experience at the Broad Street Grille was amazing. We enjoyed our interaction with the chef at the chef's table and our four-course dinner was OUTSTANDING! We also enjoyed Father's Day Brunch at the Broad Street Grille and it was a great location for a special celebration.
4. Entertainment – The Chattanoogan features an outdoor fire pit, fitness center, indoor pool, whirlpool and patio overlooking the hotel's courtyard. As we mentioned they also have a Game Room and live music too! There is a public park that is conveniently located that guest can use too! This is perfect for the kids.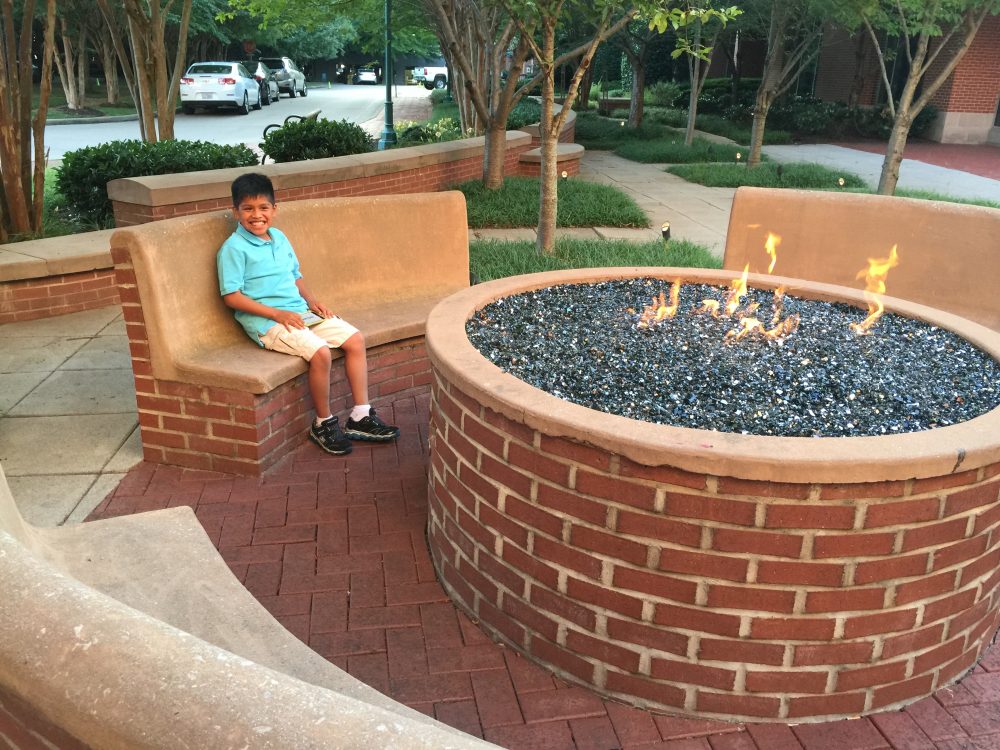 5. Relaxing – The Chattanoogan features lots of Rocking Chairs inside the lobby and seating outside too! You can relax in the pool or whirlpool however I found relaxing in our room was perfect too! I love that there are lots of public spaces to hang out if you are visiting with friends and family during your stay.
6. Free Wi-Fi – There is complimentary high-speed wireless Internet throughout the entire hotel. We all enjoyed using it on our electronics.
7. Loyalty Program – The Chattanoogan's "Loyalty Matters" program is new. Come and enjoy The Spa @ The Chattanoogan, Broad Street Grille, The Foundry or even an overnight stay and for every $250.00 you spend in the hotel they will automatically put $25.00 onto your loyalty card. This money can be spent anywhere in the hotel and at your leisure. The loyalty program does not include Stroud's. "Loyalty Matters" also affords you additional specials which include FREE birthday entrée with the purchase of an additional entrée, Early reservation access to special events like Thanksgiving Brunch, Breakfast with Santa, Mother's Day Brunch and much more and a Special invitation to seasonal meal launch parties.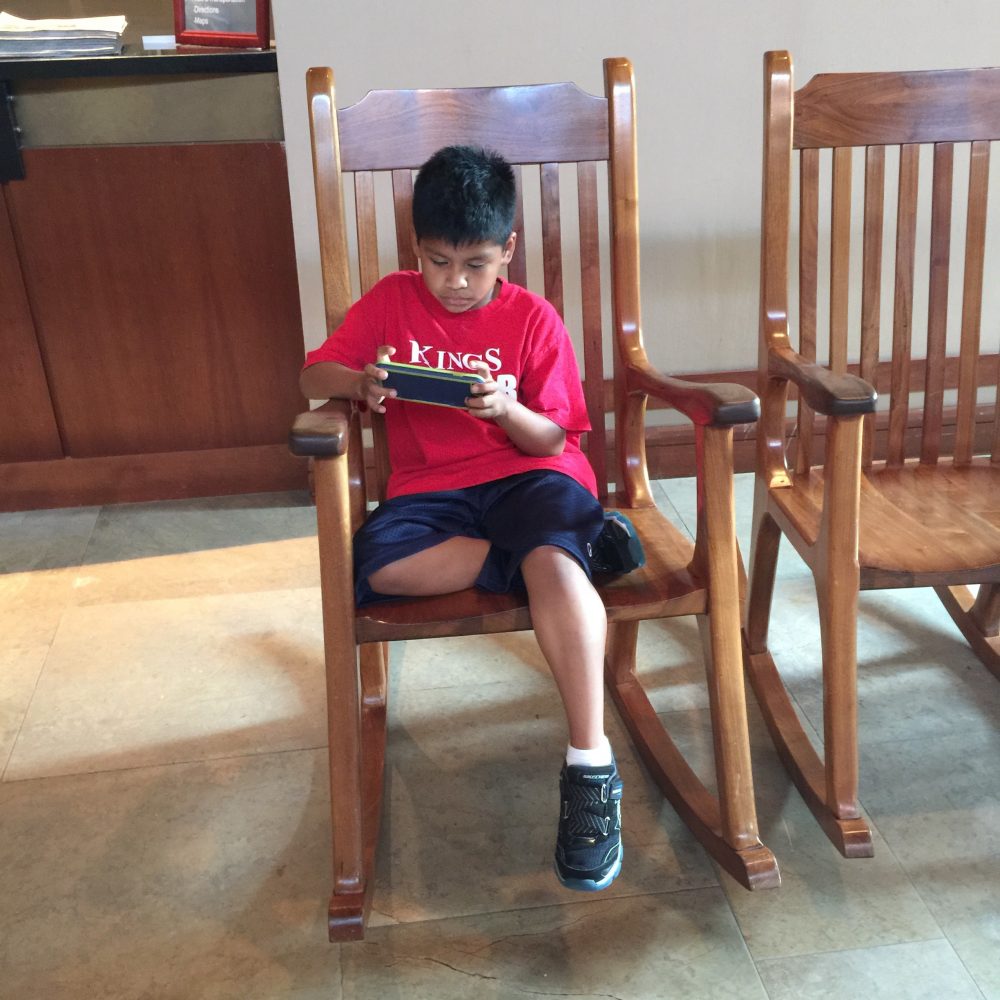 8. Wedding Destination – If you are looking for the perfect wedding destination then The Chattanoogan is perfect for you! We noticed that therer were at least two weddings and other special events scheduled during our stay. We watched a wedding on the roof top courtyard from our room.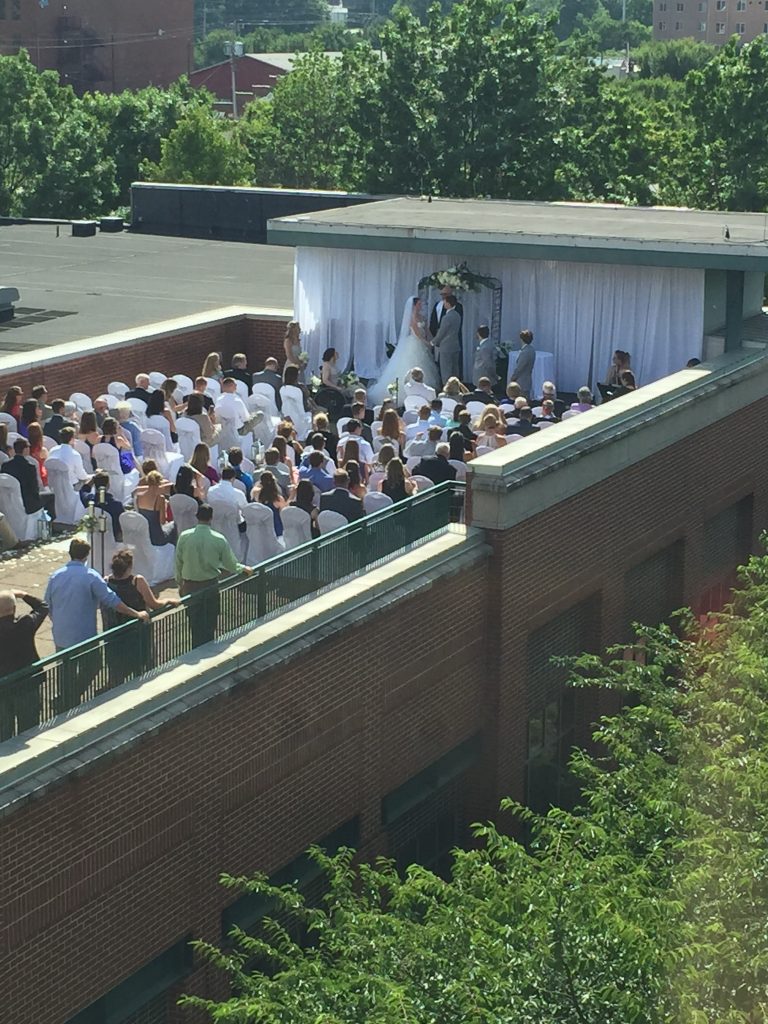 9. Hospitality – All of the staff were extremely helpful and accommodating during our stay. We did call the front desk on a couple of occasions, and they were quick to take care of our needs. They also offered us a late check out on Father's Day, so we didn't have to rush during our brunch at the Broad Street Grille. We were extremely pleased with all of the employees that we interacted with from the front desk to housekeeping to the chefs and servers at Broad Street Grille.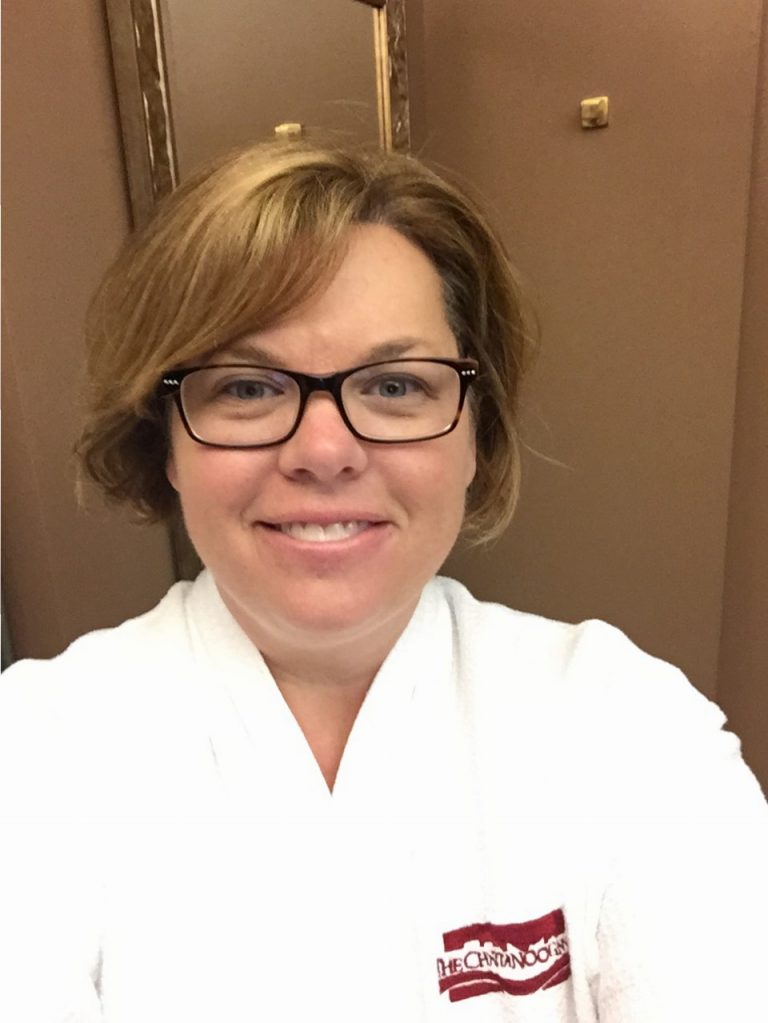 10. The Spa – I suggest that you indulge in the spa services. It is a great value for your money. The Spa at The Chattanoogan offers carefully crafted treatments utilizing fresh, natural ingredients. Luxury amenities include steam rooms, lockers and showers, an indoor pool and hot tub, and a rooftop spa deck, with a view of Lookout Mountain. Don't forget to indulge in the spa water and fresh fruit. They offer spa packages, express spa treatments, massage therapy, body treatments, nail care and skin care. You will want to arrive 15 minutes prior to your service so you can check-in, slip into a robe and slippers and unwind before your treatment. They have lockers provided for your personal items. Best of all you can take advantage and make it a true day out for the price of your spa service!
I had the Ruby Falls Body Treatment – It is named for one of the city's most beautiful attractions, this experience includes a detoxifying body exfoliation, hydrating body massage infused with chamomile and local passionflower, both proven to aid in relaxation and healing. Completed with a relaxing body massage. $140 – 80 minutes. It was AMAZING!
I also liked that our room had a small refrigerator and complementary coffee and hot tea. In terms of planning and your budget be sure to check online for special offers and deals. Also please note that the there is a public parking garage located adjacent to the hotel and provides self-parking for $8.00 per day. The Chattanoogan provides valet parking for $12.00 per day. This is common in downtown hotels to pay for parking.
Disclosure: The Chattanoogan provided our accommodations, dinner, brunch and spa treatment for our review. All opinions are 100% our own.
Melissa is a football and soccer mom who has been married to her best friend for 24 years. She loves sharing recipes, travel reviews and tips that focus on helping busy families make memories.