70 Things To Do In The Cincinnati Area
Summer is on the horizon! Are you looking for something to do this summer in Cincinnati, Ohio? We've got you covered with this huge list of 70 things to do in the Cincinnati area. This is the perfect summer bucket list!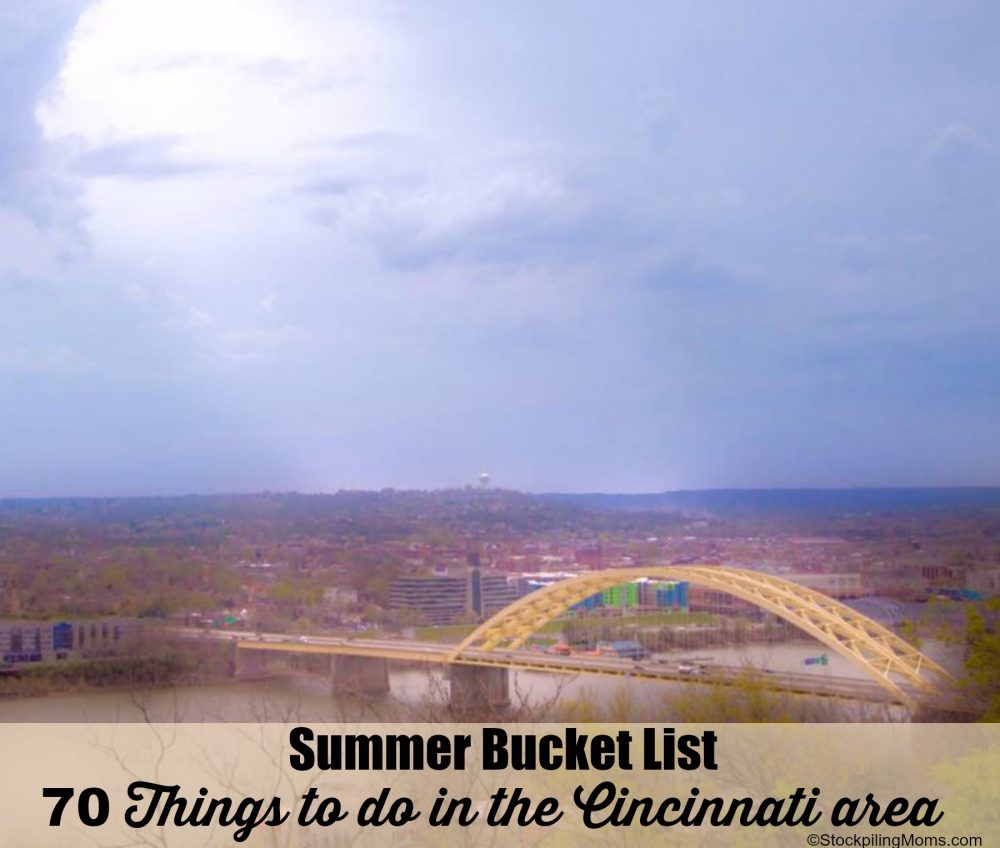 I kept the list to ideas that are located in NKY or Cincinnati or within a 2 hour drive so that it is doable for a day trip. We hope you enjoy! If you are like me you are counting down the days to summer vacation with the kids. It is all about making memories that will last a lifetime.
1. Smale Park Riverfront Park – Located in downtown Cincinnati and perfect to visit on a hot day. Be sure to have your kids wear bathing suits under their clothes or bring a change of clothing. They can run through fountains, ride bikes, have fun, ride the carousel and pack a picnic lunch. If you are looking for a place to dine we love Moerlein Lager House. Read our full review with tips here.
2. Carew Tower is the second tallest building in Cincinnati, however, it is still the highest elevated building in the city. Visit the 49th floor Observation Deck for panoramic views of the city. $4 ages 12 and up, $2 ages 6-11, Free for ages 5 and under
3. Newport Aquarium – Walk across the Shark Bridge (be sure to eat at Tom and Chee at Newport on the Levee) and take advantage of the kids get in free summer hours! Read our full review here.
4. Cincinnati Reds Game – One of our favorite family activities. Be sure to look out for specials and deals online. Klosterman Bread is hosting Family Sundays at every Cincinnati Reds Sunday home game this season. The promotions includes a special ticket offer, live mascot races, face painters and more. Some restrictions apply. Available in advance of game day only. Tickets available at reds.com/Family. There is also always a free item given to the kids!
5. Recess In The Stadium – Paul Brown Stadium. This is a free event but you need to register in advance. This year it is June 4, 2016. Read our full review here.
6. Florence Freedom Game – Minor league baseball team in Florence, KY. It is an affordable way to catch a baseball game.
7. Cincinnati Segway Tour – must be at least 14 years old. The price is $60 but I have heard from friends that it is amazing! If you have teens this would be an awesome adventure and you can look for coupons and promotions online.
8. Cincinnati Observatory – A fully functioning 19th century observatory used daily by the public and amateur astronomers, civic organizations, teachers and students, scouts and history buffs. They offer public astronomy programs and stargazing every Thursday & Friday evening and dozens of special events throughout the year.
9. Krohn Conservatory – Located in Eden Park within Cincinnati, OH. Enjoy the International Butterfly Show through June 19th!
10. B&B Riverboats Tour – Located in Newport, KY. They offer lunch and dinner cruises, specialty cruises and more! A great way to tour Cincinnati. Look for promotions and special offers online.
11. Cincinnati Zoo and Botanical Gardens – Located in Cincinnati, OH. You will never believe you are in the city when you are inside the zoo. You can feed the Giraffes for an minimal fee, pack a lunch and snacks and enjoy the day with the animals. Read our full review with tips.
12. Strawberry Picking – Only in season in Early June. This is a fun activity that is perfect for early mornings or cloudy days before the heat of the day. Plus you can come home and make Strawberry Freezer Jam with the kids! Read our post with tips here.
13. Kings Island – Amusement Park and Water Park in Mason, OH – Check out this article on how to save money at Kings Island. Right now you can even redeem coke rewards for free tickets!
14. Clifty Falls State Park in Madison, Indiana – A great place if you enjoy hiking. It is about 1 hour and 15 minutes from Cincinnati.
15. Spend the day in Hamilton Ohio – Who knew there was so much to do! Check out this article on how to spend a day in Hamilton, OH
16. Chocolate Trail – Located in Richmond, IN which is about an hour and half drive from Cincinnati. This is a self-guided journey down the chocolate trail takes you to one-of-a-kind bistros, cafes, local chocolatier and candy shops/factories, historic homes, a winery, intriguing gift shops and more. Chocolate is featured at each stop and is presented in many different forms. The chocolate trail is available to explore and taste year-round.To receive your FREE chocolate samples, you must present a Chocolate Trail Passport which can be obtained at: The Old National Road Welcome Center which is located at 5701 National Road E. (U.S. 40), Richmond IN.
17. Wilson football factory in Ada Ohio – About a 2 hr drive from Cincinnati. You can watch them make the footballs (by hand) and you can schedule a tour for $5. All of the Super Bowl footballs are made here!
18. Recreations Outlet – Fun Kid Activity in Milford Ohio. Read our full review here.
19. Make Your Own Krispy Kreme Donuts – be sure to call to be sure your store participates and the times offered. The only location is currently on Beechmont Ave in Cincinnati. Read our full review here.
20. Big Bone Lick State Park – Located in Union, KY. This is a great park to camp, fish and swim! Read our full review.
21. Red River Gorge – Located in Stanton, KY it is about an 1 hour 50 minutes drive from Cincinnati. This is a great destination for hiking, zip-lining, camping, climing and more! Check out this post 5 places to visit during a trip to Red River Gorge.
22. Loveland Castle – Located in Loveland, OH. They charge $5 for adults and $3 for children. Pack a lunch and spend several hours on the grounds enjoying your day. Check out our this article about the Loveland Castle
23. National Museum of the Air Force – Located about an hour from Cincinnati in Dayton, OH. Free admission! This is an awesome place to visit. Be sure to pack a lunch and picnic on the grounds and wear comfortable walking shoes! This is a must see if you haven't been.
24. Mega Cavern in Louisville, KY – Located about 1 and 1/2 hours from Cincinnati. Get a true one-of-a-kind underground adventure and get schooled in history, geology, mining, and recycling. The ziplining is the best!
25. Kentucky Kingdom – Located in Louisville, KY. This is a smaller amusement park the whole family will enjoy.
26. Louisville Zoo – Located in Louisville, KY. I have never been but I have heard it is an amazing zoo.
27. Louisville Slugger Museum & Factory – Located in Louisville, KY just 1 1/2 hours from Cincinnati. Adults $14, Seniors (60+) $13, Kids (6-12) $8, Kids 5 & under Free
28. Kentucky Horse Park – Located in Lexington, KY about an hour south of Cincinnati. You can visit the museum, see horse, visit the thoroughbred center and pack a lunch to eat on the beautiful grounds.
29. Creation Museum – Located in Petersburg, KY. They have a free outdoor petting zoo (bring quarters to buy food to feed the animals) and you can walk the grounds and look at the gardens and all that is free! You can also go inside and see their dinosaur exhibit that is downstairs all for free!
30. Lazer Kraze – Located in Erlanger, KY, Mason, OH and Columbus Ohio. This is a lot of fun and we have an article on how to save money at Lazer Kraze. This is fun on a hot summer day or rainy day. Best of all it is close to the Anderson Ferry and CVG Aiport Observatory so this would make for a fun day!
31. Anderson Ferry – $5.00 per car one way or $8.00 round trip. You can also ride as a passenger for only $1 round trip! Even though it is quick ride across – it is fun! Read this post for tips.
32. CVG Airport Observatory – Pack a lunch and watch the planes for free (They are installing more picnic tables and a playground area there now). To get there: Take 275 toward the airport and get off at Mineola Pike. If you are going west, turn left off the exit, away from the ferry. Go all the way down Mineola until it dead ends onto Donaldson Road. Turn left on Donaldson. Watch carefully for the sign because you will be turning right into the CVG Airport Viewing Area quite quickly. This is a great article on CVG Airport Observatory.
33. Metamora, Indiana – Enjoy the train ride (inexpensive). I would suggest the wolf encounter near there but the wolves would likely be very sluggish in warm weather. Metamora is a really cool town with train rides (about $4-$5) and canal boat rides pulls by horses, right thru the center of town. About 1.5 hr drive from Cincinnati.
34. Washington Park – Located in Cincinnati, OH there is lots to do from enjoying a picnic, listening to a band, working out and more!
35. Behringer Crawford Museum in Devou Park – Enjoy the new interactive park on the hillside behind the museum.
36. Coney Island (largest pool in North America) – Located in Cincinnati, OH
37. Great Wolf Lodge – This is perfect on a rainy day or a super hot day! Check our article on how to save money at Great Wolf Lodge. It is also located next to Kings Island.
38. Holiday World – for an amazing amazing water-park and fun rides too visit Holiday World in Santa Claus Indiana. It is about 2 1/2 hours from Cincinnati but you get free soft drinks with your admission and it is a family friendly park. Read our full review here.
39. Canoeing on White River Park – Located in Noblesville, IN just 2 hours from Cincinnati. Enjoy an adventure with the family!
40. Pyramid Hill – Enjoy interesting sculptures, rent a couple of golf carts to ride through the park and pack a picnic and enjoy the lovely grounds. Here is a review of Pyramid Hill.
41. Breakout Cincinnati – Timed Escape Room Game that promotes team building located in Cincinnati. This would be great to do with tweens and teens.
42. Ft. Thomas Tree Trail – A beautiful trail in Fort Thomas, KY is only .7 miles, but it is surrounded by a thick, hearty forest. This somewhat rugged trail allows you to sink into Mother Nature without having to go too far. This is a perfect short hike without a lot of strenuous climbing or uphill, downhill areas. Be sure to pack a picnic lunch!
43. Highland Cemetery Forest Preserve in Fort Mitchell, KY – A 3.6 mile trail is serene and peaceful, much like you'd expect from the name. Despite being near the cemetery, there is nothing creepy about this scenic stroll through the woodlands. Be sure to pack a picnic lunch!
44. Columbus Crew Game – About a 2 hour drive from Cincinnati. The Columbus Crew Game would be great to combine with COSI and Columbus Zoo and Aquarium. It would make a for great one night trip.
45. COSI – Located in Columbus, OH – check out our full review of COSI.
46. Columbus Zoo and Aquarium – About a 2 hour drive from Cincinnati – Read our full review and why we LOVE this Zoo and consider it to be on our Favorite Zoo's list.
47. Loveland Bike Trail – Load up your bikes (or rent them) and spend the day outdoors! Be sure to pack a picnic lunch!
48. Lebanon, Ohio – Take a train ride on the Lebanon Railroad and enjoy this historic town.
49. Top This Donuts and Icecream – Create your own donut! They even offer gluten free brownies!
50. Witt's End Candy Emporium – Located in Bellevue KY. This is an old fashioned candy store that is not to be missed! This is perfect to do after a trip to the Newport Aquarium. Here is a link to our full review.
51. Schneiders Sweet Shop – Located in Bellevue KY. Schneider's Sweet Shop brings back the memories of the old time corner ice cream and candy store you remember from years ago. Schneider's has been serving the Greater Cincinnati and Northern Kentucky area since 1939. Enjoy a sweet treat on the patio! We always go after a trip to Newport on the Levee or the Cincinnati Zoo.
52. Holtmans Donuts – The Best Donuts in Cincinnati, Ohio. If you haven't been the summer would be a great time! However you have to get there early so I hear.
53. Mammoth Cave State Park – Enjoy tours, zip-lining and boat through cave. Located in 2.45 hours from Cincinnati it is just too exciting of an opportunity not to mention.
54. My Old Kentucky Dinner Train – Located in Bardstown KY. Slightly over 2 hours. They offer lunch, dinner and Murder Mystery Trains.
55. Railroad Depot Park in Erlanger, KY. This was one of Peyton's favorite parks as a little boy. Pack a lunch and enjoy the park plus the trains that pass by! It features a Wooden Play Train, Swings, Slide, Grass Field, Gazebo, Shelter, Picnic Tables, Restroom and Depot Museum.
56. FC Cincinnati – Cincinnati has a new professional Football Club! You can watch a soccer game at the arena in Cincinnati.
57. Young's Dairy – Located in Yellow Springs, OH which is 1 hr 20 mins from Cincinnati. It is a working dairy farm with two miniature golf courses, driving range and batting cages. They also have a fun barrel ride and full calendar of events. Visit The Dairy Store where they serve Young's homemade ice cream along with breakfast, lunch & dinner (sandwiches and side orders) seven days a week.
58. Wolf Creek Habitat and Rescue – You can visit and observe real wolves FREE of charge. You can also pay $30 to interact with them (Children 10 and under $15.00 each). –It is safe but you will quickly learn how friendly these animals really are. There is even a tipi you can rent for the night! Check out this review of Wolf Creek.
59. Sunrock Farm – Located in Wilder, KY this is a great way to see farm animals and take an educational tour. They offer family tours at $12 per person and special events. We took a family tour there when Peyton was young and loved it.
60. Starlite Drive In – Enjoy an old fashioned drive in movie! Located in Amelia OH. Ticket Prices: Adults 12 and over, $8.75; Children 4-11, $5.25; 3 years and under are FREE and Seniors 60+/Active Military are $7.50. There is a $5.00 food permit (per car) for bringing in food & drinks from elsewhere. My tip is to go during the week versus the weekend for lighter crowds. They do sell out on the weekends in the summer so be sure to go early. They have a nice playground too!
61. Trammel Fossil Park – Located in Sharonville, OH. Trammel Fossil Park is unique because there are very few places to dig for fossils in the Cincinnati area that are safe and accessible. Since the plot of Trammel Fossil Park has never been disturbed, there is a plethora of fossils in very good condition. Best of all this is a FREE activity and you can pack a lunch and enjoy a picnic.
62. Jungle Jim's International Market – Jungle Jim's International Market is more than a grocery store, it's a destination! With more than 200,000 square feet of shopping space, there are over 150,000 products from which to choose. In addition to all the grocery items, you'll find store tours, food demonstrations and lots of fun and attractions for the whole family. They also offer more gift shops, boutiques, restaurants and conveniences than any other mega store in the region. Stop in for an hour or make a day of it. Be sure to check out the store calendar for fun activities and visit the bathroom!
63. Morgan's Canoe – Located in Brooksville, KY this is a great destination for canoeing, kayaking, rafting and camping.
64. American Signage Museum – If you are looking for an unusual activity to do during the summer the American Signage Museum may be perfect for you. Located in Cincinnati, OH with limited hours be sure to check online. It is $15.00 per adult however children 12 and under free with accompanying adult. Check out this review about why this is the most underrated museum that you need to visit.
65. KY State Capitol – Located in Frankfort, KY. I believe every resident of KY should visit the KY State Capitol and it's historical offerings. There's a free trolley that will take you around several historical buildings and even the cemetery where Daniel Boone is buried.
66. Berea, KY – Visit the Arts and Crafts Capital of KY. Berea is home to a thriving population of weavers, instrument makers, furniture artisans, jewelry designers, glass workers, potters, painters, sculptors, and musicians. The story of Berea's artisan community is interwoven with the historic Berea College, the first interracial and coeducational college in the South. If you enjoy the outdoors be sure to hike the Pinnacles. Stop in at the Berea Artisan Center and don't miss a chance to dine at Boone Tavern.
67. Fort Boonesborough State Park – Located in Winchester KY. Fort Boonesborough has been reconstructed as a working fort complete with cabins, blockhouses and furnishings. Resident artisans perform craft demonstrations and give modern-day visitors a true sense of what life was like for pioneers in Kentucky. You can camp, pack a lunch and enjoy the afternoon. My suggestion is combining a tour of Ale-8-One and Fort Boonesborough together in the same day.
68. Ale-8-One Plant Tour – Located in Winchester KY. Reservations for tours must be made ahead of time by calling 859-744-3484. The tour lasts 30 to 45 minutes. Admission is free and you get a FREE Ale-8-One at the end of your tour.
69. Scene 75 – Located in Dayton and Cincinnati, OH. Perfect on a hot summer day or a rainy day! Suitable for all ages. Scene 75 is a 90,000 square foot Entertainment Complex of indoor fun with a full-service restaurant, two bars, 12 indoor attractions, and 110+ arcade games.
70. Tour the Toyota Plant – Located in Georgetown, KY. This is a FREE tour however reservations are highly recommended.
71. Abraham Lincoln Birthplace National Historic Park – Located in Hodgenville, KY a little over 2 hours from Cincinnati. This site honors the 16th president. Visit the country's first memorial to Lincoln in a symbolic birthplace cabin in the park.
72. XhilarRacing – High Speed Electric Go-Carting – Located in Erlanger, KY. This is a fun activity that the whole family will enjoy. Be sure to look for special promotions and coupons online. Read our full review for tips.
73. Ark Encounter – Visit the Life-size Noah's Ark – Located in Williamstown, KY. It will open to the public on July 7, 2016.
74. Visit your Public Library – Your local public library has jammed packed schedule of performances, crafts, games – and of course books, DVD's and CD's that you can check out! All summer long.
75. Spring Grove Cemetery and Arboretum – is one of the true gems of the Greater Cincinnati region. The 733-acre garden serves as an incredibly beautiful horticultural educational facility for Cincinnati. Be sure to check out the events calendar because they often host free and special events.
76. Miniature Golf – Our favorite course is located in Florence at World of Sports. Read our full review here.
I also feel compelled to mention the Kentucky Donut Trail – This looks to be one that would be exciting. Be sure to check the hours for each location and that they are still in business before you go. 🙂
If you have one that is not on the list please feel free to add it in the comments!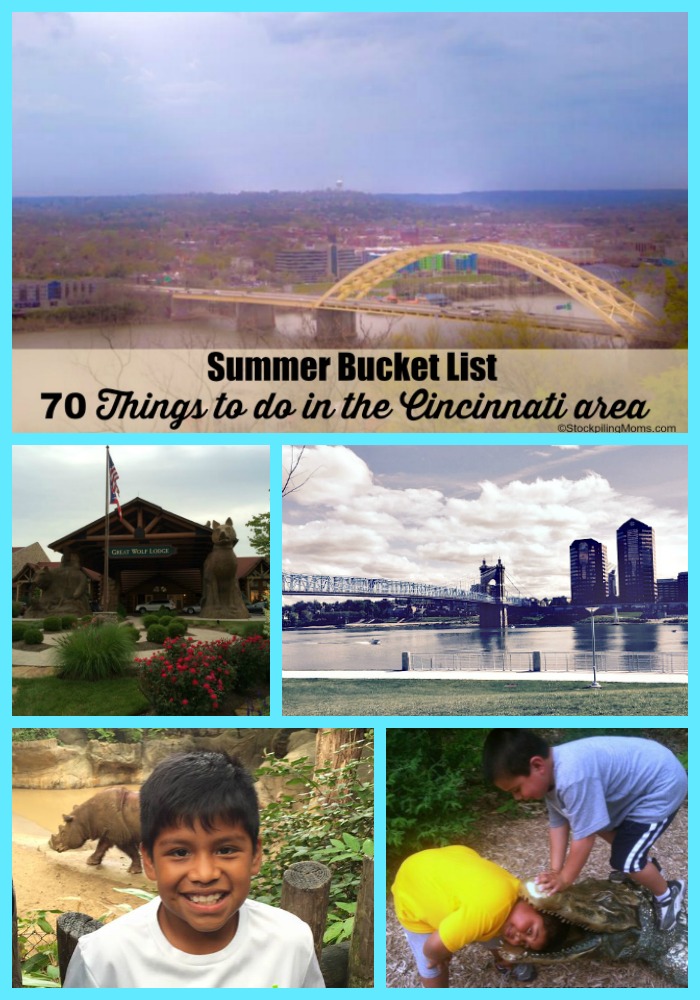 Melissa is a football and soccer mom who has been married to her best friend for 24 years. She loves sharing recipes, travel reviews and tips that focus on helping busy families make memories.