20 Minutes to An Entirely Clean Home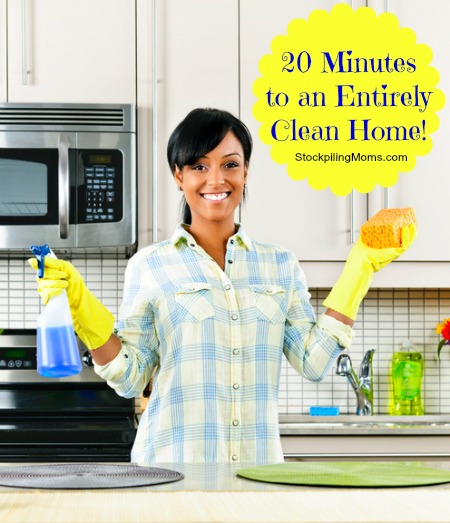 20 Minutes to An Entirely Clean Home. Everyone knows that saying, "There is no place like home." Among all of our daily stresses, we can always count on our home being the place where we can go to unwind and feel safe. One of the struggles we encounter when it comes to our home is trying our best to keep it clean.
Keeping a clean home can be strenuous or easy depending on the routine that you can keep and the help that you can get. There are a number of ways to make your cleaning routine easy and stress free. If you are like me, you are looking forward to the New Year. That is the time for me get my home organized and I hope this strategy helps you!
20 Minutes to An Entirely Clean Home
5 Minute Clutter Round Up
Most of the time, a little quick pick up for your home is all it really needs. Before any cleaning routine starts, putting everything in it's place is the way to start. Keep different baskets or storage containers placed in your home in eye appealing spots. Put items into these container to put away in their proper place when you aren't pressed for time. This should take about 5 minutes if you move quickly or enlist help from the rest of the family.
5 Minute Wipe Down
Grab your favorite multi-surface duster to quickly cover all the surfaces in your home. A multi-surface duster is perfect to move through all the wood, stone, or glass surfaces in your home without having to waste time switching products. For the kitchen, your favorite anti-bacterial product will work to move quickly throughout the kitchen. Another good product that works well is a natural mixture of vinegar and water to disinfect and clean surfaces. Keep a couple of microfiber rags in hand, move, and wipe.
8 Minute Floors
Making sure you have all the tools available to quickly do your floors is an essential plan to have before starting a quick cleaning routine. A broom and an all in one mop is a great choice for hard floors. Quickly sweep the floor and run the mop over any sticky area. If you need to vacuum and are pressed for time, just vacuum the high traffic areas in the living room or hallways.
2 Minute Refresher
A nice spritz of your favorite room spray or homemade air freshener is the perfect way to complete any home. Create your own natural spray by mixing your favorite essential oil with ¼ cup of water to quickly freshen up any home.
Cleaning Strategies:
DIY – How to clean your drain naturally
Baking Soda Shower Door Cleaner
How to remove sour smell from towels
How to remove laundry stains with lemon essential oil
Mopping with Vinegar – Safe for most Floor Types
How to deodorize and sharpen your disposal naturally
Melissa is a football and soccer mom who has been married to her best friend for 24 years. She loves sharing recipes, travel reviews and tips that focus on helping busy families make memories.