7 Organizing Tips For Packing Your Home For A Move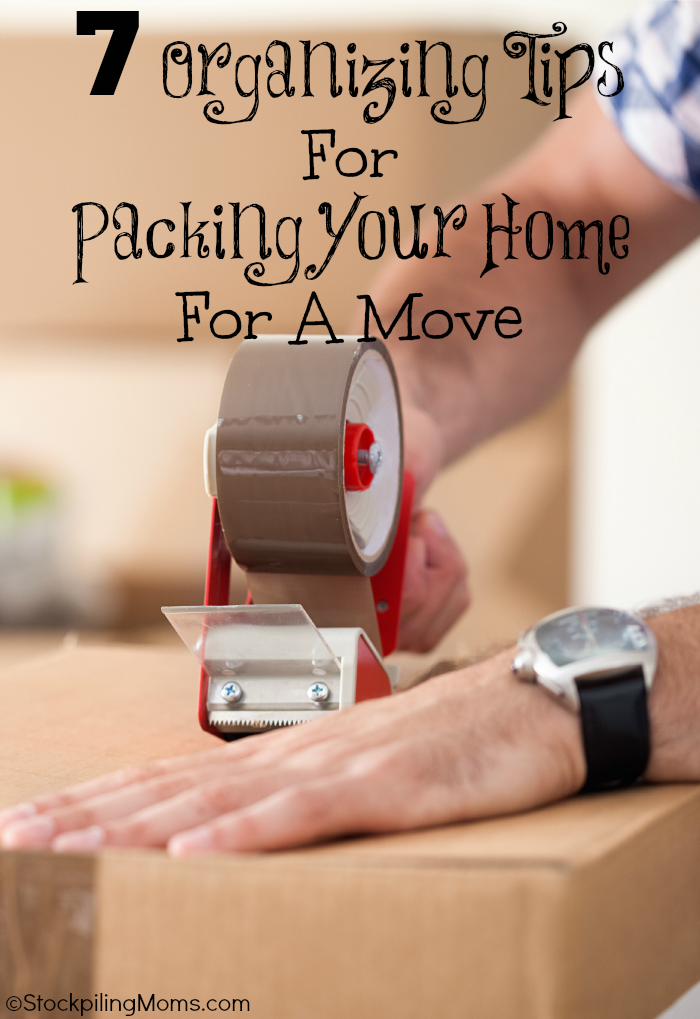 Whether you are moving to a new home locally or across the country the idea of packing and making the move can be daunting. Knowing how to organize your home as you pack for the easiest way to get settled when you arrive is much simpler than you imagine. 7 Organizing Tips for Packing Your Home for A Move will help guide you through this fun and exciting adventure with less stress. Not only will the packing go smoother, when you arrive at your destination your stress level will be lower. Unpacking won't be a dreaded event but one you look forward to completing.
7 Organizing Tips for Packing Your Home for A Move:
Purge as you pack. Instead of packing everything you own, make an effort to effectively purge unnecessary, broken or unwanted items before you move. As you go through each room, create a stack of items to donate, sell or throw away.
Pack one room at a time. Instead of roaming around the house randomly, focus on one room at a time. This will help keep like items together and make it easier on movers to place boxes in appropriate areas when you arrive.
Don't pack randomly. Don't throw kitchen towels into the same box as bath towels. Packing randomly leads to chaos when you unpack. Make sure to pack items that go together appropriately.
Label every box with room and general item – no matter what. Just putting LR for Living Room on a box doesn't help you know if that is the box with your remote controls or the box with your throw pillows. Obviously, the remote controls may bring you peace and quiet in the first few days as you set up your kids with videos to watch. Appropriately labeled boxes will make your unpacking job simple.
Wrap all breakables in proper cushioning materials – not just newspaper. Although newspaper is recyclable and a wonderful way to separate items in boxes, it truly doesn't provide the cushion your grandmother's China needs. Invest in bubble wrap and packing peanuts for the costly breakable items. You won't regret the added expense when you arrive at your destination with 200-year-old crystal in mint condition instead of shattered at the bottom of a box.
Load your moving truck so your most used items are the first to be unloaded. This is so necessary when you arrive. Items like toilet paper, cleaning supplies and basic overnight bag items should be packed in your car or as the last items in the moving truck. Having access to those handful of must haves when you first arrive will save you hours of time searching through a truck or stack of boxes later on.
Take your time. Sometimes a move happens at the last minute, and you have to rush, but you also need to simply take your time. Don't try to do it all in one day. Ask friends for help and assign duties that will keep your plan in order while giving you the peace of mind to focus elsewhere.
No matter where your move takes you, these 7 organizing tips for packing your home for a move will help make that trip easy. Organization ahead of time and planning for how your future home will be arranged will make the move a fun and exciting adventure instead of a stressful experience.
Household Tips:
How to make your own dryer sheets
How to make your own laundry detergent
How to remove laundry stains with lemon essential oil
How to remove sour smell from towels
How to remove sour smell from wet clothes
How to remove stinky smell from HE washing machines
How to remove mud from clothing
Melissa is a football and soccer mom who has been married to her best friend for 24 years. She loves sharing recipes, travel reviews and tips that focus on helping busy families make memories.