Tips For De-cluttering Your Home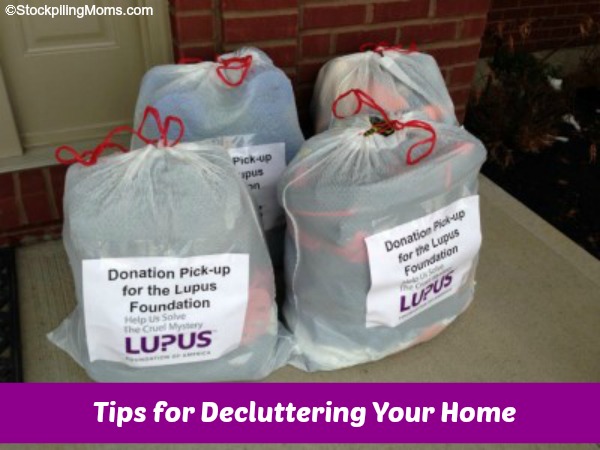 I wanted to share with you some Tips For De-cluttering Your Home. Several years ago I started a daily routine of "removing" something from my house every single day! Some of you may think that is extreme however if you never remove items from your home then eventually you would end up with too much clutter. They say for every item that comes into your home one should leave if you are keeping things organized so it is a motto I live by. If you are not organized then often times you end up buying a duplicate item because you are unable to locate the item when you need it.
Tips For De-cluttering Your Home:
Four years ago I started throwing away or placing at least 1 item in a consignment/donation/yard sale box EVERY SINGLE DAY! By doing this it allows me to keep our house organized and clutter free. I have a monthly scheduled pick up with the Vietnam Veterans or the Lupus Foundation which is great because it "forces" me to be sure that I have items for them monthly. Not only is this great because it keeps our home clutter free it is also a tax deduction at year end!
I also keep a consignment box in our guest bedroom closet. As my son grows out of his clothing or a toy I immediately launder it and then place it into the box. As soon as my consignment store changes seasons I am ready to take my items to be sold. They are already folded neatly and ready to earn us cash back.
This is a method that really works for us. I actually get a "high" out of purging 1-2 or more items daily! It allows us to live an organize life make money through consigning, make a tax deductible donation, help our Veterans and keep our home clutter free!
Other Posts You May Enjoy:
Disney Tip – Save on Souvenirs
Disney Tips – Plan Your Frugal Vacation
Free Resources To Boost Learning
Melissa is a football and soccer mom who has been married to her best friend for 24 years. She loves sharing recipes, travel reviews and tips that focus on helping busy families make memories.