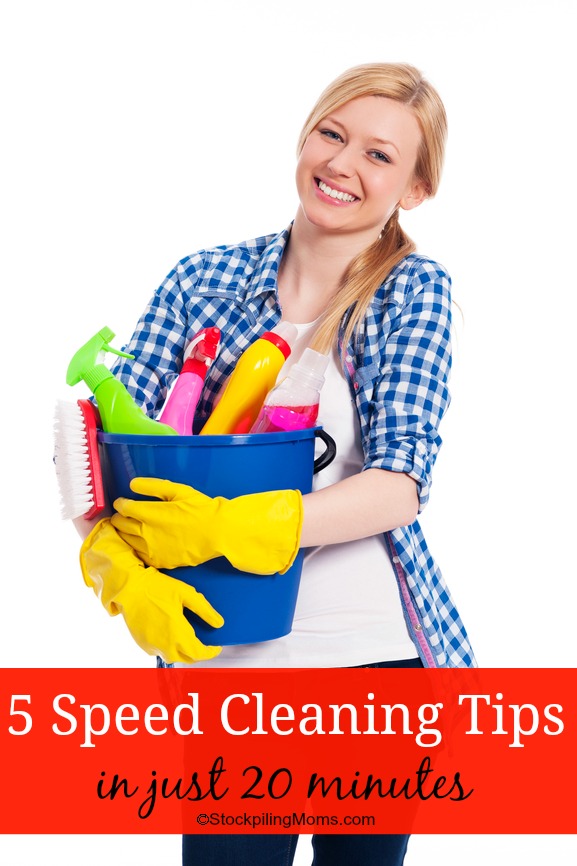 5 Speed Cleaning Secrets. Have you ever gotten a call from your Mother-in-Law saying that she will be "swinging by" in less than 30 minutes? Oh, wait AND she has two of her friends with her!!! Did I mention that my MIL lives 4 1/2 hours away? So, when this happened to me, I had no time to react. My only reaction was 1-2-3. GO!
How was I able to pull it off? With these simple strategies and 20 minutes I was able to get my house presentable for my MIL and her friends. Oh yeah, and I had time to make lemonade and iced tea too!
What do your guests see when they enter your home? You can use this strategy when you are in a bind like I was or just when you want your house to look better quickly. First of all, collect your cleaning supplies and then set the timer for 20 minutes and go!
5 Speed Cleaning Secrets:
1. Bathrooms – clean the bathrooms that your guests would be using. My trick is to use this homemade toilet bowl cleaner.
2. Kitchen Sink – wash the dishes or load them into the dishwasher. By having an empty and clean sink your kitchen will look cleaner. Be sure to shine your sink and wipe down all of the counters.
3. Dust – Quickly dust on the main level of your house. Be sure to hit all of the surfaces that your guests will see. I like to use a spray cleaner on my glass tops, and I use a dust cloth on other surfaces. This is something that kids can help with.
4. Deodorize – If your house smells clean it will appear clean to guests. I like to diffuse essential oils or make Christmas Scent. Another great tip is to use this homemade Febreze.
5. Remove clutter – A great tip is to use your laundry basket or a large tote bag and quickly grab all clutter and place it in the basket. This works really well! All the clutter is in one place and when your guests leave you know where all your clutter is and can easily be put away.
I hope these 5 Speed Cleaning Secrets help you and keep your house ready for those surprise house guests!
10 Laundry Tips:
How to make your own dryer sheets
How to make your own laundry detergent
How to remove laundry stains with lemon essential oil
How to remove sour smell from towels
How to remove sour smell from wet clothes
How to remove stinky smell from HE washing machines
How to remove mud from clothing
Melissa is a football and soccer mom who has been married to her best friend for 24 years. She loves sharing recipes, travel reviews and tips that focus on helping busy families make memories.