Scriptures to Encourage Moms
I hope you will enjoy these 10 Scriptures to Encourage Moms. Are you a mom with a house full of teenagers and feel as though you've been pushed past the brink one too many times?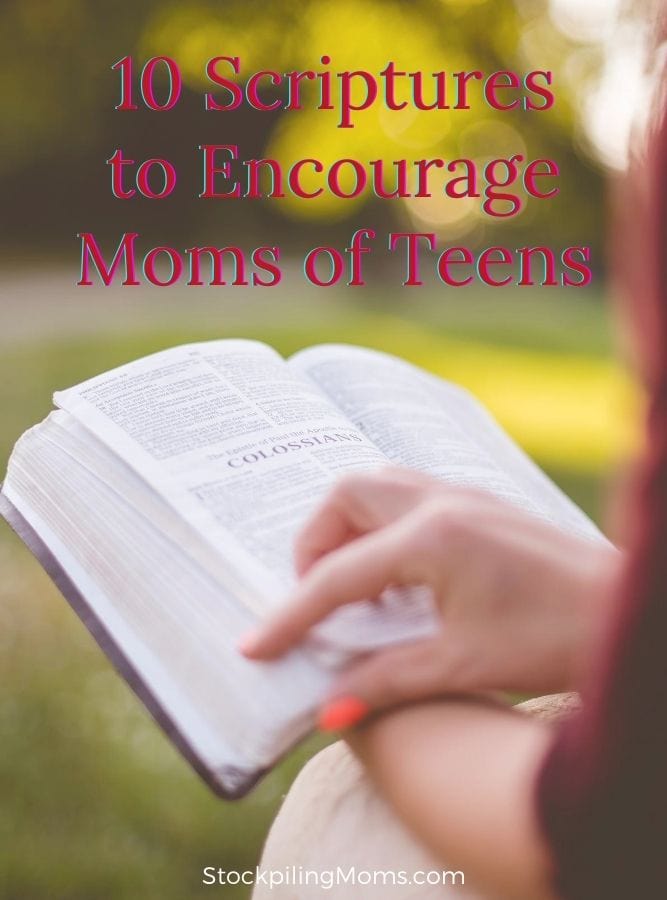 10 Scriptures to Encourage Moms:
You have days where you spend time crying behind closed doors or question God why your children are the way that they are. It's nothing to be ashamed of. Every mom has felt that way at one point or another. Fortunately, the Bible has a lot to say about raising children that you may find helpful. These Scriptures to Encourage Moms can help you on your darkest day.
Proverbs 13:24
"Whoever spares the rod hates their children, but the one who loves their children is careful to discipline them."
As parents, we oftentimes face defeat and feel as though that our teenagers are never going to listen no matter how many times, we've corrected them over the same issues in the past. Don't make the mistake of turning a blind eye to wrong behavior. Continue loving them by showing them where they've messed up.
Proverbs 22:6
"Train up a child in the way they should go, and even when they are old, they will not depart from it."
This is another helpful verse that offers a beautiful promise and encouragement for moms to continue raising their teenagers in the Lord. As they grow older, they are far likelier to follow the right path.
Isaiah 54:13
"All your children will be taught by the Lord, and great will be their peace."
Don't hesitate to pray with your teenagers and spend time in God's word with them. It will amaze you how much less strife and conflict that will take place in the home when the Lord is the authority. There will be a sense of greater peace.
Psalm 119:9
"How can a young person stay on the path of purity? By living according to your word."
There's so much graphic visual material at your teenagers' fingertips these days, along with nasty and foul language that mostly goes uncensored. The path to purity is for your teenager to be more influenced by the Bible, than by Tiktok and other negative social media platforms.
1 John 2:1
"My dear children, I write this to you so that you will not sin. But if anybody does sin, we have an advocate with the father-Jesus Christ, the Righteous One."
If you're anything like me, at some point you've fallen for the same old bait and sinned when your teenagers have pushed one too many buttons. Thankfully, we have a compassionate Father and a savior that stands in our defense. We don't have to live in shame and guilt, only that we ask for forgiveness when we mess up.
2 Corinthians 12:9
"But he said to me, "My grace is sufficient for you, for my power is made perfect in weakness." Therefore, I will boast all the more gladly about my weaknesses, so that Christ's power may rest on me."
As a mom, I've realized that I have many weaknesses along with several thin lines that my children dare to cross every once in a while. I have to remember to ask God for his grace so that I'm able to extend that same grace (Christ's power) to my children instead of saying something that I may regret.
1 Peter 5:7
"Cast all your anxiety on him because he cares for you."
It's no secret. Raising teenagers can be challenging some days more than others. When you feel like breaking down and don't know where else to turn, cry out to Jesus because he cares for you and what you're going through.
Ephesians 4:29
"Do not let any unwholesome talk come out of your mouths, but only what is helpful for building others up according to their needs, that it may benefit those who listen."
Even parents make the mistake of saying things to their children that they later regret. Remember this verse when you feel your blood pressure rising. Build your children up and be careful with your words so that you don't cause any harm to your relationship with your teenager.
Proverbs 3:5-6
"Trust in the Lord with all your heart and lean not on your own understanding; in all your ways acknowledge him, and he will direct your path."
Don't get sidetracked by trying to figure this whole parenting teenagers thing out on your own. Because you can't. Seek the Lord and trust in his plan, instead of relying on what you think is the right answer.
Philippians 4:13
"I can do all things through Christ who gives me strength."
I absolutely love this verse. It can be applied in every one of life's situations and is a powerful testament of victory for the believer. Yes, even on days that we are struggling with defeat. Allowing Jesus to be Lord of not only your life but every situation of every day, will allow you to overcome obstacles that seemed impossible.
The Bible offers moms of teenagers with endless inspiration and encouragement to help us raise our children in a Godly manner. What are some other verses that have helped you when raising your teenagers that you'd be willing to share?
More Parenting Tips
Melissa is a football and soccer mom who has been married to her best friend for 24 years. She loves sharing recipes, travel reviews and tips that focus on helping busy families make memories.