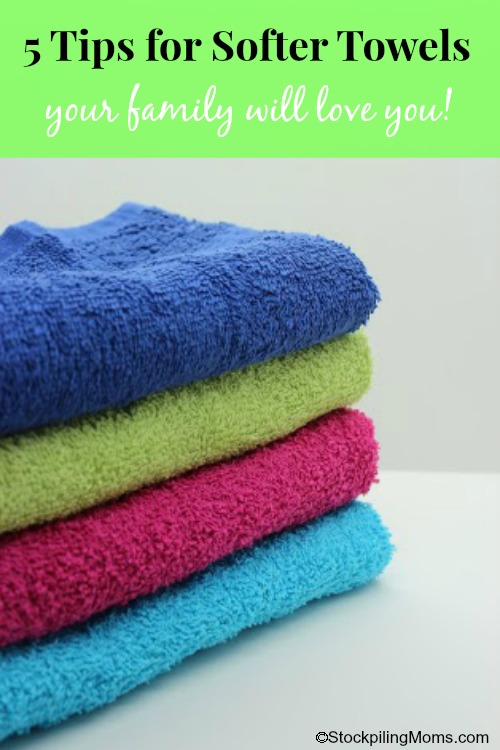 Here are 5 Tips for Softer Towels. If you are like me, you want to provide the softest towels possible for your family to use and when you have house guests. I love when my family tells me that their towels were soft and sometimes when I am really pampering them, I throw them in the dryer for a couple of seconds and heat them up too! I hope you enjoy these 5 tips for softer towels. They are guaranteed to make your family happy!
5 Tips for Softer Towels:
Vinegar – The first way you can make old towels like new is by using white distilled vinegar. Just toss your towels into the wash with a single cup of vinegar and let it run. If the vinegar scent is too much for you, just put the towels through another wash without the vinegar. Of course, my tip is to add a drop or two of essential oil with the towels.
Clothesline – The second way you can have softer towels is by using the old-fashioned method of drying your clothes in fresh air. Just wait for a nice, windy day and hang your clothes out on a clothesline outside. Try mixing this drying method with the vinegar washing method; it just might make your towels even softer!
Brushing – This next method is a little unorthodox, and it doesn't involve washing or drying. Go and grab a big clean brush and lay your towel flat on a bed. Using long strokes in one direction, brush the entire side of your towel, flip it over, and brush it again. If you, did it right, your towels should be as soft as the day you bought them home.
Baking Soda – You can soften your towels with baking soda by mixing roughly half a cup of the stuff in with your detergent before running the washing machine. As an added bonus, considering baking soda's reputation for making anything smell good, those sweaty, smelly gym towels will smell bearable once again.
Tennis Balls – Now, this one may sound a little weird, but it's proven to be effective in most cases. Go out to your local sports supply or dollar store and buy a few tennis balls and toss them in with your towels; the slight bouncing of the balls will knock out lumps and fluff your towels a slight bit (You'll still have to do some fluffing but, hey; they just softened up your towels for you…). This works similar to expensive dryer balls.
Did you know that you should NOT use fabric softener with your towels? It actually is not needed and causes your towels to get stiff. Also, by washing your towels separately and not in a full load it's better on your washing machine and it increases the effectiveness of the methods mentioned.
10 Laundry Tips:
How to make your own dryer sheets
How to make your own laundry detergent
How to remove laundry stains with lemon essential oil
How to remove sour smell from towels
How to remove sour smell from wet clothes
How to remove stinky smell from HE washing machines
How to remove mud from clothing
Melissa is a football and soccer mom who has been married to her best friend for 24 years. She loves sharing recipes, travel reviews and tips that focus on helping busy families make memories.