10 Places You Need To Call When You Move
One of the biggest things I worry about in regard to moving is forgetting something important. Part of that comes with this list of 10 Places You Need to Call When You Move. You may forget about some of these places and things that will need a quick phone call to alert and let it be known you have a new address. Check out this list as a reminder so you won't forget!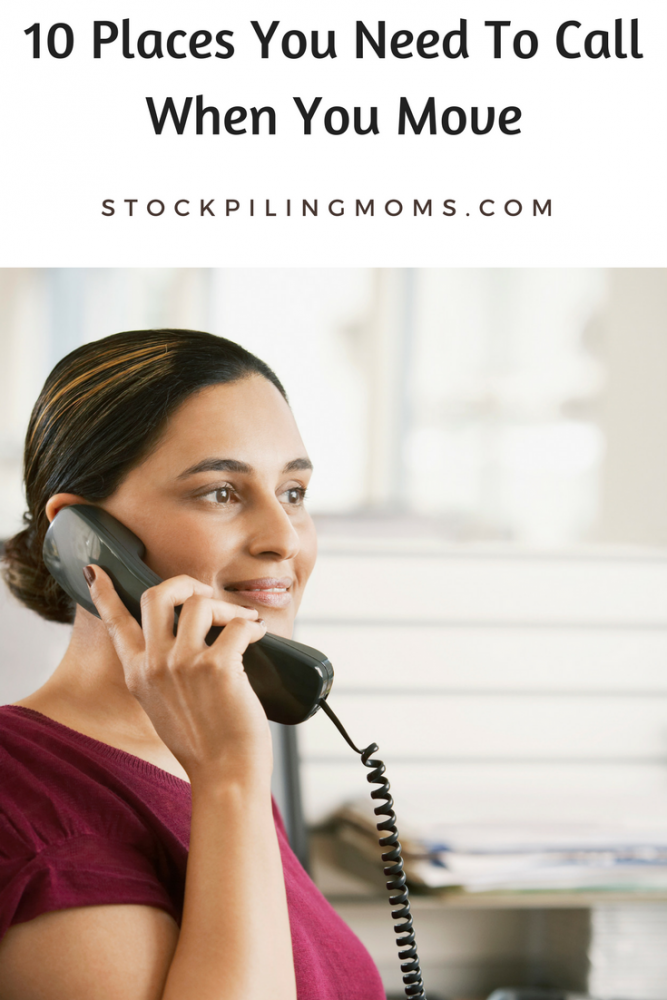 10 Places You Need to Call When You Move
Magazine Subscription Services: Most mail will be able to be forwarded for a short amount of time, but magazines are one item that has a shorter forwarding time period than other mail. Make sure to call any subscription services and update with the new address.
Credit Card Companies: If you have any credit cards, you need to make sure to give them a call and let them know you have moved. You'll want to update your address information, but also alert them to changes in spending patterns. This applies to expenses in a new area, as well as potential expenses related to the moving event itself.
Insurance Companies: Health, dental, vision, life, auto, and homeowners or rental insurances all need to be updated with your latest mailing address. This is a must for making sure your policy information comes to you on time.
DMV: Updating your driver's licenses is a must. Many people don't think about this when just moving to a local area, but it is a must. Some states will issue a fine if you are stopped and found to have an inaccurate address on your license.
Banks: Updating your bank account information with a new address is a must. If you still write checks, you'll also want to make sure you have some ordered with the appropriate new address on hand.
Kids Schools: Updating emergency contact information at your kid's schools is a must. This includes phone numbers as well as addresses. Not just for your children but for any correspondence the school may send directly to you as the parent.
Telephone Carrier: Since most of us have dropped a landline phone, this applies mostly to your cellular phone coverage. If you are under contract, make sure to let them know your new address for billing purposes.
Any Lien Holder (student loan, etc.): I've already mentioned credit card companies, but you also need to let any other lien holder know about a new address. This can be a mortgage holder, vehicle loan, student loan, or even a small bank loan. Updating these accounts is vital.
County Assessor Office: When you move, depending on the state you live in, property taxes will change. That means you may need to let your local county assessor office know you are moving. Not only will this end existing tax fees for your old location but will also make sure tax bills arrive to you on time in the future.
Doctor, Dental, Vision Care Offices: Even if you plan to find a new care facility in your new hometown, it's important to let your existing physician and other medical personnel know you are moving. They need up to date records for sending information, or even something as simple as refilling a prescription.
Make sure to keep this list on hand of places to call when you move so you don't forget to update addresses for those important pieces of mail that will arrive!
More Tips for Moving:
5 Must Have Items For Moving With Dogs
How To Choose Your Moving Company
Melissa is a football and soccer mom who has been married to her best friend for 24 years. She loves sharing recipes, travel reviews and tips that focus on helping busy families make memories.