Why should I stay all inclusive at Beaches Turks and Caicos?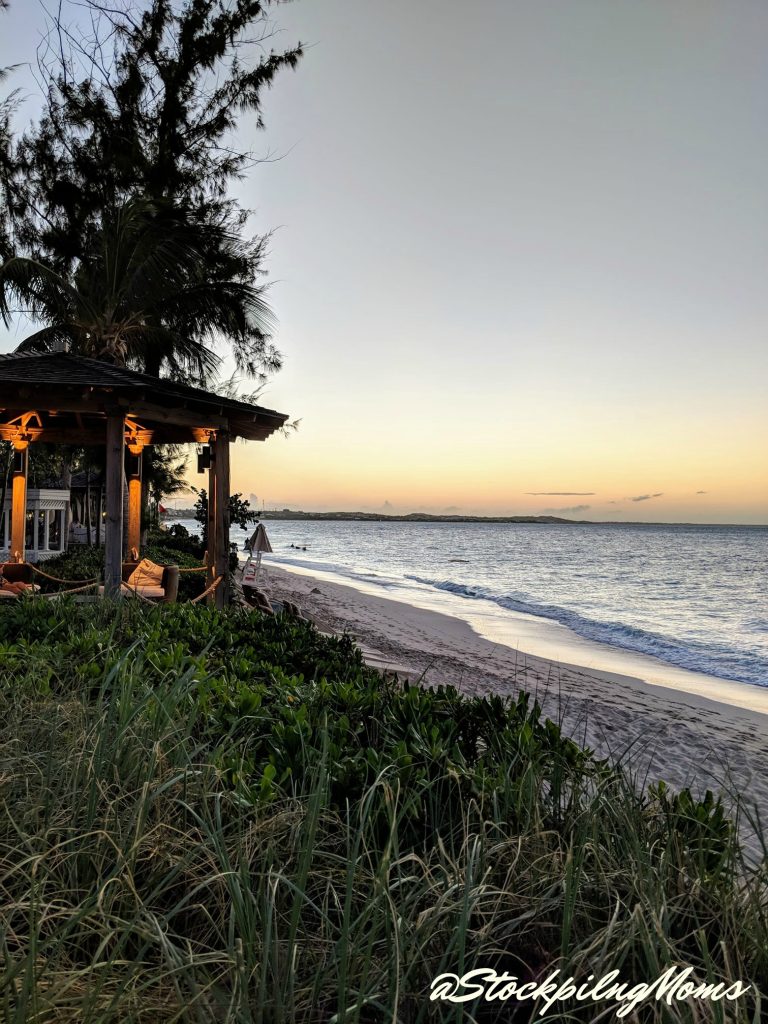 I have always wondered why stay all inclusive? Can I get my money's worth? Will I like the food? Will there be enough things to do? These are all questions I ask myself when I go on vacation anywhere. When I was invited to Beaches All Inclusive Resort in Turks and Caicos I jumped at the chance to check it out! Now I can answer the question "Why should I stay all inclusive at Beaches Turks and Caicos?"
When I arrived, I was very overwhelmed with how big the property was. It did not help that I was walking around in the dark and had no idea where I was going. All I knew the night of arrival was I was STARVING! Now I know why I always have a plan, well that was until this trip. I really had no idea what to expect and wanted my own experience to write about, so I didn't research at all. BUT, never fear! When you sit down and read the information they give you, you will be fine. The next day, I got in a groove and found the resort was easy to navigate. Are you ready to hear about all the great things going on at Beaches Turks and Caicos?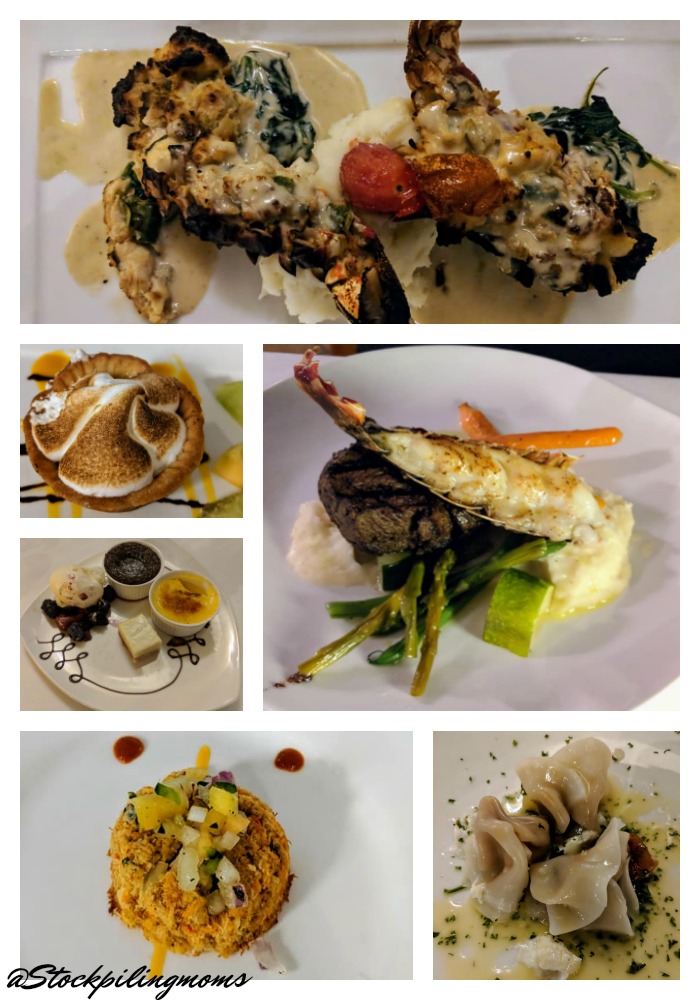 Why should I stay all inclusive at Beaches Turks and Caicos?
Food
Since food is my favorite topic I will start there. The HUGE plus about an all inclusive is you can eat and drink all you want and about anywhere you want. The minus is you really must pay attention to when things are open. Restaurants are not always open every day and may be only open for select meal times. So, planning is essential to eat everywhere you want. You need to sit down and read the opening/closing times, the menus, and locations. This will help you plan every amazing meal and you won't miss a thing. What I have noticed about their food is it is always a work of art. The desserts are a lovely creation and are so detailed.
BREAKFAST
Our favorite breakfast meals were at Reflections in the Caribbean Village and SKY in the Key West Village. Reflections is a nice spot to get all your favorites on a buffet. The fresh made eggs and omelets were my favorites. We found ourselves always heading back to Reflections. Breakfast is important, and it was our go to! SKY also has a buffet, but we ordered from the a la carte menu on the second floor. The view from the open-air dining room is spectacular! The Stuffed French Toast and the Chocolate Pancakes were a breakfast treat, but the view was breathtaking! If you are not a breakfast person but you need some coffee and something quick stop Café de Paris. As soon as you walk in you can smell cappuccino, espresso, and amazing pastries. You will not regret stopping by!
LUNCH
I can usually eat or go without BUT at all inclusive you eat! Why? Because you can! I think our favorite, and we had it several times, is Bella Napoli pizza by the pool. You want to order your pizza and give it at least 20-30 minutes to be prepared. The pizza was our favorite lunch and the best part is we enjoyed it relaxing by the pool. There were a couple days when we wanted to venture out. IF you like Jerk Chicken you will LOVE Jerk Shack. I am a fan of Jamaican Jerk Chicken and they sure matched it. Another lunch that really sticks out to me is Bobby Dee's. There is nothing like enjoying your lunch in a 50's style dinner. We stopped in twice for a fish sandwich and fries. This all-inclusive thing really has proven to me how important food is in my life.
Snacks
Snacks are an option and I could snack all day. We loved the soft serve ice cream at Bobby Dee's or you can order up a banana split, milkshake, or sundae. It seems like every time I passed the Mr Mac Truck I had to order some amazing Mac n Cheese. My favorite BY FAR was the Crab Mac. There were times I would avoid walking past because I knew I would stop, even though I was already stuffed. There are so many amazing options to choose from it is hard to just choose one. Best thing is, you don't have to!
Dinner
Dinner was amazing every single night. Of course, we prefer some things better than others, but I liked everything. My favorite dinner was at Le Petit Chateau. I had the stuffed lobster and butternut squash ravioli. I can not rave on it enough! You also must order the French onion soup. My Mom had it two nights because she loved it so much. For dessert you must get the molten cake. If you like chocolate, you will love this to die for dessert! Sapodillas is also a great choice for dinner. The Caribbean Cuisine will delight your taste buds for sure and the dessert selection is delicious. If you are looking for something with a better view check out Schooners! The breathtaking view of the ocean will complete this meal before you even get started! The seafood is amazing, and the crab cakes steal the show!
Visit the Culinary Concierge Desk
This is just a taste of all the restaurants there are at Beaches Turks and Caicos. It would take forever to review each one since there are 21 culinary concepts. I assure you it will be easy to find something the whole family will love! I urge you to visit the Culinary Concierge Desk at the Caribbean Village. They have every menu outside their office you can look at. I have found the menus online do not match the restaurants all the time, I guess that's why they call it a sample menu. You can also make reservations or state food allergies or any other dietary restrictions. "Please note that there is a 1-month notice required prior to arrival for any special preparations or special products not carried on the resort, including kosher meals."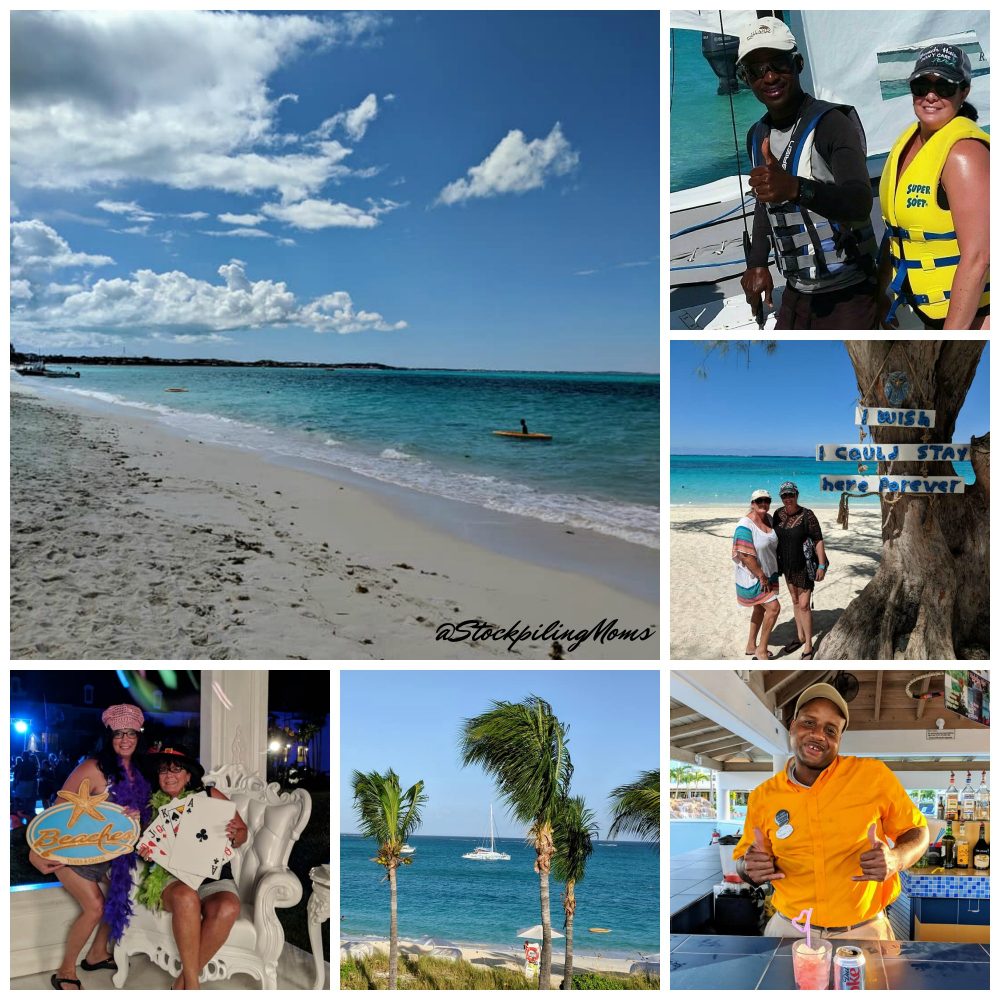 Activities and Relaxation
I took my Mom on this trip with me and we love to relax. While I missed my husband and kids it was a much needed relaxing workcation. The activities are endless at Beaches Turks and Caicos.
Largest water sports operation in the Caribbean
Waterpark
Kids Camp
Activities with Sesame Street Characters
Xbox Play Lounge
Tropical Choo Choo (You and the kids can jump on and see the scenery at Beaches)
Red Lane Spa (There is a charge for all spa services)
Nightly activities and entertainment
Unlimited Scuba Diving
Complimentary beach and pool towel service
Stand Up Paddle Boards
Windsurfing
Kayaks
Tubing
ASA Sailing
Largest zero-entry pools in the Caribbean
Water Hammocks (these are fabulous!)
Wakeboarding
Watersking
Laser Bug Boats
Tubing
Aquatrikes
Snorkeling
Glass Bottom Boats
Hobie Cats
Unlimited complimentary lessons available for all water sports activities
Green PADI Certified
Exclusive H.O Hypolyte equipment throughout including skis and wakeboards
Certified Life Guards at every pool and beach
MasterCraft World Tow Boats at all resorts where water skiing is available
and much much more!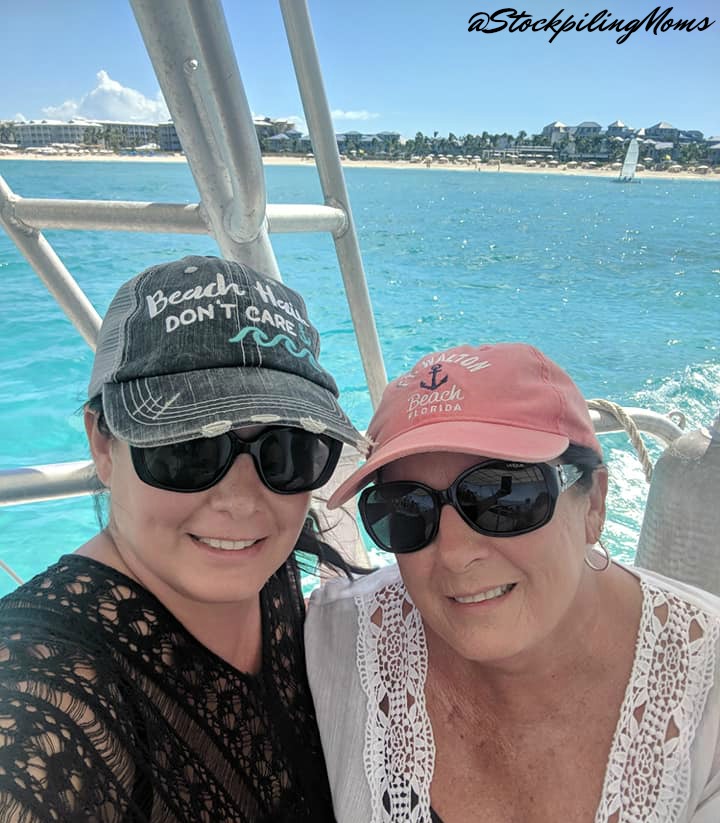 Why should I stay all inclusive at Beaches Turks and Caicos?
This was hands down one of my favorite trips ever! My Mom and I spent quality time together and went on adventures we normally wouldn't have the opportunity for. The best part of all of this is the all inclusive! If you have a family who loves to scuba and watersports this is something you want to look in to. Scuba diving alone can cost you a fortune and here you can do it included every single day! I will never go to a pay for everything, nickel, and dime resort again.
You may look at the price at first and be really contemplating if it is worth it. Take my word for it, IT IS! I took $500 cash and came home with $500 cash. I spent nothing at all! If you visit the Red Lane Spa or shop at the gift shops that is all you will be putting any money out for. I was more focused on going to the beach and relaxing to the sound of the waves or under an umbrella at the pool. All of your dreams about a perfect vacation can come true with Beaches Resorts!
If you decide to book a Beaches or Sandals vacation we do have an affiliate link to offer you to book through – HERE.
Disclosure: We were invited to 2018 Social Media On The Sand where we paid a conference fee which included our stay at Beaches Resorts. I also purchased additional nights after the conference to experience more of the resort for articles. All opinions are 100% our own.
Shelley is a boy mom, marine wife, and is blessed with an amazing family. She loves sharing recipes, travel reviews and tips that focus on helping busy families make memories.