What in the world is a Vitamix?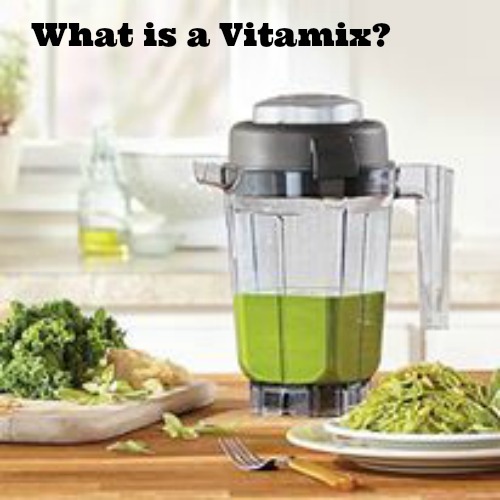 What in the world is a Vitamix? That was my first thought when a friend told me about them. I googled it and realized that it was a $600 blender. I started doing some research to figure out what would make anyone purchase a $600 blender. What I discovered was amazing! The Vitamix can make soups, ice creams, blend, chop and so much more.
What in the world is a Vitamix?
At the time my friend told me about the Vitamix, I was actually looking for a grain mill. I had recently discovered the extreme health benefits of grinding your own wheat and making bread. A good grain mill costs between $200-$300. So, what made me decide to take the plunge and spend twice that on a Vitamix?
The Vitamix isn't a blender, it's a new way of life. If you are trying to get rid of processed foods in your life is makes it much easier. I found myself making my own spaghetti sauce with my own garden vegetables taking no more than a minute to blend it up. I can chop up my chicken for my chicken soup straight in the Vitamix. I can make HOT soup in less that 4 minutes using all natural ingredients which I pour right out of the container and ready to eat. One of our favorites is making fruit ice cream with nothing but frozen strawberries, sugar, and milk. I've also mixed-up quiches, pies and cakes just in my Vitamix. This is all with the wet container.
Recently, I discovered a new recipe for my Vitamix. I had been juicing apples and had tons of pulp and peeling left over. I really hated wasting all of that, so I popped the scraps into the Vitamix and blended them up well. Then I poured them in a pot, sweetened and flavored them and made the most incredible apple butter in the world. All with scraps! Maybe scrapple butter would be a better name.
When I make bread, I switch to my dry container. With this container I grind up wheat berries into flour. It does not get more whole wheat than that. Have you ever tried to make your own whole wheat bread from whole wheat flour at the grocery store? If you use nothing but whole wheat flour it ends up being the density of a small brick. YUCK! Who wants to eat healthy if you have to eat something like that? Freshly milled bread comes out as light as white bread and so incredibly soft. My teenagers cannot even stand grocery story bread anymore. Any of you with picky teens know that is quite an endorsement.
It was not easy to spend that much money on a small kitchen appliance, but I have never ever been sorry. I still get tickled when we are watching Top Chef and the food network and my family will shout, "Look they're using a Vitamix."
Green Smoothie Recipes:
Advanced Green Smoothie Recipe
This post was written by my college roommate and dear friend Christa Chesnutt. She is coupon using home schooling Mom of two precious girls (one of which was my flower girl 🙂 I asked Christa to write this because she RAVES about her Vitamix and it is something that I really want! Do you have one?
Melissa is a football and soccer mom who has been married to her best friend for 24 years. She loves sharing recipes, travel reviews and tips that focus on helping busy families make memories.