Ways to Connect with a Teenage Son
Raising a boy is a tough challenge full of love, fun, and surprises. These Ways to Connect with a Teenage Son come from our time learning as parents how to make sure our son feels loved and cherished. You want your children to be independent, but you also want them to be safe. These tips are great for building that relationship.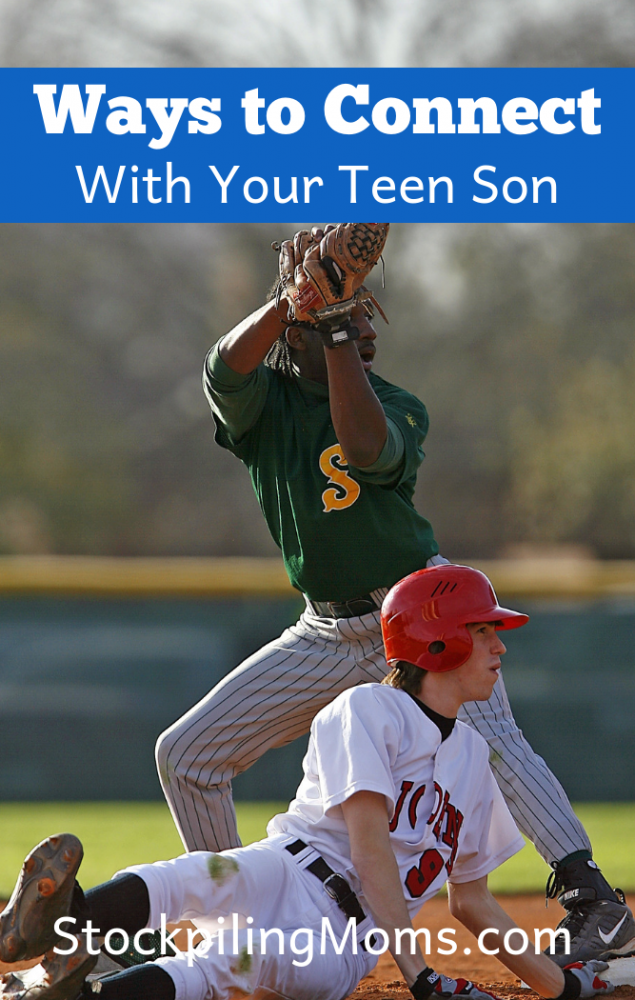 Ways to Connect with a Teenage Son
We value our relationship with our son. He has been such a blessing to us, and we want to be a blessing to him. By engaging in his interests, keeping him safe, and showing we care, we hope that our relationship will stand the tests that often come during the teen years. Below are some great ways to help you connect with your teenage son.
Learn about their interests
One of the biggest things for us is learning more about what our son enjoys. If you understand what your child loves, then you can better talk to them, share with them, and enjoy time with them. Peyton loves soccer, and so becoming a die-hard soccer fan is part of being his mother. This meant watching games. It meant learning players names. It even meant learning statistics so a conversation is easier to manage.
Whether your teenage son loves soccer like mine or is a fan of video games doesn't matter. It's all about understanding what they enjoy and why. Take some time to get to know your child and what makes them happy. Sometimes it is a big thing, and other times it is simple. Every child is unique, so take time to learn their unique interests.
Invest in their interests
One thing we have learned is that nurturing our son is not just emotional, but can be physical or financial. Time investment is the biggest part of this, but also a financial investment. In our case, that meant supporting our son as he went to soccer camp this past summer. This is an expense that was worth it for him to learn, grow, and make new friendships.
I've had to learn how to make a sports survival kit so I could be at games on a regular basis. I've also had to make special allowances in our family budget for all of the supplies he needs each year. Learning to save on fall sports supplies, as well as how to coupon consistently to save money has all been a part of investing in his interests.
Allow them some independence
It is hard to not be a helicopter parent. You want the absolute best for your child, and you feel you know better. This is typically true, however, there are things at times that you need to allow your child to learn. There is a fine line between letting your child run wild and giving them a chance to learn from choices.
Give your teen some independence. Allow them some freedom to make choices, but set guidelines and allow for consequences. A cell phone is a great way to test those boundaries. Setting them up with their own phone is great for teaching them responsibility. Set rules for use, and have them check with you each day so you can verify their use.
Set clear boundaries
Being a friend to your child is something you want, but you also need rules. Setting clear boundaries and sticking with them is important. This includes things like when they can be on their phones, how much screen time they have, and who they spend time with on a daily basis. You want to set clear boundaries and have consequences for actions.
Embrace their friends
This may be the most important part of connecting with your teenage son. Embracing their friends and welcoming them into your home is a must. You want to know who they are spending their time with, and this is a great way to learn more about their friendships. Have sleepovers. Host parties for events and holidays. Spend time with the kids they are friending. This gives you a chance to encourage those friendships while also learning what boundaries you need to set.
Being a parent is a wonderful part of life. Learning how to connect with your teenage son is easier than you think. Just spend time showing them love in all the ways you would have appreciated at that age!
More Parenting Tips:
How to Get Your Kids to Want to Brush Their Teeth
7 Tips to Better Sleep for Moms
5 Things Your Child Needs Before Going to College
Fun Ways to Spend Time with Kids
Tips for Getting Kids Interested in Cooking
Melissa is a football and soccer mom who has been married to her best friend for 24 years. She loves sharing recipes, travel reviews and tips that focus on helping busy families make memories.