7 Sneaky Summer Weight Loss Tips
With summer almost here, this week we want to focus on these 7 Sneaky Summer Weight Loss Tips in our 52 Weeks to Wellness series. Not only do we want to encourage you to continue moving in the right direction, but we also want to give you some common and easy tips for making the most of what is around you. Weight loss can be tough for anyone, but with kids home from school, vacations and extra heat outside it's tough to stick with it sometimes. This year we want you to have success!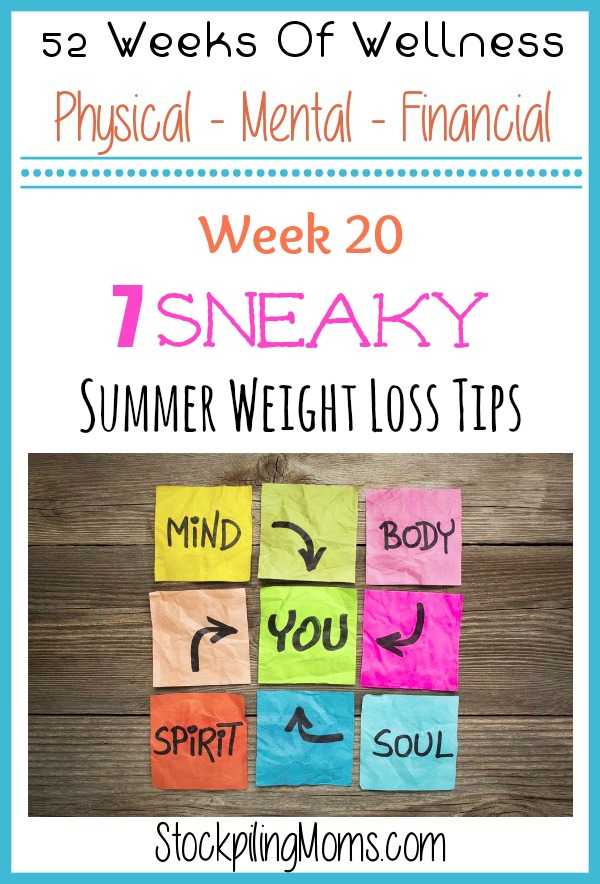 7 Sneak Summer Weight Loss Tips
Take advantage of the pool, lake or ocean. One excellent way to sneak in some exercise is by taking your kids swimming. Almost every child loves time in the pool, lake or ocean. Plan this into your weekly outings and make sure that you do more than just sit poolside soaking up sun. Get out there and play with your kids. Swim, have water fights, chase them across the sand and play. Whether you swim laps in a pool, or you fight the waves at the ocean, swimming is one of the best forms of exercise around.
Flavor water with fresh fruit. We have tons of recipes for different flavored waters, and this is the perfect time of year to experiment. With so many fruits ripe in the summer, you can easily have a different flavor each day that is healthy and doesn't have a ton of added sugar. Sort through our beverage recipes to find your favorite combinations!
Make smoothies for treats and snacks. Ice cream is usually all the rage in summer, but a healthier and still satisfying option is to make fresh fruit smoothies. We have great recipes for smoothies to share with you, or you can come up with your own combinations using fresh and frozen fruit, a bit of juice or some unsweetened almond milk for a high protein, low fat and delicious treat.
Grow a garden. One of the best sneaky summer weight loss tips is to grow your own garden. Not only will all of the fresh produce be delicious and healthy, but the work also to take care of a garden each day is great exercise. From tilling the ground and planting seeds, to pulling weeds and gathering your harvest you can easily get a good workout while gardening.
Skip fast food while traveling. One of the biggest hindrances to weight loss is hitting the fast-food chain while vacationing. Poor food choices on the road can really derail your summer health success. Plan ahead with healthy food options in your car. Pack a cooler with water, fruit, yogurt, sandwich items or even cold salads. Avoid the greasy fast-food meals and enjoy some healthy snacks you have planned ahead for.
Use your grill. Summer is the best time of year to crank up the grill for your meals. Avoid things like brats, hot dogs or fatty meats, but take advantage of the grill for making delicious and lean things like pork loin, chicken breasts, turkey burgers and even lean hot dogs. We have tons of great grilling recipes that are full of flavor for you to enjoy.
Play with your kids. Nothing beats getting outside and playing with your kids. If you are a work at home or stay at home parent, this summer you can take advantage of having the kids at home with you to get out of the house and play. Head to the park or turn on the sprinklers in your back yard. Have fun in the sun with the kids this summer!
Summer is a great time to continue and maintain your weight loss. You just have to think outside the box with these sneaky summer weight loss tips and tricks!
Melissa is a football and soccer mom who has been married to her best friend for 24 years. She loves sharing recipes, travel reviews and tips that focus on helping busy families make memories.