Why You Must Visit SouthWest Idaho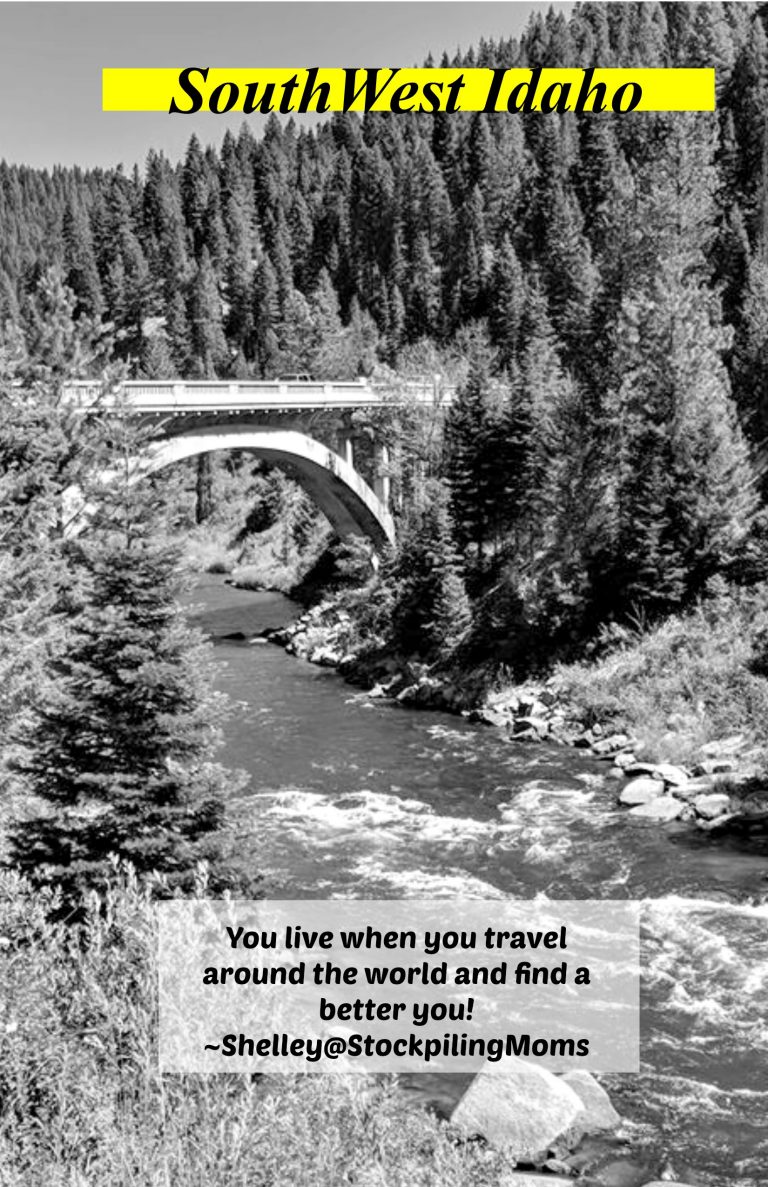 Why You Must Visit SouthWest Idaho. When I was invited to visit Southwest Idaho my husband was so excited but I was lacking in excitement. I was like what in the world is there in Southwest Idaho? I have always traveled to beaches, amusement parks, resorts, and such for our travel reviews. I just could not imagine what could possibly be in Southwest Idaho that I would want to see.
BOY WAS I WRONG! I really believe my time in Southwest Idaho, even though it was only 5 days, changed a lot about me and my life. It's laid back appeal and family feel made me realize the things I have faded away from a little.
Why You Must Visit SouthWest Idaho:
Peaceful, serenity, calm, non-stressful, laid back, and adventurous are all words I would choose to describe Southwest Idaho. I have never been to a place that felt so calm. We drove around Boise, up to Horseshoe Bend, then to McCall, and back to Boise over a 5 day period. I have never seen anything so beautiful.
We went from dessert conditions, to mountains with beautiful trees, to lakes, cities, and it was all in one state. My favorite things about Southwest Idaho are all the different concepts for food and adventure. In all that time we only passed one McDonald's and one Chick-fil-A! In my eyes, that is heaven in itself!
Boise is a beautiful city and the capital of Idaho. We visited the state capital building and were amazed we didn't have to go through security. We just walked right in and looked around. The park surrounding the capital was so clean and family oriented. We visited with the dog walkers and talked to many about why they love Boise. We found out it is just as it seemed. People love the laid back life, being in a big city, and without all the hustle.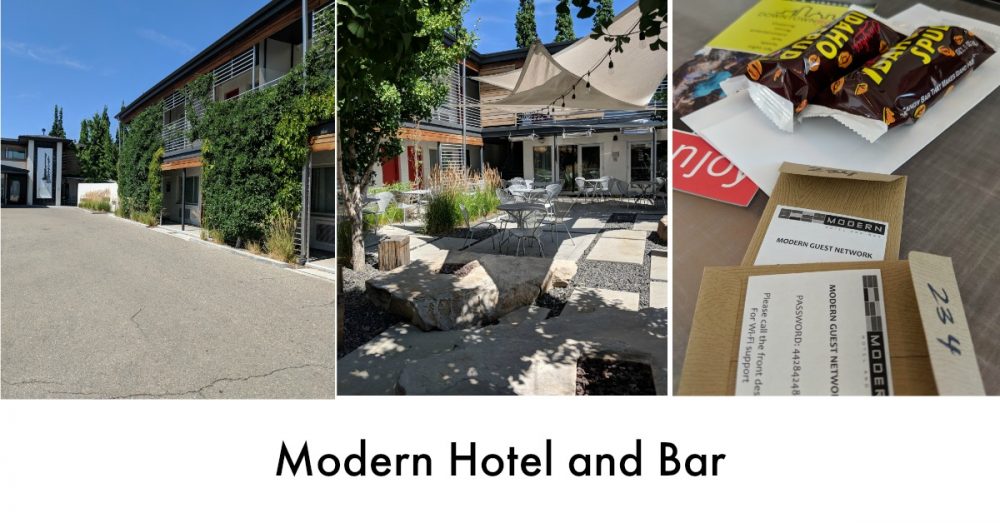 Our first night in Boise we stayed at Modern Hotel and Bar. The front desk staff is always my first key to how my stay is going to be. I loved the ladies at the desk! We chatted and they were so informative about everything I asked. My husband was ready to go explore and I was enjoying chatting it up at the desk. I love the urban but homey feel of the rooms and grounds.
The patio is very nice to have an evening drink on or even a nice dinner. I noticed a lot of local people on the patio both nights we were there. It seems like it a nice central meeting place for everyone. Made me want to come home and find little laid back places to visit!
The hotel also provides a really nice breakfast and brunch on the weekends. If you would like to explore the city, you can do so by bike. The hotel is so close to everything you can hop on a bike, provided by the hotel, and take off for the day. The Modern Hotel and Bar is perfect for the laid back traveler!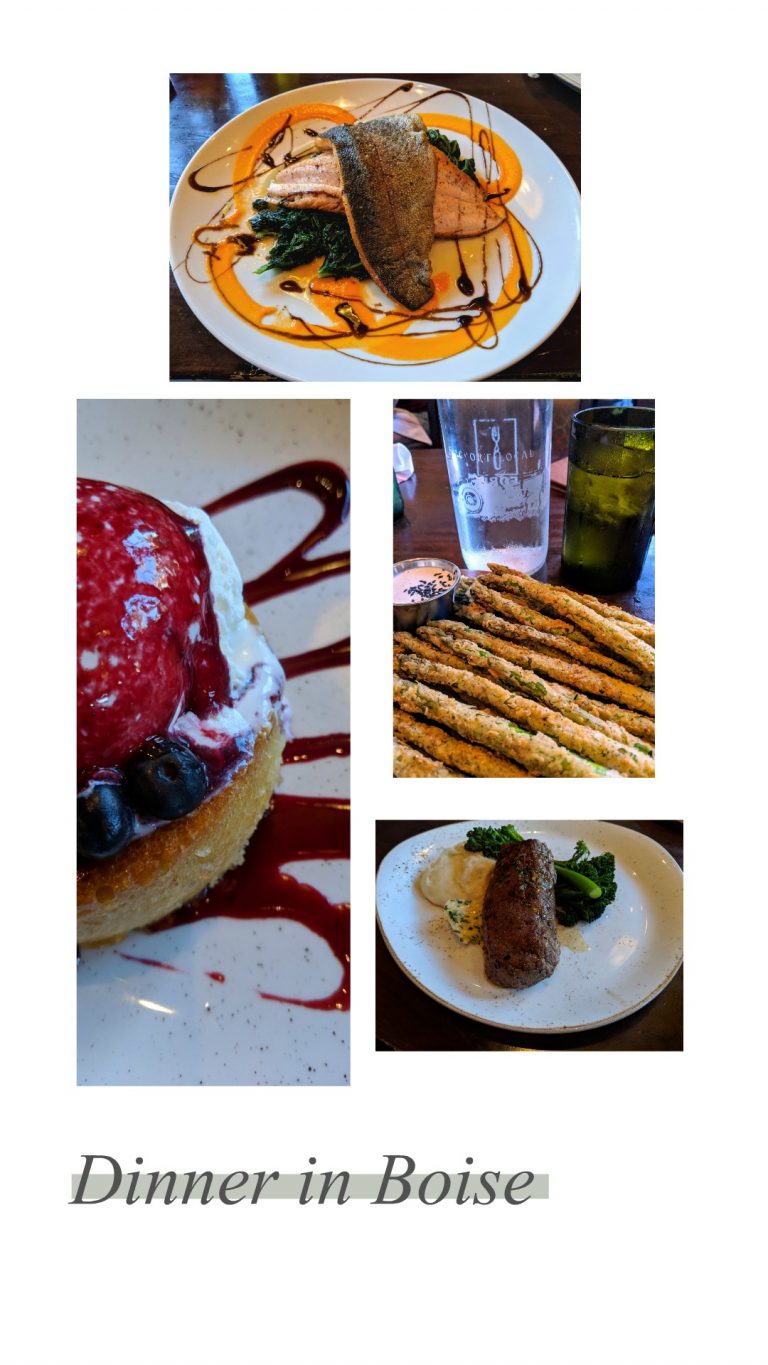 I read all over travel sites to get a feel of where we should go to dinner and they all pointed to Fork. Fork is located in downtown Boise and is located in a fun district of the city. I love their #localtoloyal concept! Their commitment to source many of their key ingredients from local Boise & Northwest farmers, ranchers, bakers, distillers, brewers, producers and cheese makers is quite impressive.
This concept is family owned and you can tell. Everyone takes great pride in the service of great foods and beverages. We loved Fork so much we did not seek out a new restaurant for our last night, but visited again!
One of the greatest things I noticed at Fork…. no one was on their phone. I mean no one! Kids, adults, and service staff were all engaged. This is a rare thing to see in my part of the country. It seems like phones, tablets, and electronics in general have taken over our lives. I did NOT see this in Southwest Idaho anywhere. It truly was a breath of fresh air!
Food Selections:
Asparagus Fries: An addictive house favorite, with ranch dipper
Cast Iron Queso Dip: Three cheeses, chipotle spiced, roasted poblano peppers, tomato, onion & house-made tortilla chips
Idaho Rainbow Trout: Grilled local kale, roasted pepper coulis, balsamic reduction & basil oil drizzle
Sirloin Strip Steak: Topped with fresh herb compound butter and served with grilled broccolini & white truffle cheddar potatoes
Artichoke Heart & Spinach Ravioli: Boise's Ferranti Fresh ravioli pillows, white wine-pesto-cream sauce, sunflower seeds & shaved parmesan
Fork's Signature Warm Butter Cake: Our age ol' recipe topped with local Cloverleaf vanilla ice cream, fresh fruit & Oregon berry coulis
Everything looked and tasted amazing but these were our favorites! We really appreciate Fork for hosting us on our first visit. If you are looking for a restaurant that will satisfy all tastes and dietary needs this is your restaurant!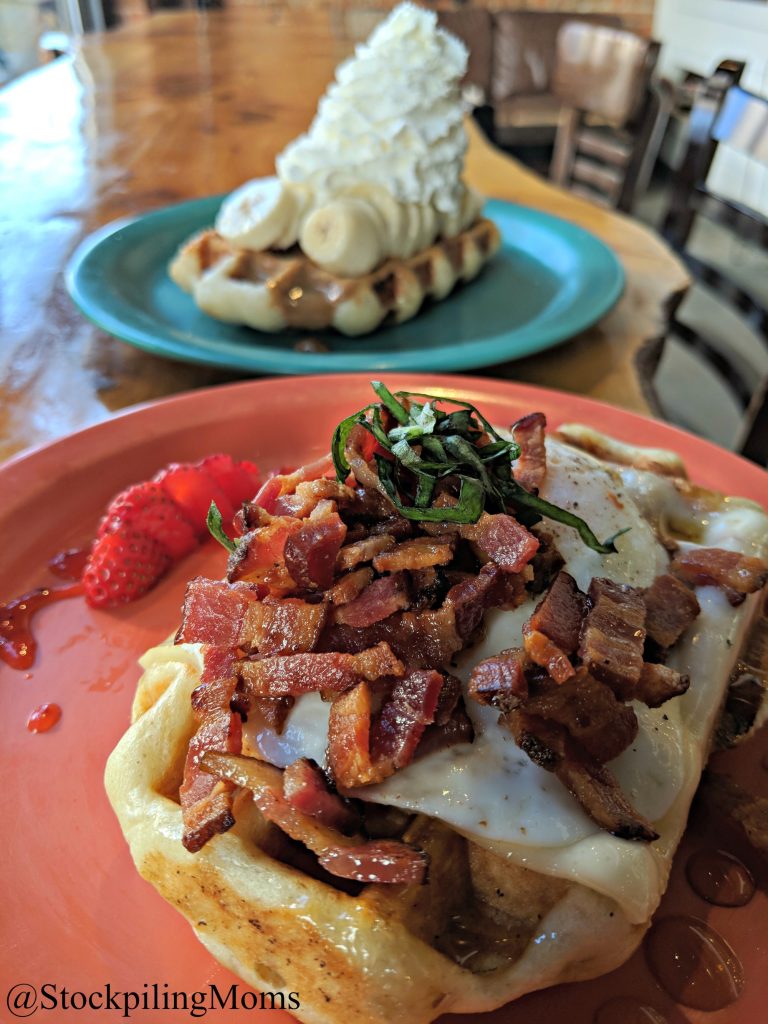 Breakfast in Idaho was amazing. Waffle Me Up was my favorite! They served the best waffles I have ever had in my life! I had the Waffle Me Banana Banana, cookie butter, whipped cream (pictured in the background.) The whole time I was eating I was thinking about the perfect waffle, I thought, I had in Disney. Yeah well, move over Disney, Waffle Me Up has perfected the waffle! BOB Deluxe (pictured in the forefront) was an amazing waffle also. With melted Havarti cheese, market fried egg, bacon, syrup, and basil how can you go wrong?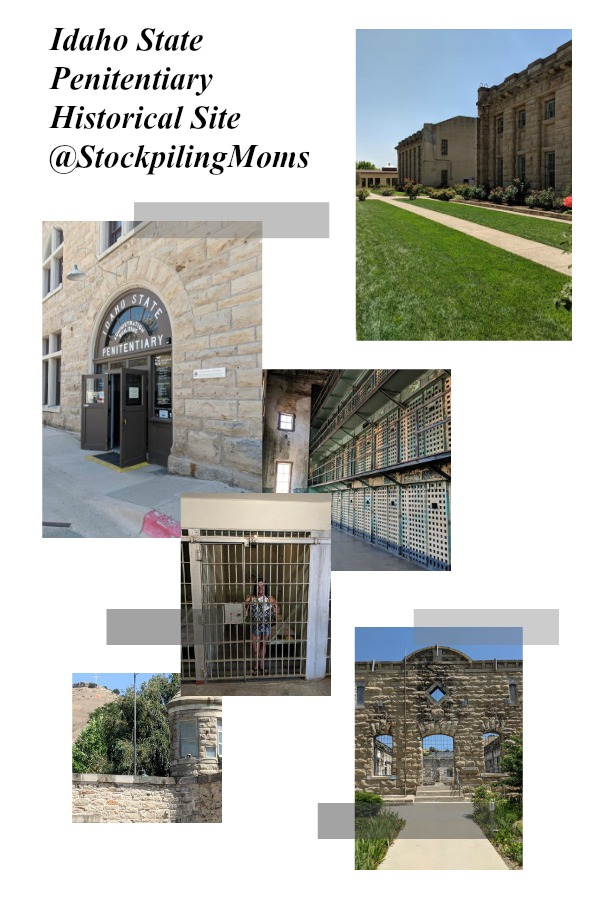 One of our last stops in Boise was the Idaho State Penitentiary Historical Site. I am a history and criminal justice fanatic. Exploring this establishment was one of the highlights of my adventures. We had a private guided tour through the prison and she really brought the history alive. The Old Idaho Penitentiary opened its doors in 1872 to some of the West's most desperate criminals.
The list ranged from horse thieves to murder. It was an exciting tour with over 100 years of Idaho's unique prison history with a visit to Solitary Confinement, cell blocks, and the Gallows. I have to say the Gallows really spooked me. Through all of my historic tours I have never been in the middle of death row. Our guide was very knowledgeable about the escapes from Idaho State Penitentiary. I think the most impressive escape was when an inmate stole the Warden's horse and just rode off. Neither the horse or the inmate were ever found.
Southwest Idaho was an experience of a lifetime. I can not wait to go back and I am definitely taking the kids next time. It is a great vacation full of education, reconnecting with your family, going on adventures, and last but not least AMAZING food! By the time we left my husband was ready to move. I am excited to go back in the future and stay even longer. Don't miss the opportunity to see an amazing part of our country. People may ask "WHY, Southwest Idaho?" Just tell them you need to recoup and regroup in life. Southwest Idaho will help you do just that!
Disclosure: SWITA provided our travel, hotel accommodations, and tour fees however all opinions are 100% our own. Fork hosted us for dinner one evening and Waffle Me Up for one breakfast however all opinions are 100% our own.
Shelley is a boy mom, marine wife, and is blessed with an amazing family. She loves sharing recipes, travel reviews and tips that focus on helping busy families make memories.