15 College Dorm Life Must Have Items
We are so excited to see our niece head to college soon, and so I have been searching for all of the Must Have Items for College Dorm Life! Living away from home for the first time can be tough on teens and young adults, but these comforts of home will make it so much easier to manage!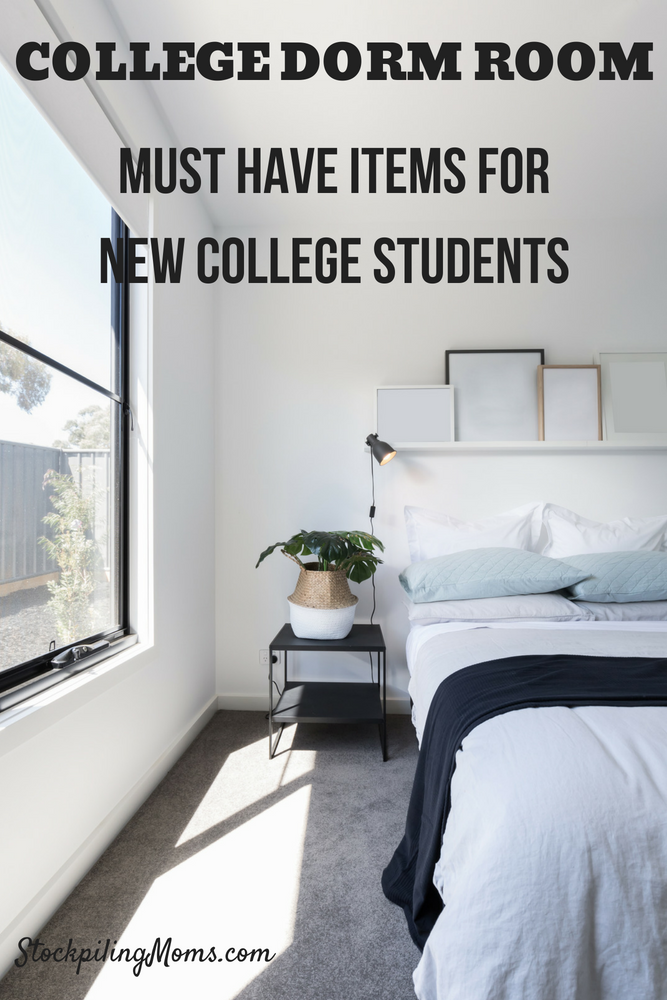 15 College Dorm Life Must Have Items
Every college dorm is different, so some of the items below may not be applicable. Learn more about what is included in the dorm and what your student will have available to them before making big-ticket purchases like dorm refrigerators and similar. Some students prefer to just eat at the cafeteria for all meals, but those snacks late night are easier to manage when you can prep in your room!
Mattress pad for a dorm bed. While some beds in the dorms aren't bad, none are perfect. Good sleep is a must when working hard for those higher grades, so a mattress pad with a nice cushion is a must. We love this LinenSpa Gel Memory Foam Mattress Pad. It has a lot of cushions, and memory foam is a hot product these days for comfort and durability.
In-room refrigerator. You can't go wrong with a Black & Decker Mini Refrigerator. Depending on the size and space available, you may want to go smaller, but this one is our favorite. It has room for a few small things, and a freezer area for those frozen pizzas and Hot Pockets every teen needs at college.
Microwavable cookware. Good storage cookware that works in the microwave is a must. From the classic college ramen noodle dishes to the more creative microwave cooked meals, you need a set that is versatile. Thin Bins Collapsible Containers are a favorite since they are so easy to store in small spaces.
Toaster Oven. A good Toaster Oven is a must if you have space. They are great for making breakfasts, baking sweet treats, or cooking that microwave pizza and making it crispier. There are tons of options, but a Small Toaster Oven is typically more than large enough!
Collapsible Laundry Bags. With laundry being outside the room, a few collapsible laundry bags make it easier to lug clean and dirty clothing back and forth with ease!
Wet Bag for Shower. I prefer having a wet bag for washcloths and towels if having to share a communal bathroom. Some dorms have more privacy with bathrooms in each suite, while others have only a few per floor. No matter what, you'll like having one on hand to keep wet items away from your dry clothing. This set of Wet Bags has been durable for us in the past.
Over the Door Shoe Organizer. Whether you use it for shoes or toiletries, these over the door shoe organizers come in handy for tons of things in small places. We have seen them used for socks, underwear, camisoles, belts, scarves, gloves, toiletries, hair care products, curling wands, etc. all in one!
Flashlight(s). Flashlights are needed much more often than you think. A good sturdy flashlight is a must for every dorm room, and having a second on hand won't hurt! Don't forget extra batteries for this. We prefer the Maglight Flashlights brand for durability.
First Aid Kit. You can easily make your own First Aid Kit, or you can purchase a simple Multi-Purpose First Aid kit anywhere. This should include basic bandages, antibiotic cream, alcohol swabs, and pain relief as well as an anti-histamine.
Power Converter Strip. There are never enough outlets in small dorm rooms, so power strips are a must. You can invest in ones that are also protection against power surges, but this is mostly about adding extra places to plug items in when needed. These simple power strips are nice and compact for small spaces.
Rolling Storage Cart. Depending on space in your dorm room, a rolling storage cart makes things a lot easier to manage. You can grab one that is a simple plastic cart, or a sturdier cart that acts as a storage or an "island" for your temporary kitchen. This is great for storing foods, clothing, toiletries, and books.
Extra electronics chargers. We break them or lose them enough at home, it's a must to go to college with a few extras just in case. Nobody wants to find out their laptop charger has died when they have a report due the next morning. Take at least one extra and have on hand for things like tablets, laptops, phones, and any other electronics that require charging.
Under bed storage containers. These are a must for everything from off season clothing to extra blankets. We prefer these Zippered Polypropylene Underbed Storage Bags since they are easy to collapse down a bit smaller if you have a short space under the bed. They also have side pulls that make it easy to grab and pull out when needed.
Command Strips. This little wall hanging strips are ideal for dorm rooms where you may have rules against hanging items with nails. They come in multiple sizes to hold up various weights. They are ideal for posters, pictures, and wall hangings.
A piece of home. Whether this is a favorite pillow and blanket, or some portraits of family, a piece of home is a must. Including a few simple items to hang or hold onto helps ease homesickness and makes a dorm room feel more like home.
Stockpiling Moms can be found in all your favorite places. Hop on over to Instagram and follow the fun. We love posting memes, family fun, travel, and whatever we are feeling that day. Pinterest is also an amazing place to visit Stockpiling Moms. This is where you can pin all your favorite articles from our Food, Travel & Lifestyle Blog.
Melissa is a football and soccer mom who has been married to her best friend for 24 years. She loves sharing recipes, travel reviews and tips that focus on helping busy families make memories.