3 for 3 Lunch Challenge – Lunchbox Ideas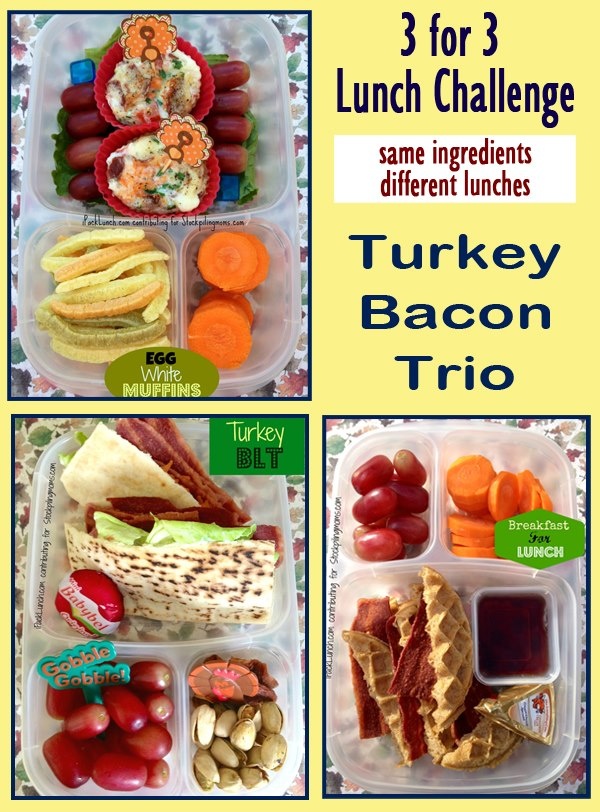 Each week I will try to help you stretch your food budget by showcasing 3 different ways to serve 3 main ingredients in your lunchboxes. I will use additional ingredients but will try to keep them limited to common pantry or refrigerator items. At times I will also suggest tools and techniques to help enhance your lunch packing. I have not accounted for any dietary considerations but you can swap out for Gluten Free, Nut Free or other types of products as appropriate for your family!
Turkey Bacon (I have used Jenni-O brand), Carrots and Grapes
#1 Egg White Muffins (pictured above)
Put 2 silicone baking cups on a cookie sheet (make more or less as desired).
Fill cups with pre-cooked crumbled turkey bacon, shredded carrots and your favorite shredded cheese (you can add whatever else you have on hand such as tomatoes and chives).
Pour in egg whites until the cup is almost full.
Shake or grind on small amounts of salt, pepper and garlic powder (or season as desired).
Bake in a 350 degree oven for 10-15 minutes, remove and allow to cool completely.
Add grape kabobs (grapes poked onto food sticks) and cut carrot "coins".
Finally add your favorite snack such as veggie sticks (as shown).
#2 Gobble Gobble BLT (pictured above)
Pre-cook your turkey bacon as desired.
Cut a pita pocket in half.
Spread your favorite condiment (I combined mayo, cream cheese, chives and garlic powder) on the inside of each pocket.
Layer in the pocket lettuce, sliced tomatoes, shredded carrots (look closely, I promise they are in there and could also be mixed with the spread) and your cooked bacon.
Fresh grapes are placed in the large compartment and in the smaller one, salt & pepper pistachios as well as dried apricots.
One Babybel cheese was also added.
Additionally carrot sticks could be added.
#3 Breakfast for Lunch (pictured below)
Toast 1-2 of your favorite frozen waffle, remove and cool completely. Slice each into 4 strips.
Cook your turkey bacon as desired. Snap or cut each strip in half. My family likes bacon crispy! Do note that turkey bacon is a bit dryer since there is less fat and because of this shrinks very little when cooking.
Fill a small lidded container with syrup.
Add a Laughing Cow Cinnamon Cream Cheese (if desired) to spread on the waffle.
Add Carrot coins and fresh grapes as snacks.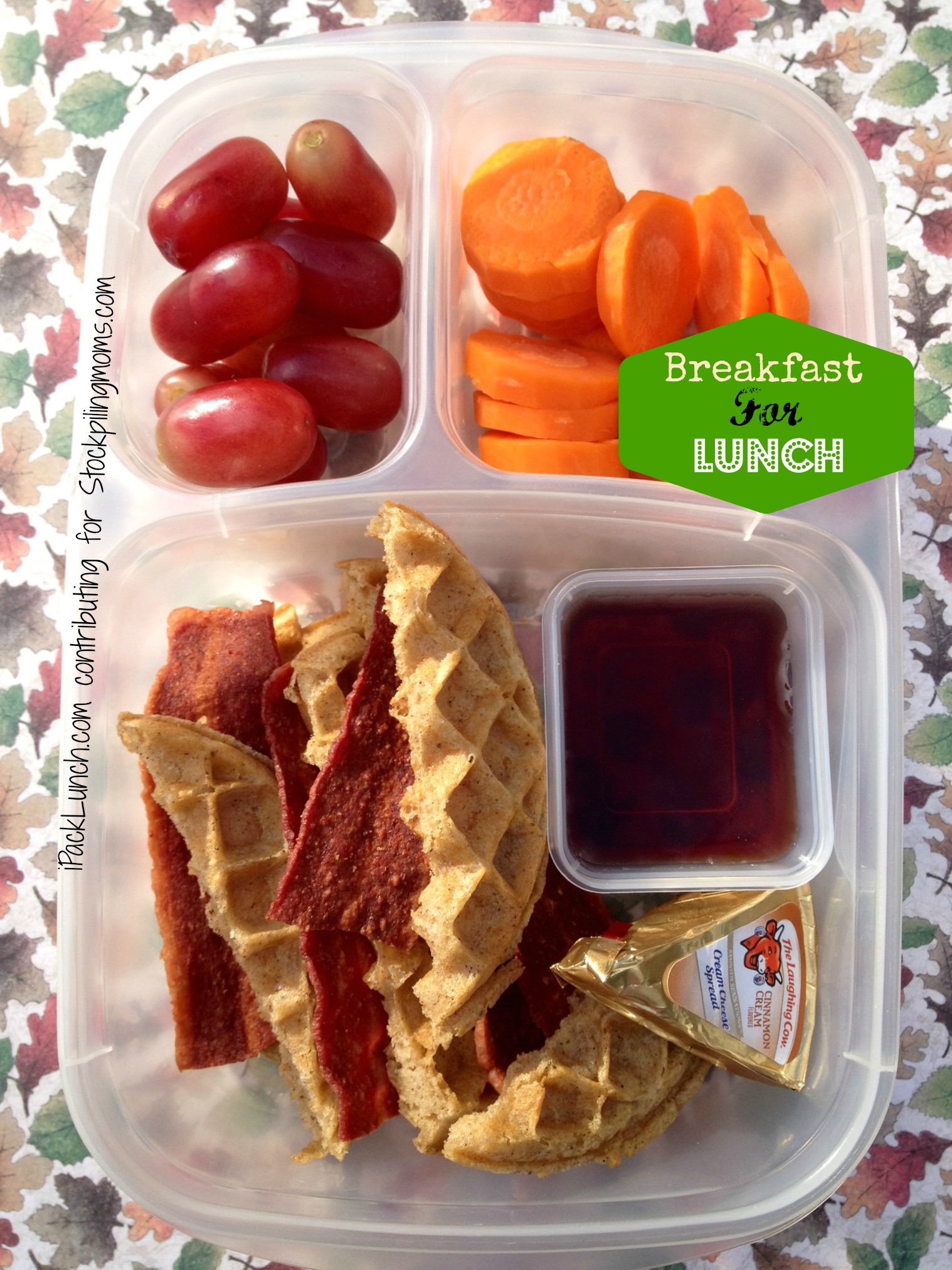 Always substitute for the snack of your choice and make adjustments for dietary considerations as necessary!
Please adjust portions for your family members, lunches shown in photos are just for a reference!
Tip: Remember to add crunchy snacks in the morning so they stay crunchy!
Tip: Food picks can be found in most party stores or stores with a party section. Food picks can also be ordered online.
All three lunches are shown in an Easy Lunch Box.
If your looking for more ideas consider:
BBQ turkey bacon tomato mini pizzas with carrot sticks
Turkey bacon pinwheels (spread cream cheese, shredded carrots and crumbled bacon in rolled bread)
You may also enjoy:
3 for 3 Lunch Challenge – 9/30
3 for 3 Lunch Challenge – 10/7
3 for 3 Lunch Challenge – 10/14
3 for 3 Lunch Challenge – 10/21
3 for 3 Lunch Challenge – 10/28
3 for 3 Lunch Challenge – 11/4
3 for 3 Lunch Challenge – 11/11
3 for 3 Lunch Challenge – 11/18
3 for 3 Lunch Challenge – 11/25
3 for 3 Lunch Challenge – 12/2
You may also want to check out:
Here is a how to get started Menu Planning Monthly. We believe it helps us to stay on budget and cook from our Stockpile and save more!
Melissa is a football and soccer mom who has been married to her best friend for 24 years. She loves sharing recipes, travel reviews and tips that focus on helping busy families make memories.