Tips for saving money on car rentals – my experience with AutoSlash
Tips for saving money on car rentals – my experience with AutoSlash. When I was asked to visit SouthWest Idaho for the blog my first concern was "Oh no, I have to rent a car!" Renting a car has never been on my list of favorite things because it is so expensive. This is when I discovered AutoSlash.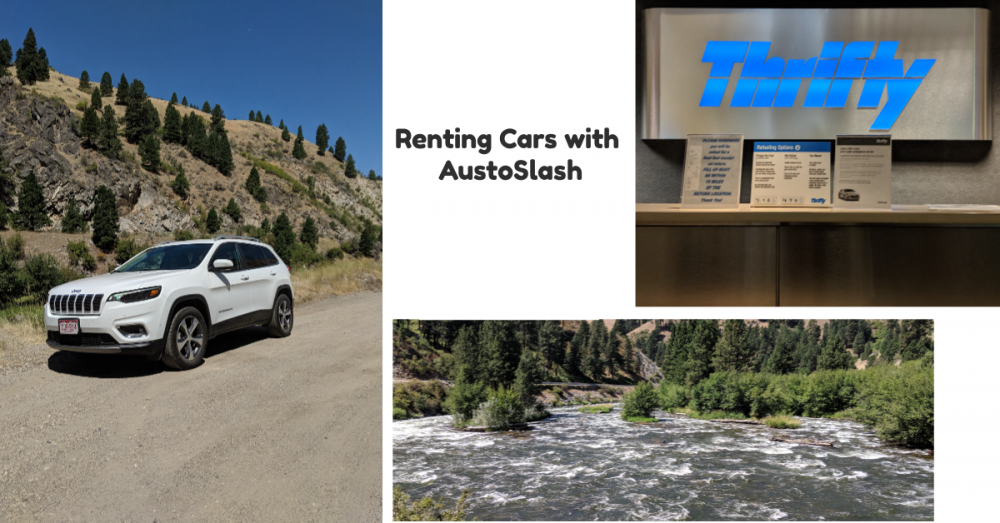 Renting a car with AutoSlash was the easiest thing I have ever done. Yeah, I'm really not kidding. Believe me, I was skeptical because I don't ever remember getting that great of a deal on a rental car in the past. AutoSlash takes all the homework, research, and looking for deals out of the equation. They do it all for you! How easy is that?

It is so easy to get started! Follow these simple steps and you are on your way.
1. Visit the Autoslash website and search the location where you want to pick up.
2. Enter your pick up and drop off times.
3. Select your vehicle type.
4. Select all your memberships such as AAA, AARP, Delta skymiles, and etc.
5. Then enter for your quote.
Autoslash is so unique that it will take a few minutes to gather all your deals. It is very important to enter all your memberships. AutoSlash will use your membership information to analyze your rental and figure out which coupon/discount codes will benefit you more. You will receive an email shortly after with all the deals to choose from. I was amazed at the ease of using this program. I really didn't have to do a thing but enter my own information. The best part of this program is IT IS FREE!
Once you are booked, you can track the pricing on your reservation. AutoSlash will continue working for you by looking for deals right up until you are ready for pickup. Rates will often drop as your pick up date approaches. Not only will they check the company you're booked with, but all other companies as well. If they find you a lower rate they will email you. When you get this email rebook and save. Many customers re-book several times because better deals are found. I rented a mid size SUV for five days in SouthWest Idaho.
Rates dropped during my reservation 2 different times. My rate started out at $190.55 with Alamo, then down to $184.41, and then my amazing price slash was with Thrifty Car Rental coming in at $117.00. I was shocked at the price slash and it certainly fit better in my budget. I didn't have experience with Thrifty but decided to take a chance on them! The gentleman at the counter was so nice, polite, and extremely helpful. The Jeep Cherokee that I rented was brand new, low miles, had great gas mileage, and was extremely clean. Picking the car up and dropping it off was as easy as the rest of the process.
Renting a car can come in handy for any vacation. Now that I have found AutoSlash, I will consider renting a car for all road trips. Not only is it a great deal, it saves the wear and tear on my own personal car. New tires, oil changes, and normal everyday maintenance can be very costly. Why put it all on your car? Save your money and put the maintenance on them!
Tips for saving money on car rentals:
Be reasonable about what you need. The larger and latest luxury of the car often determine the price.
If you have another driver make sure you register them as a driver. Otherwise, you are responsible for all cost.
Check your gas options. It was crazy expensive to have them fill the car on return. Search Gas Buddy and check your options.
Check gas station mileage. When we returned our rental car it had to be filled up within ten miles of the drop off location. They even checked our receipt!
Walk around the car and look for noticeable dings, dents, cracked windshields, flat or low tires. You are responsible for the car when it is in your care.
Know your credit cards. I didn't take out extra insurance because rental insurance was already included as a perk of the card I put it on.
Be aware of surroundings. Gas Stations can sometimes be few and far between. There were times we drove an hour without seeing a gas station.
Keep up with all rental paperwork. We kept ours in the locked console.
Don't forget when renting a car to check out AutoSlash. You can save on average 30% just by letting them do the work for you! Just in case you forgot IT'S FREE!
Disclosure: AutoSlash provided the basic rental, without adding an additional driver, however all opinions are 100% our own.
Stockpiling Moms can be found in all your favorite places. Hop on over to Instagram and follow the fun. We love posting memes, family fun, travel, and whatever we are feeling that day. Pinterest is also an amazing place to visit Stockpiling Moms. This is where you can pin all your favorite articles from our Food, Travel & Lifestyle Blog.
Shelley is a boy mom, marine wife, and is blessed with an amazing family. She loves sharing recipes, travel reviews and tips that focus on helping busy families make memories.