What to Pack for a Cruise Vacation
Are you wondering What to Pack for a Cruise Vacation? We've been on some amazing cruises through the years, and have learned all about how to make the most of this all-inclusive vacation. There are some things that are important to pack, and others you may just want to leave at home. Check out our tips below for an amazing trip on a cruise ship with your family!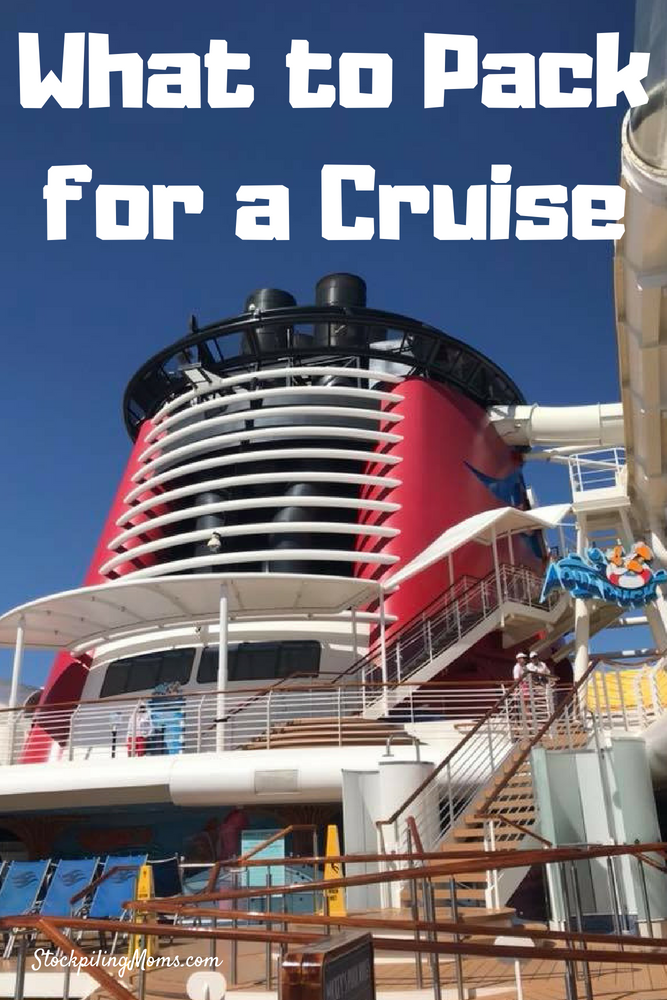 As you make a choice about your upcoming cruise vacation, you'll want to keep in mind these tips for what to pack for a cruise ship. While a cruise is typically an all-inclusive vacation, you'll want to make sure you have a few basic needs met during your trip. These tips and list of things to pack are a must no matter what cruise line or destination you choose.
What to Pack for a Cruise Vacation:
Passport for everyone traveling – depending on where you travel, you will have shore excursions and potential to need proof of who you are.
Sunscreen and aloe vera gel – most cruise lines, if not with tropical destinations, have pools and you will be spending time in the sun. These items on the ship are often triple the cost.
First Aid Kit – basic items like ibuprofen, antihistamine, anti-nausea, and simple bandages are a must. On the ship, they are costly, and sometimes hard to find.
Medication for motion sickness – even those who typically do not have issues with motion sickness find that a cruise and the swaying of the water can create issues. A scopolomine patch from your physician is the best choice for your travels.
Outlet adapter for electronics. Your cabin may only have 1-2 outlets. If you have any electronics, you'll want extra space. We love this simple 6 outlet adapter.
Electronics chargers. While you may not be using your cell phone or laptop often due to the extra charges it incurs, you still want to have chargers on hand for the times you do use them. Don't forget to pack these in your bags.
Over the door shoe organizer. This is a great option to roll and take with you. It can be hung over the bathroom door and free up space on counters, etc. in an otherwise small cabin. Toiletries, shoes, and even some clothing items can be easily tucked into this and easily take up less space in your room.
Swim cover ups. When you are out on various excursions, you may want to swim or hit the beach. A great sundress or coverup is ideal for being appropriately dressed for eating in restaurants, while also being easy to take off when you head to the water.
Flip flops or easy to wear sandals. These won't be for walking long distances, but for wearing around the pool, in showers, or at the beach. You'll want to keep your feet off questionable floors, but also be comfortable.
Backpack or fanny pack. You'll leave your cabin often but still want access to your important items. This is a great way to carry without lugging your entire purse or luggage. We love this great fanny pack option.
Drinks. This one is something that really varies depending on the cruise you choose. Some pay extra to cover the cost of beverages. Others bring their own in a suitcase. Read about regulations on your own cruise line, as well as about any drink options they offer that will save money and effort. Also, bring a Yeti or other refillable drink container to use on board.
Interchangeable clothing. One of the biggest things to remember on a cruise is the smaller space for storage in your room. Capsule wardrobes are a favorite. A few items that mix and match easily with each other to create unique outfits is a perfect option.
Limited shoes. So many will tell you to bring shoes for every occasion. While you may have a formal evening, that doesn't mean you have to pack 5 different pairs of heels. Instead, choose a good comfortable pair of sandals that is multi-purpose, a good pair of casual shoes or tennis shoes, and one shoe that is a bit dressier. I love finding sandals that are dual purpose. Both functional for walking and attractive for wear with dresses if needed.
Emergency contact information. Along with your itinerary, you'll want to keep a list of emergency contact information and list of any allergies or medications. This is important to have on hand for those "you never know" instances.
Camera. If you plan to take pictures of your destinations, a camera is a must. Many of us simply use the camera on our phones, but a traditional camera is a great option to pack.
This is just a small list of things to make sure you have on hand when you head out for your first cruise ship experience. Knowing what to pack for a cruise is really the same as any travel adventure you set out to enjoy. The basics you would need every day will come in handy along with a few specific extra items.
More Travel Tips:
Ways to Stay Cool at Walt Disney World
What to Pack for a Day at the Beach
Tips to Save Money on Your Road Trip
5 Amazing Amusement Parks for Kids That Aren't Disney
Walt Disney World Packing List
Melissa is a football and soccer mom who has been married to her best friend for 24 years. She loves sharing recipes, travel reviews and tips that focus on helping busy families make memories.