Tips for growing strawberries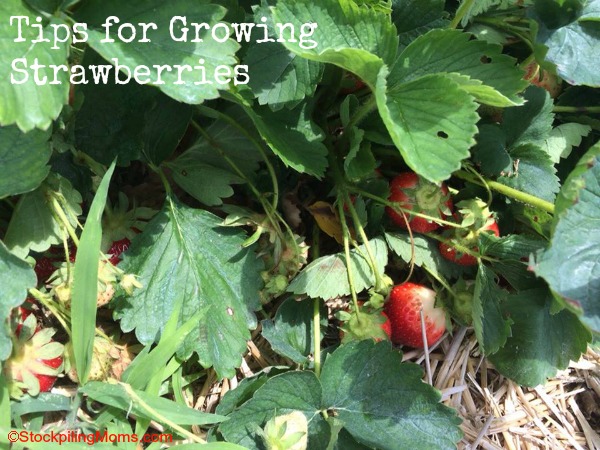 This week I wanted to share with you some tips for growing Strawberries. This is our first time to plant Strawberries and my husband did some research that I wanted to share with you.
Strawberries are easy to grow and survive in full sun and rich soil. You can plant them in your garden in a row, in a raised bed or even in containers. I remember my Granny had planters of strawberry plants as a child.
Be sure to ask which variety is good to plant in your area. They also typically bear fruit in June and July.
Tips for growing strawberries:
Plant approximately 12 inches apart, staggering them with 18 inches between rows.
Your plants will grow and spread via runners or baby plants. Once your bed is the size you desire you need to pinch back the runners to avoid them from spreading.
Every four to five years replace your plants with new.
Mulch with clean straw to minimize watering and weeds.
You should place a blanket of chopped leaves over strawberries in late fall to prevent them from freeing in the winter. Be sure to remove in the spring.
Be sure to water weekly and fertilize sparingly.
Snip stems instead of pulling on berries.
I am very excited about our strawberry plants! We have decided to make a raised bed just for them next year!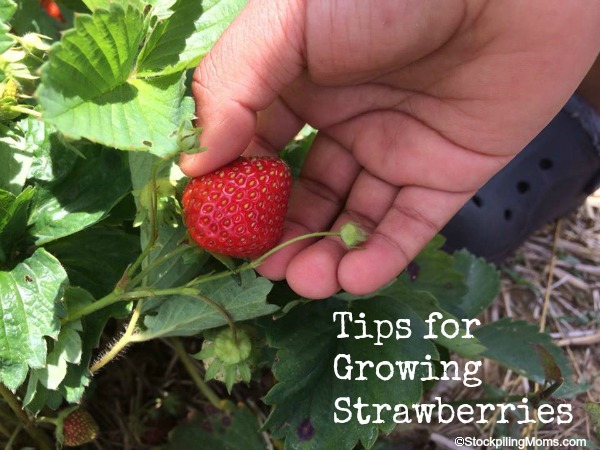 Other ideas you may like:
Why buy canned tomatoes when you can can them yourself?
Mini-Greenhouse – Made with Eggland's Best Carton
Tips for keeping out the pests
How to build an outdoor compost bin
Garden Update :: How to get "rid" of the bunnies
Planting a Moonflower = Hours of Frugal Family Fun
Gardening Tips :: A Frugal Alternative
Do you love the Farmer's Market?
Tips for success with Raspberries, Blackberries and Currants
Melissa is a football and soccer mom who has been married to her best friend for 24 years. She loves sharing recipes, travel reviews and tips that focus on helping busy families make memories.