Tips for Dealing with Plantar Fasciitis
If you have Plantar Fasciitis, then you know the pain I have dealt with in the past. That's why I decided it was time to share some of my top Tips for Dealing with Plantar Fasciitis with you. There are so many things out there to help with this painful foot issue, and here are some of the things that have really helped me to cope with discomfort.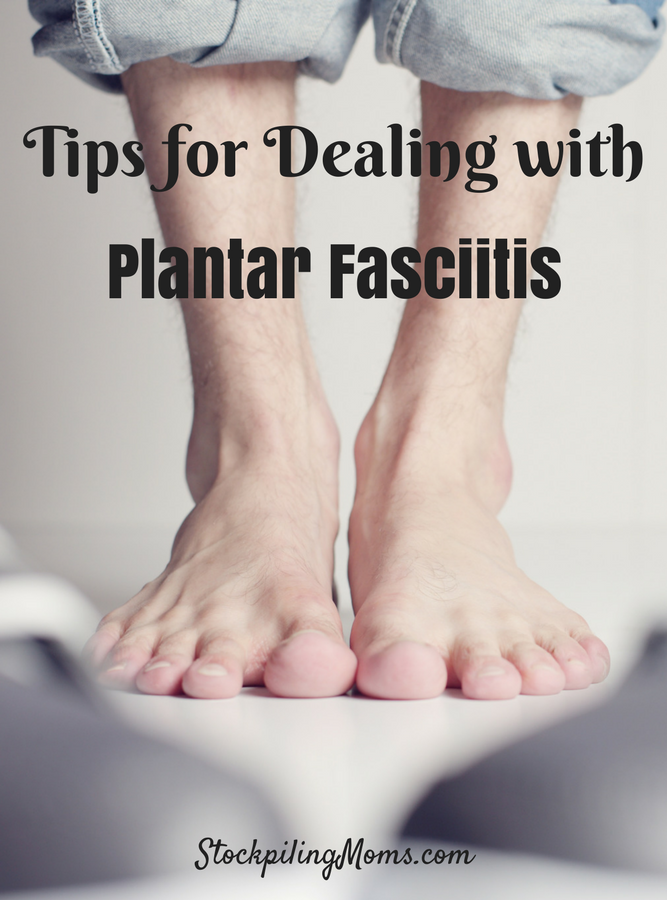 Tips for Dealing with Plantar Fasciitis
To begin, you need to understand what plantar fasciitis actually is. There is great information on the Mayo Clinic Website about this foot ailment. So, if you are concerned that may be what you have, then check the information there and then approach your physician for a formal diagnosis. This causes, in most, extreme heel pain that is most noticeable early in the day and with your first steps. Below, you will find some of my tips that have worked great for relieving this issue.
Lose weight
One of the most common reasons individuals have plantar fasciitis is due to being overweight. The added stress of carrying extra pounds on your frame can easily create the tears in your fascia that cause the pain. By losing even 15-20 pounds, you may find immediate and easy relief for your pain.
Proper orthotic shoes
We all love running around in our flip flops in the hot summer months, but it isn't supportive of you heel and plantar fasciitis. I highly recommend investing in supportive shoes for everyday wear, as well as for exercise. Don't skimp on the quality of shoe you wear. Especially if you are on your feet frequently, or are working out regularly. Visit a local foot specialist to see if you need any added supports in your shoes, but always look for support shoes when shopping.
Yin Yoga
For a slower yoga routine that focuses more on deep stretching, you'll love Yin Yoga. It's ideal for strengthening and stretching the fascia and will become a great way to heal and strengthen your body. There are many online tutorials for Yin Yoga, but you may also inquire at local gyms or yoga centers for an in-person class to learn and perfect your techniques.
Massage for Plantar Fasciitis
We can't deny loving a good foot massage, and this is yet another perfect reason to get one. A professional LMT will know the best techniques to help with plantar fasciitis, but you can do your own simple foot massage at home with great results. The massage with sooth torn fascia and help you feel stronger and better prepared to walk.
As you can see, plantar fasciitis doesn't have to leave you with an inability to walk comfortably. There are tons of great ways to relieve the frustrating pain involved with this diagnosis.
More Health Tips:
What Should I Expect from Open Heart Surgery?
Getting Fitted for Hearing Aids
Melissa is a football and soccer mom who has been married to her best friend for 24 years. She loves sharing recipes, travel reviews and tips that focus on helping busy families make memories.