How to prepare a crockpot freezer meal session
One of our most popular posts on our blog is how to prepare 20 Slow Cooker Freezer Meals in 4 hours. This post has been viewed by millions! In fact our video has been viral on Facebook with over 5.6 million views. We have had many questions for beginners who are just getting started preparing freezer meals so we decided to share How to prepare a crockpot freezer meal session!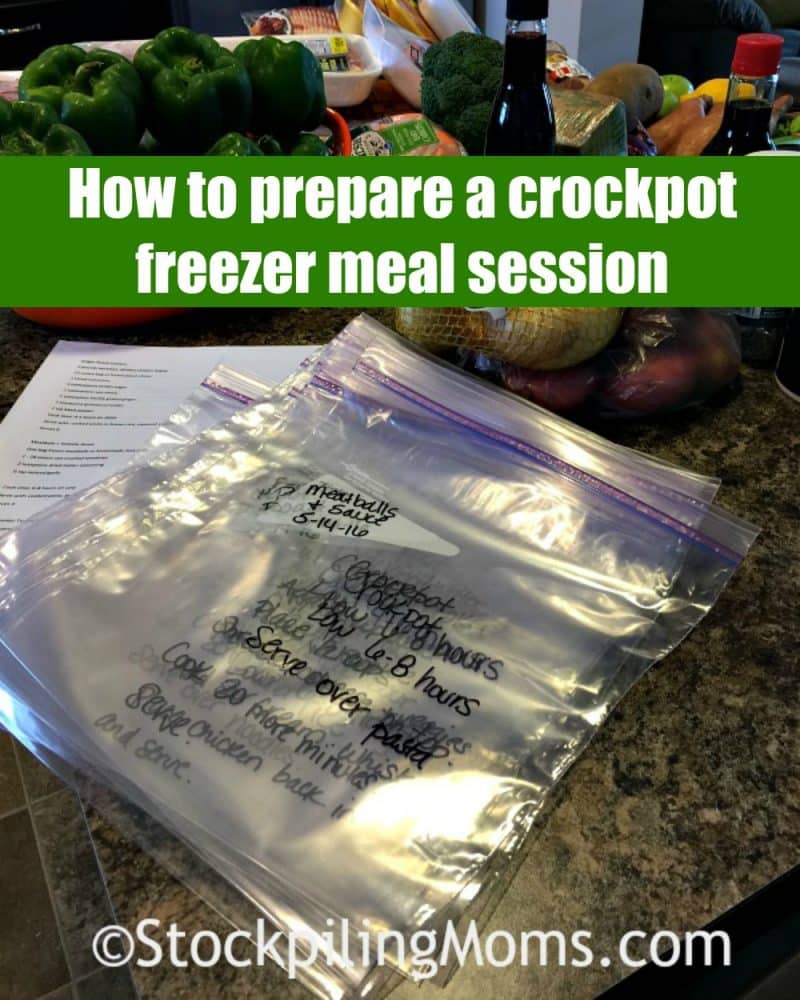 How to prepare a crockpot freezer meal session:
Getting Started
Make a grocery list (feel free to use our printable shopping lists if you using one of our plans to save time) of what you need for each recipe. Check your cabinets, pantry and freezer and cross off all ingredients you already have on hand. When you shop Don't forget the freezer bags!
Label the ziploc bags. (Have each recipe pulled up on your computer and write the instructions on the bag along with the date you are preparing them. All of our recipes can be printed quickly for your ease. Many of our readers place them into a separate ziploc bag and reuse them each time they prepare our freezer meal plans.
Preparing your meals
On the day you are ready to prepare clean your kitchen counter tops and and pull out all ingredients for each recipe and place them on your kitchen table or counter (depending on how much room you have).
Get out cutting board and knives, measuring cups, mixing bowls, etc. Place your trash in a central location (near your cutting area) without the lid, or collect trash in paper bag to discard/compost later.
Wash and dry all produce. Peel, chop, or dice as needed, then set to the side.
Get out all spices that you will be using. I like to make a spice area on my counter so that I keep all of my spices together.
(If) the recipes call for you to cook any of the meat in advance then do that for all recipes at once and allow it to cool before placing it into the ziploc bags. Tip: Make a basic ground beef mixture of onions, and garlic then split the batch between the meals that call for ground beef, adding additional spices after you separate the meat by meals. For chicken, bake chicken breasts with salt, pepper, garlic powder, and paprika, adding additional spices to the meat after it's separated by meal.
Follow step by step directions from the first recipe and fill the bag, then move to next recipe.
Storing and Serving Meals
Lay the crockpot freezer meals flat in the freezer to take up less space.
When ready to prepare pull the freezer meal out the night before you want to cook. Next, place the meal in the refrigerator to thaw.
Be sure that you invest in a good quality slow cooker. Our favorite is this programmable cook and carry 6qt oval slow cooker. We hope that these tips help you will your first (or next freezer meal session). The first time you prepare freezer meals it will take a little bit of time. It will get easier and easier!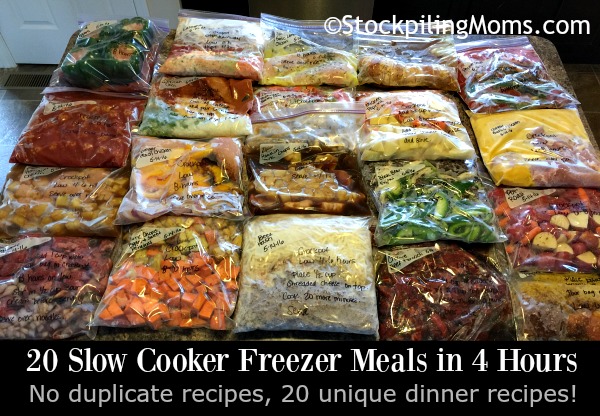 Be sure to check out our freezer meal plans:
20 Slow Cooker Freezer Meals in 4 hours
15 Back to School Crockpot Freezer Meals in 2 Hours
20 Freezer Meals in 4 Hours Plan (not all slow cooker meals)
10 Crockpot Freezer Meals in 2 Hours Plan
20 Healthy Freezer Meals For Your Slow Cooker in 3 Hours Plan
8 Crockpot Freezer Meals in 2 Hours Plan
10 Vegetarian Slow Cooker Freezer Meals in 2 Hours
15 Slow Cooker Freezer Meals in 90 minutes
10 Oven Ready Freezer Meals in 2 Hours
Melissa is a football and soccer mom who has been married to her best friend for 24 years. She loves sharing recipes, travel reviews and tips that focus on helping busy families make memories.