West Baden Springs Hotel is the Best Romantic Vacation
West Baden Springs Hotel in French Lick, Indiana is the Best Romantic Vacation. Perfect for a weekend getaway or anniversary celebration. I have always wanted to go to French Lick, Indiana. When we were discussing ideas for our 20th Wedding Anniversary Celebration, we came up with several however we kept mentioning French Lick, Indiana.
We wanted to take a road trip that was within 3-4 hours of central Kentucky, so we made a list and narrowed our options. Eventually that is where we decided to go to West Baden Springs Hotel, and we are so glad we did. We left feeling refreshed, relaxed and connected. It was the perfect destination for our anniversary celebration.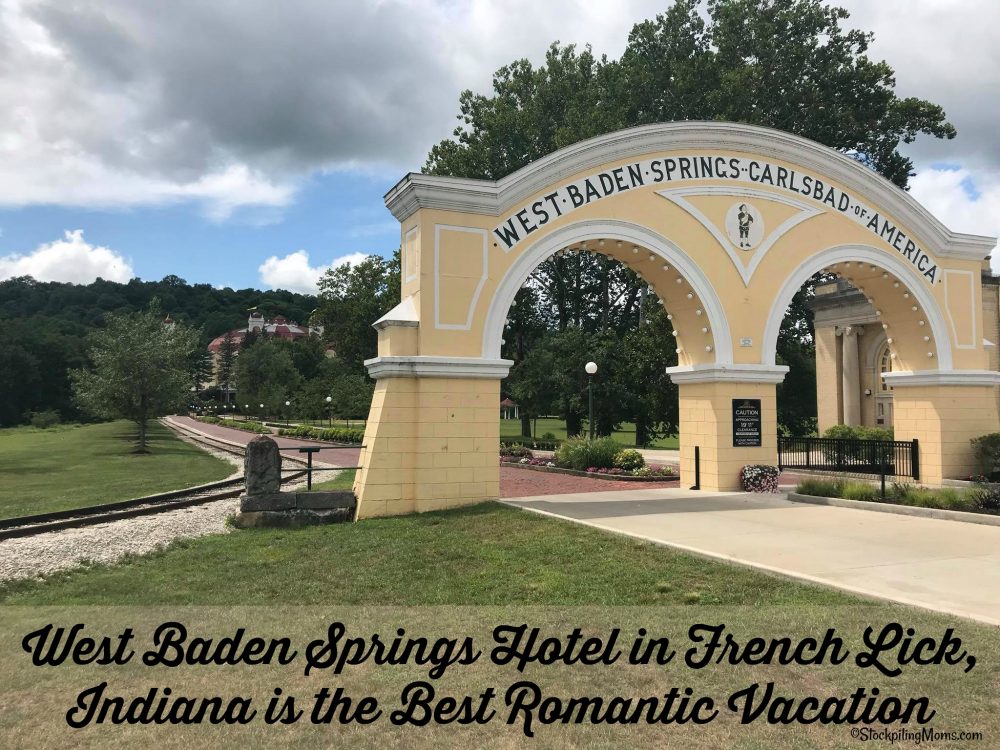 West Baden Springs Hotel in French Lick, Indiana is the Best Romantic Vacation
We spent two nights at the West Baden Springs Hotel in French Lick, Indiana. The hotel is gorgeous! It's so luxurious and peaceful. If you are looking for a destination where you can truly unplug and unwind this is it! I can honestly say that as we drove up to the property it was like taking a step back into time.
We had the most amazing stay at West Baden Springs Hotel. It is truly where history meets luxury. Once you arrive you can valet your car (it is complimentary) and the bellman will take your luggage to your room (also complimentary). So, we started off our vacation relaxed because everything was taken care of for us.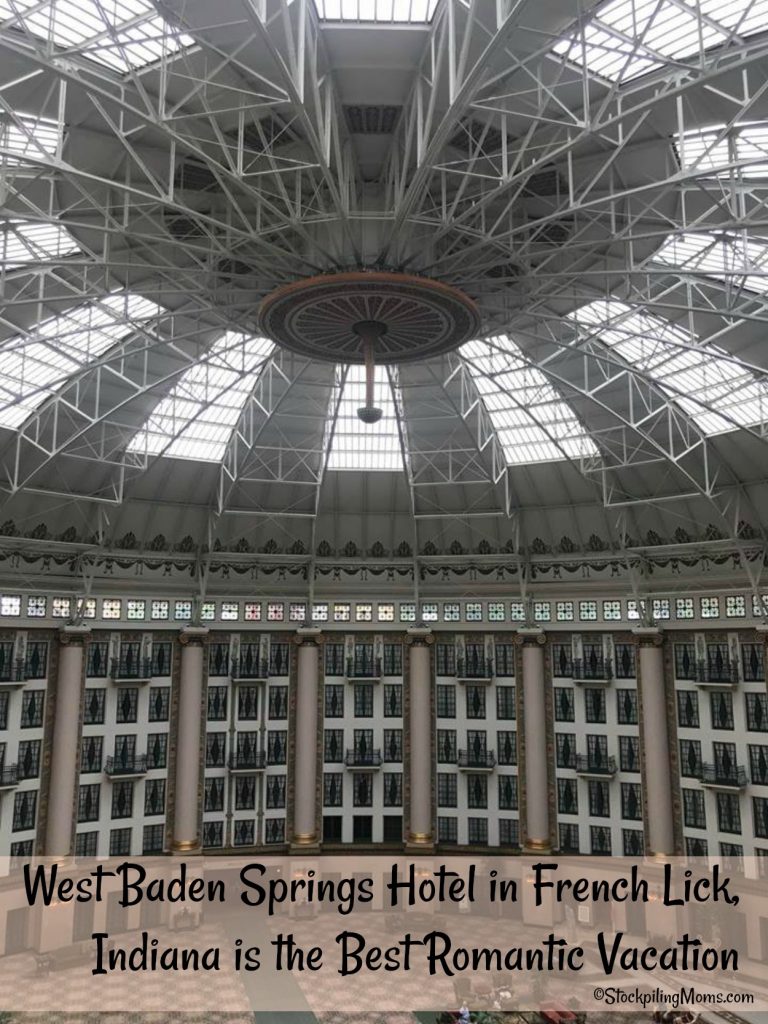 French Lick was a great place for us to escape from our everyday routine. The hotel is luxurious and was built more than a century ago. Once called the "eighth wonder of the world" once you arrive will understand why. I was literally mesmerized by the atrium architecture and design. The atrium spans 200 feet!
Honestly until you see it in person it is hard to explain its true beauty and elegance. Not only did we enjoy the atrium from the lobby view, but our king room also had an atrium balcony view. Not only is it beautiful during the day it also features a light show at night that is out of this world. A completely different experience.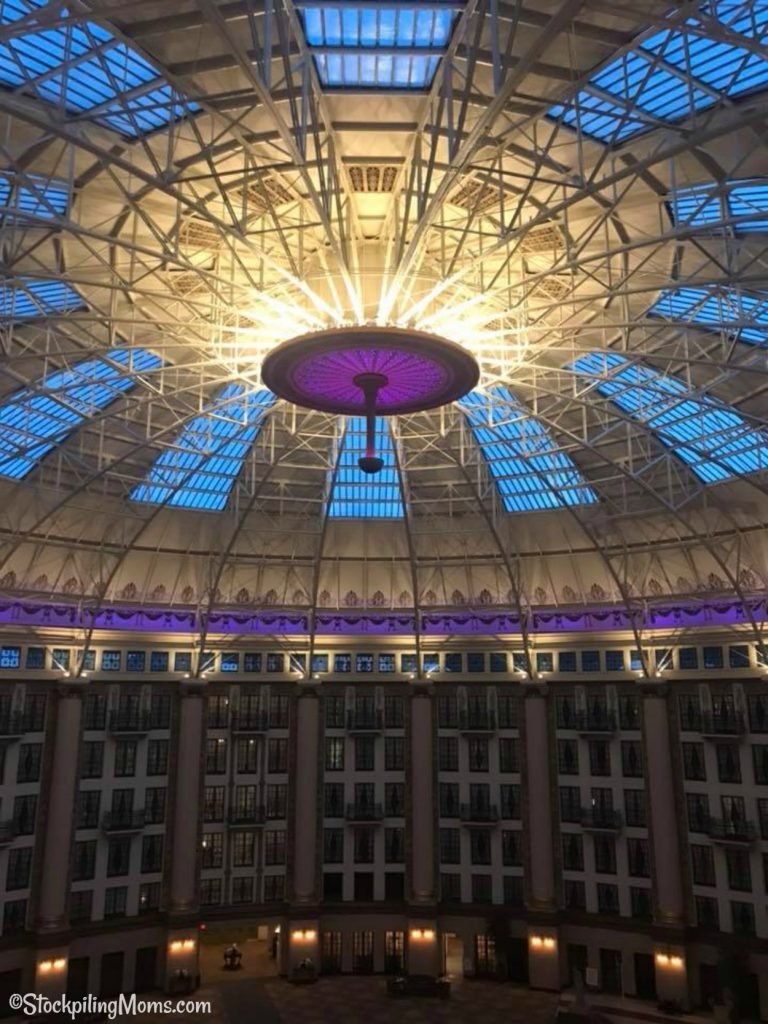 The balcony rooms feature access to wrought iron balcony overlooking the world's first domed atrium. It was a completely different perspective from our 6th floor view. The room was so luxurious and spacious. It featured 820 thread count Egyptian cotton sheets as well as modern amenities such as MP3-adaptable alarm clock and Starbucks in-room coffee.
The old-world charm was what won me over. The European decorative detail and intricately carved furnishings, the luxurious bathroom and that balcony. We were able to enjoy the live music in the atrium from the comfort of our room.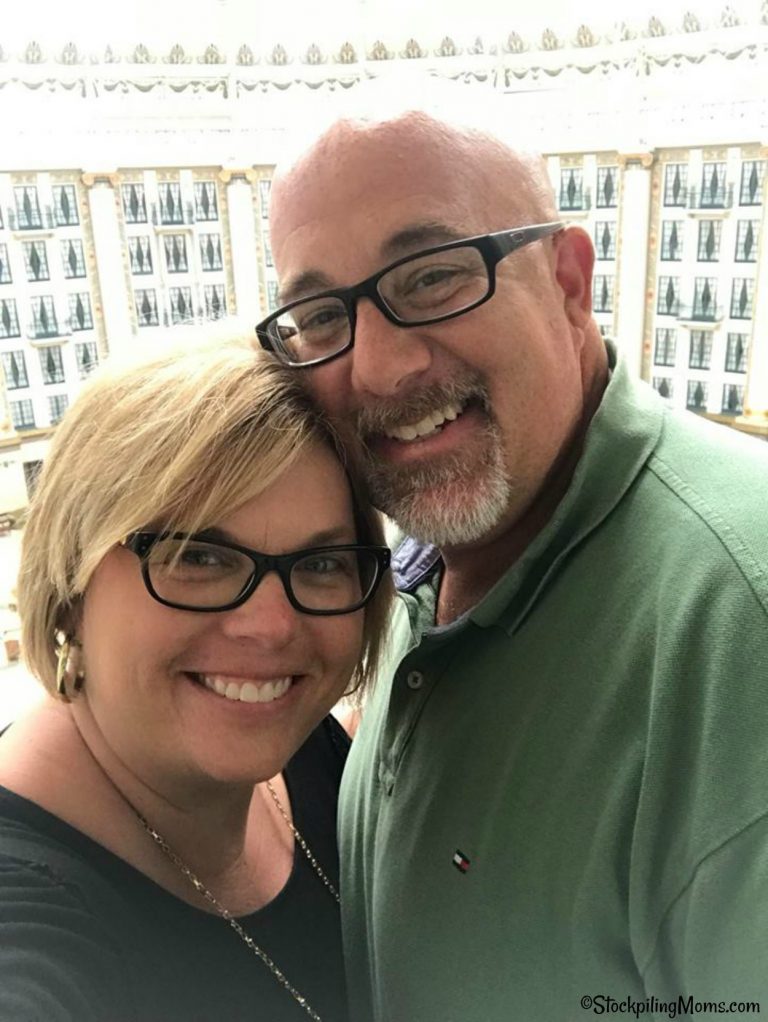 All the rooms also feature complimentary wireless internet access, nightly turn down service and a courtesy shuttle service is available to all activities, French Lick Springs Hotel and the casino. After checking in and valeting our car we never had to worry about driving again until we checked out. We enjoyed all that the hotel had to offer. From the stables to the trolley ride to the casino there is so much to see and do (if you choose).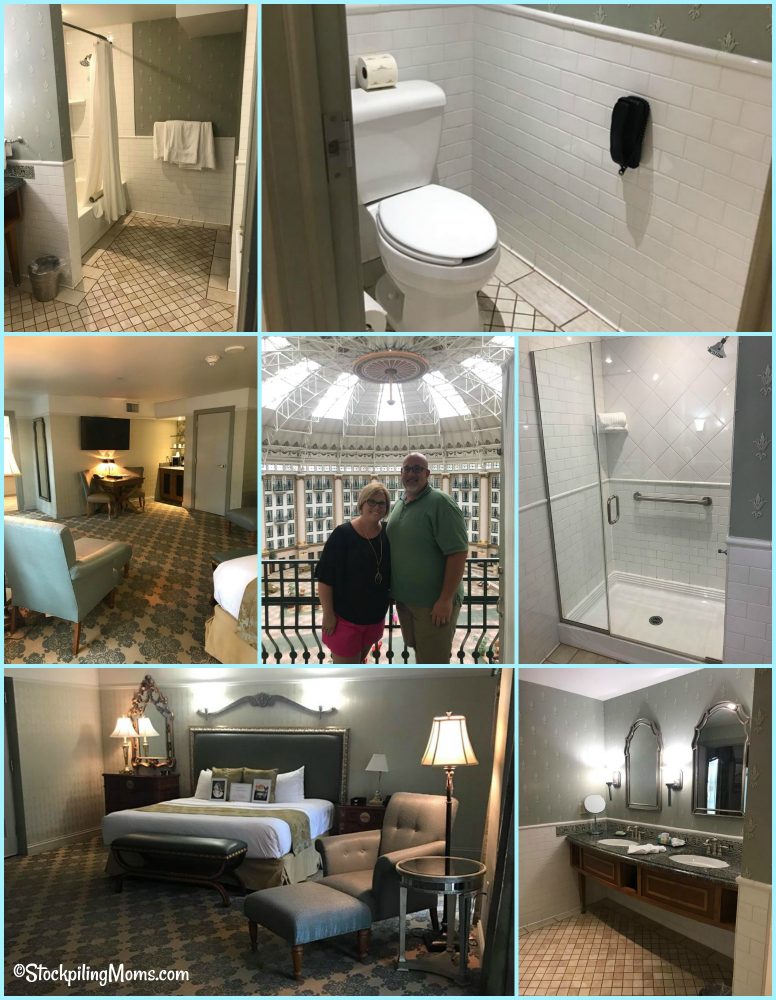 On our first evening we enjoyed dinner at Hagen's Club House Restaurant. The food was delicious, and the view of the Donald Ross golf course was amazing. We took the hotel shuttle and enjoyed relaxing as our vacation began. I enjoyed the diver sea scallops and cream sauce and Tim had the Hagen's signature BBQ ribs. They were both so good. I was pleased to see so many gluten free options on all the menus at the resort.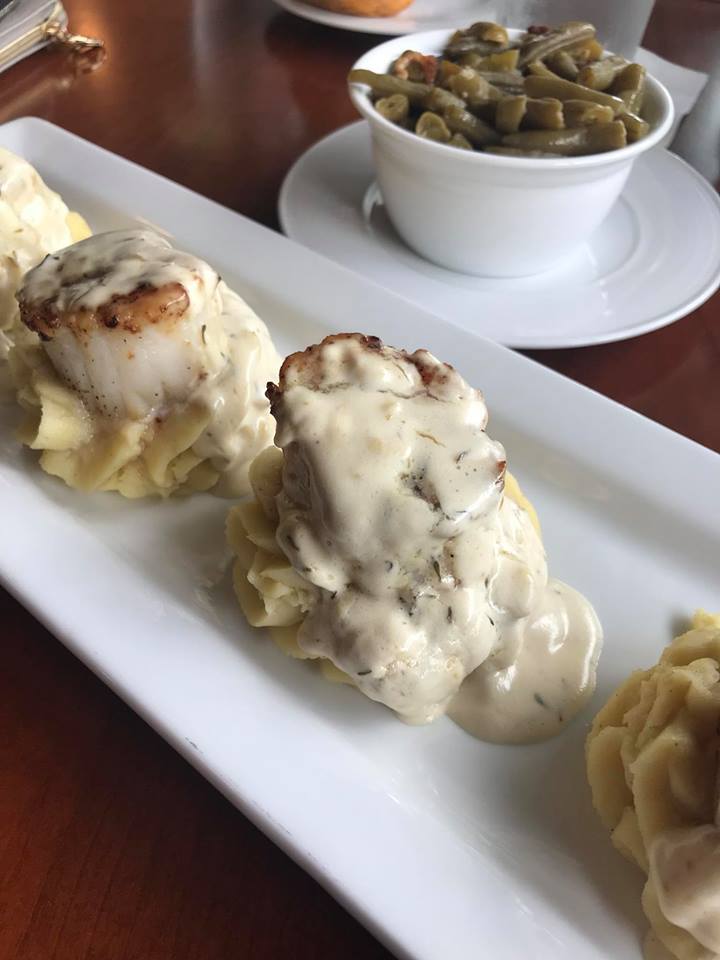 Things to Do at the French Lick Resort and West Baden Springs Hotel:
Golf – With over 45 holes of golf throughout the resort you can enjoy playing on some of the most beautiful courses in the state. Also try foot golf which is a blend of soccer and golf.
Stables – Explore the wooded serenity of the trails with more than 10 miles available that are perfect for a ride.
Indoor and Outdoor Pools – Each hotel features an indoor and outdoor pool as well as a hot tub.
Spa – Seriously the most gorgeous spa I have ever been too. Relax and unwind in style. You can bathe in the famous mineral springs found only in Southern Indiana. There is an excellent menu choice of options and best of all you can enjoy the tranquility room and dry sauna with your service.
Dining – I can't say enough about how delicious the food was. We never had a bad meal. In fact, I am quite sure I gained several pounds while we there!
Casino – 51,000 square-foot gaming venue. Their non-smoking gaming room is the largest in the state.
Relax – Seriously, just enjoy the beauty, sit in the atrium, take a walk on one of the trails, unplug, unwind and enjoy the moment.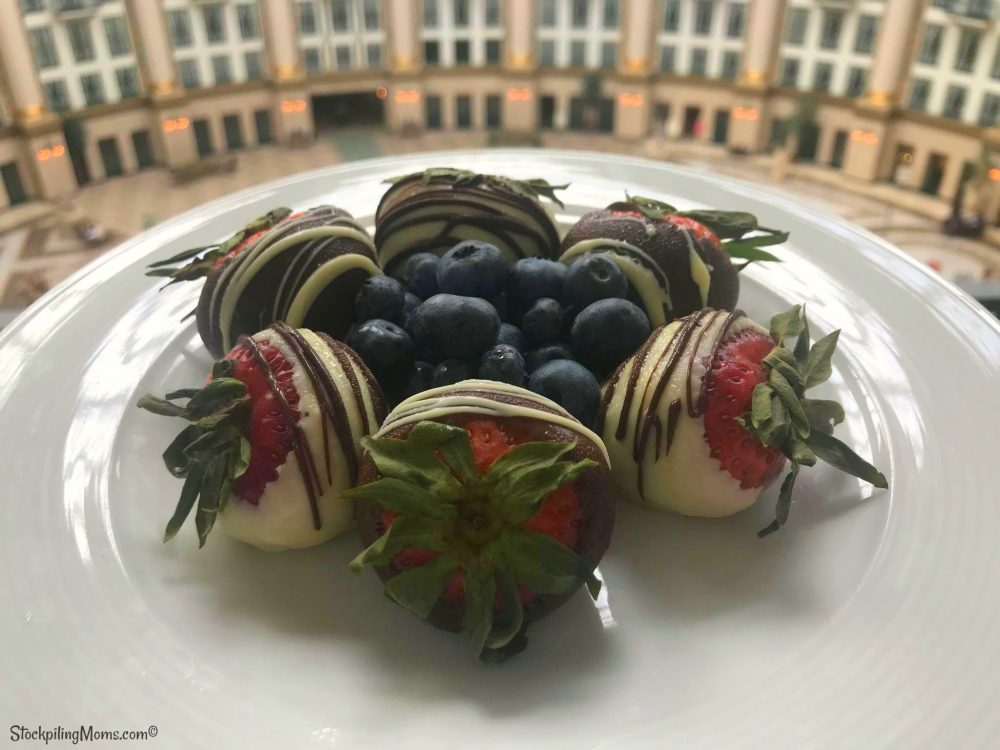 This trip was all about relaxing, unwinding and celebrating our love. I surprised Tim with a round of golf at the Donald Ross Golf Course. On our wedding day he played golf, so I thought it would be fun to surprise him. He absolutely loved the course. It was worth every penny for him to enjoy this prestigious golf course. There are a total of three courses available so you can select one that fits your budget.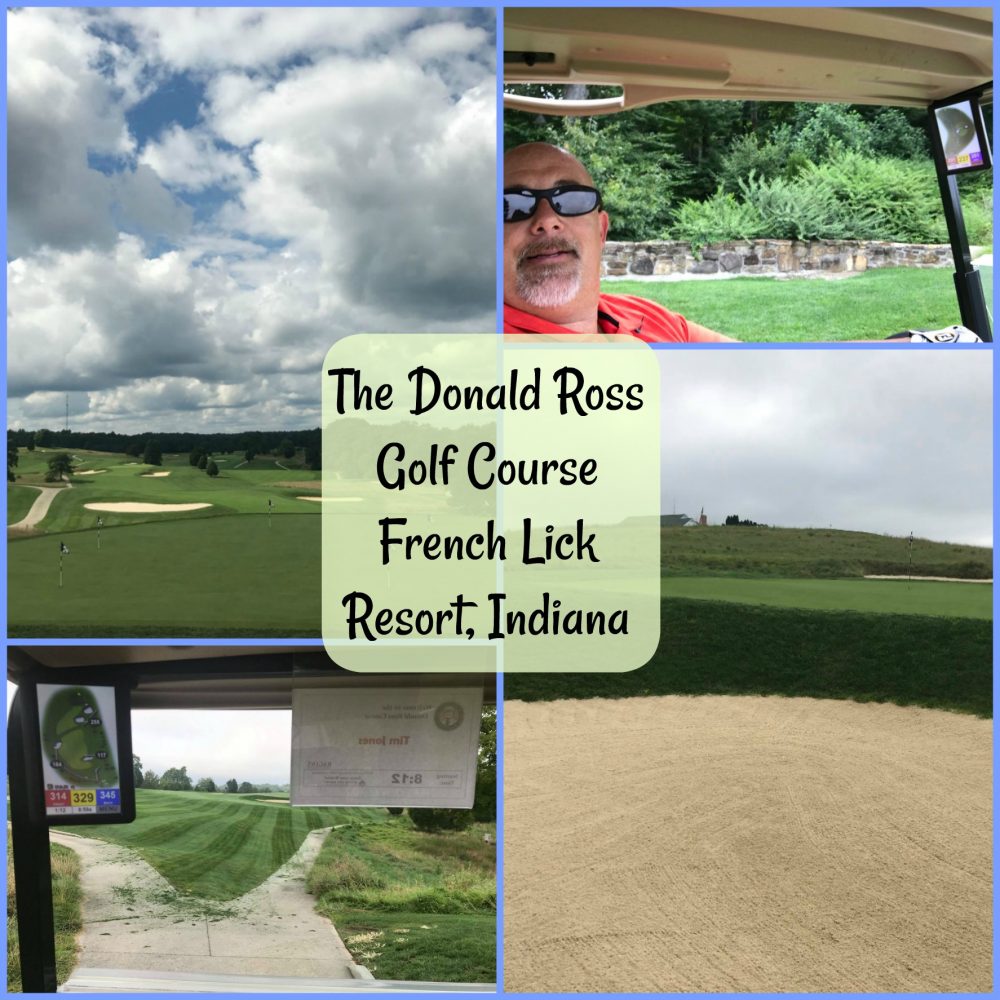 I spent the morning enjoying the West Baden Springs Spa and it was AMAZING! It was ultimate relaxation and I suggest every woman experience it! Best of all you can enjoy the tranquility room and dry sauna with your service. They had an awesome women's locker room with everything you need to shower after your appointment too. Tim surprised me with chocolate covered strawberries after my appointment and there were delicious!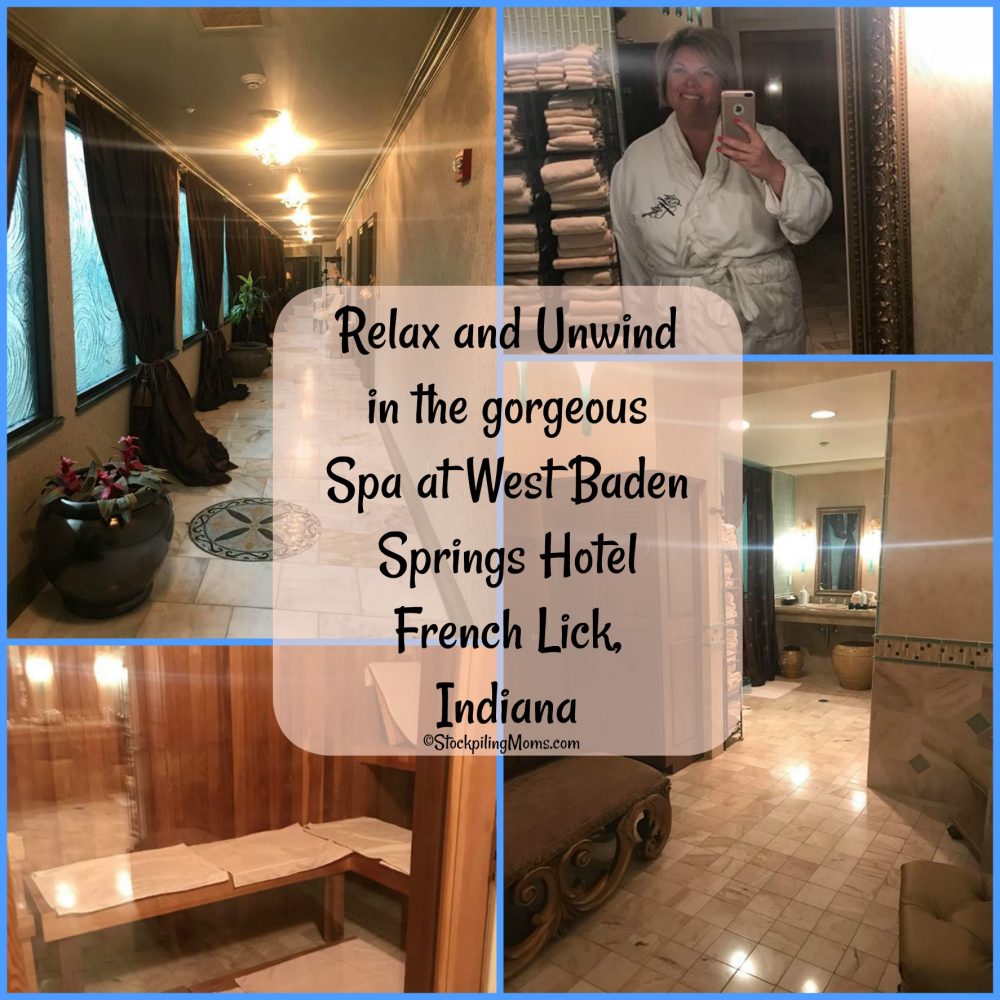 We enjoyed a casual lunch at Ballard's in the Atrium. This was a neat location because it gave you a great location for people watching and a gorgeous view of the atrium at the same time. Our lunch was so good. I had a Southwest Chicken Salad and Tim enjoyed an artisan chicken Florentine pizza. The servings were large which was nice because we didn't eat breakfast and we were starting after our morning of golf and the spa.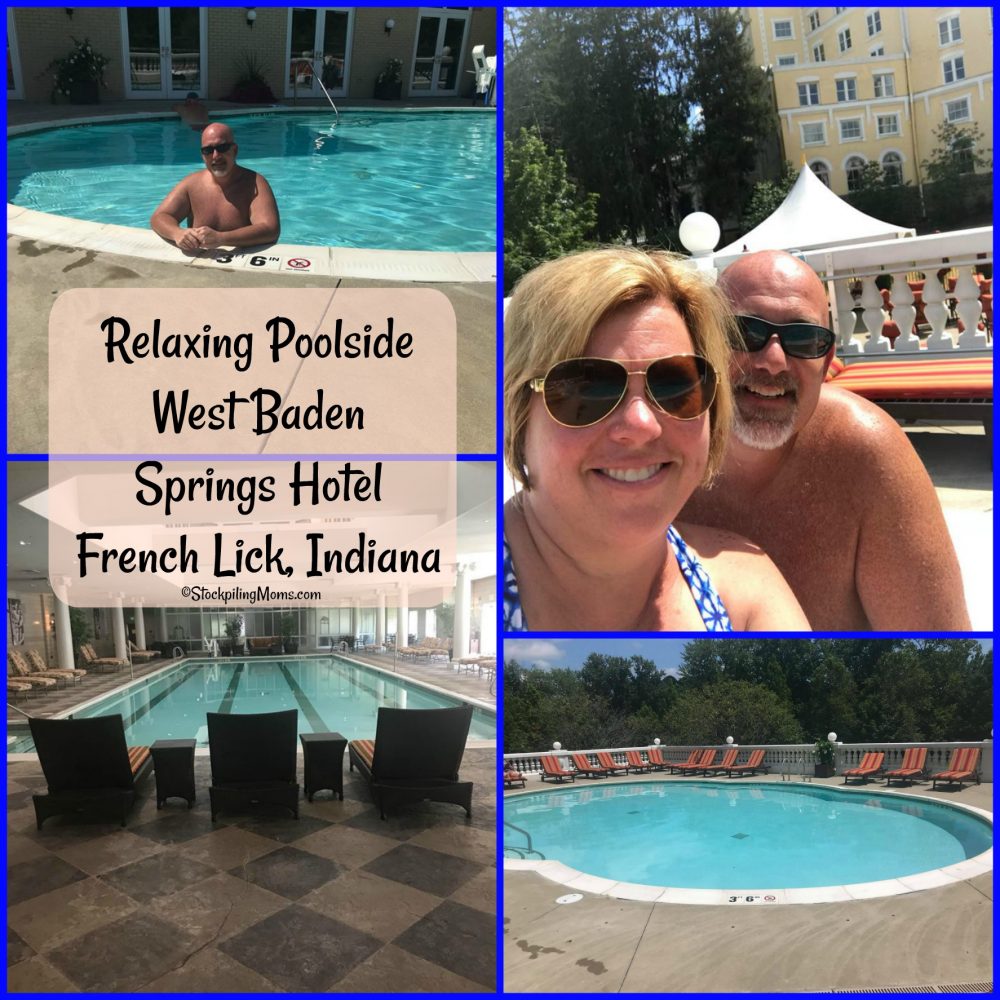 We spent the afternoon by the hotel pool. It was so tranquil. The pool is located off of the spa so it was quiet and all you could hear was the birds and tree frogs. It was the perfect way to relax and unwind. They provided towels for you to use and free bottled water too. In fact we found free bottled water all throughout the resort.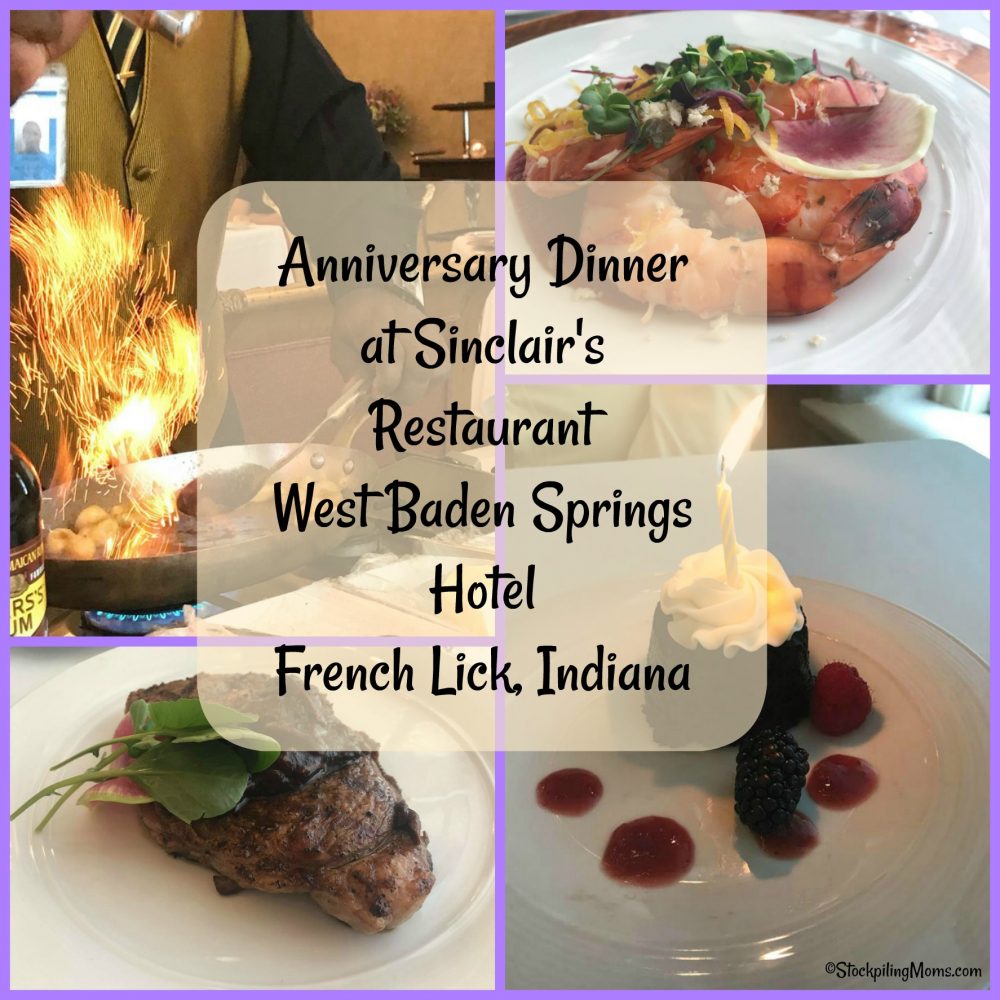 For dinner we enjoyed a delicious fine dining experience where we celebrated our anniversary at Sinclair's Restaurant. I enjoyed the colossal shrimp cocktail for my appetizer and it was the best I've ever had. For my entree I enjoyed a ribeye topped with herbed foie gras butter and a local mushroom ragout. Every bite was delicious. My hubby had a baby rocket salad and the filet mignon with Bearnaise. He also thoroughly enjoyed his dinner.
Finally, we celebrated with a table side dessert of bananas foster and our waiter didn't disappoint with the show. The dessert was delicious. We chose this because it was gluten free (however they did bring us a gluten filled complimentary dessert too).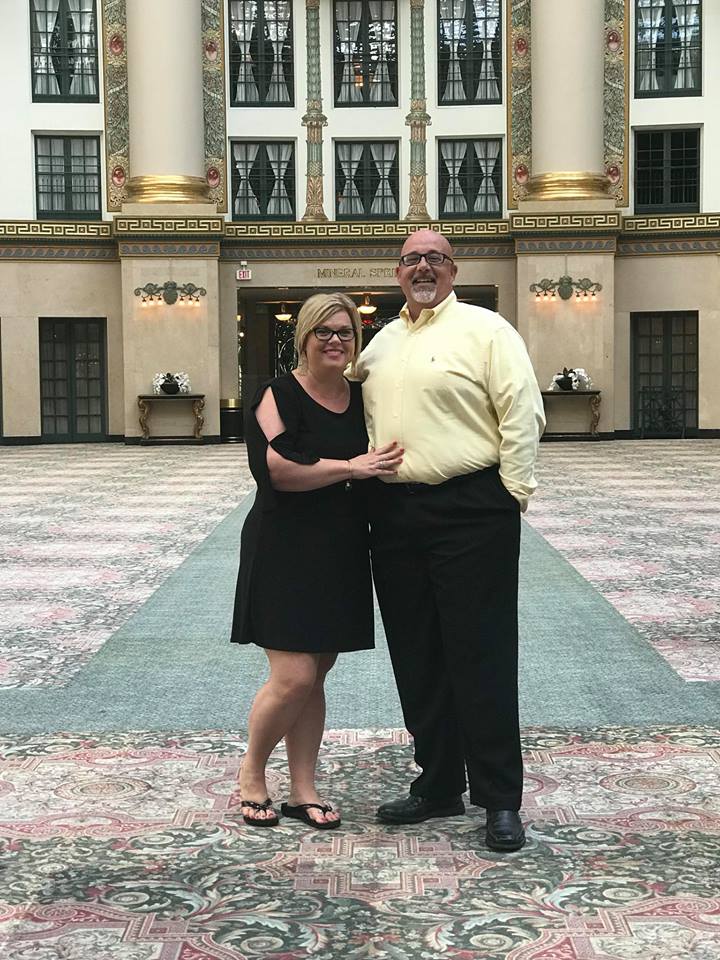 We decided to take a walk after dinner around the garden and considered a horse drawn carriage but decided to enjoy the atrium music instead. All in all, it was a perfect day.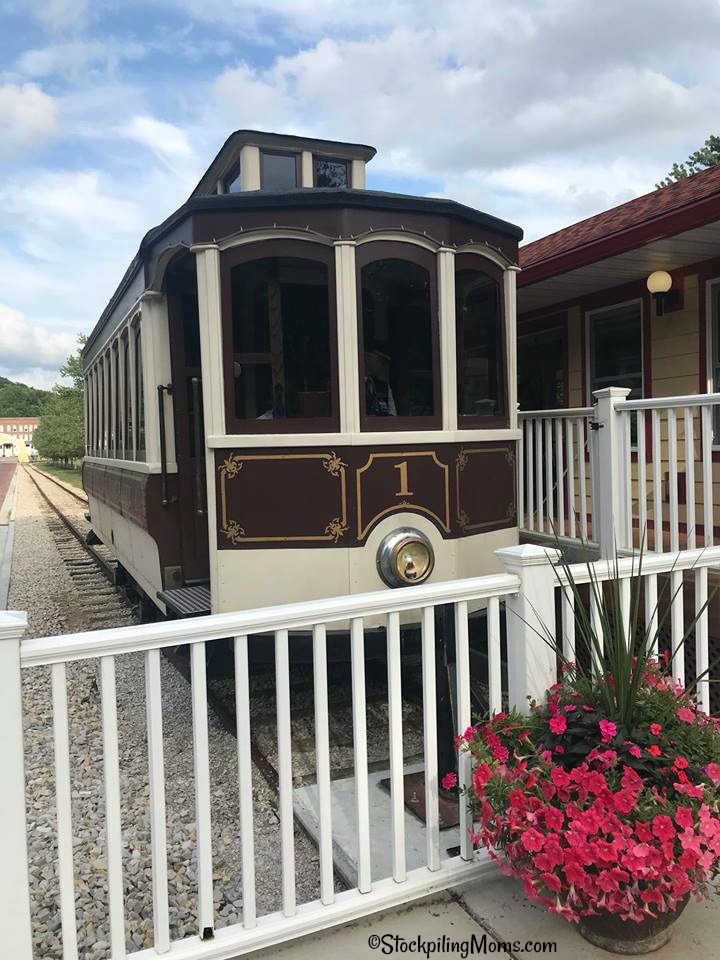 The hotel does a fantastic job at keeping the integrity of the historic charm with modern amenities. It is the perfect destination for a romantic giveaway, wedding, anniversary celebration or even a girl's getaway. There was no better way to celebrate our 20th wedding anniversary. The trip was perfection. From golf, spa, swimming and delicious meals and sweet treats. We enjoyed our time together relaxing. Here is to the next 20 years together!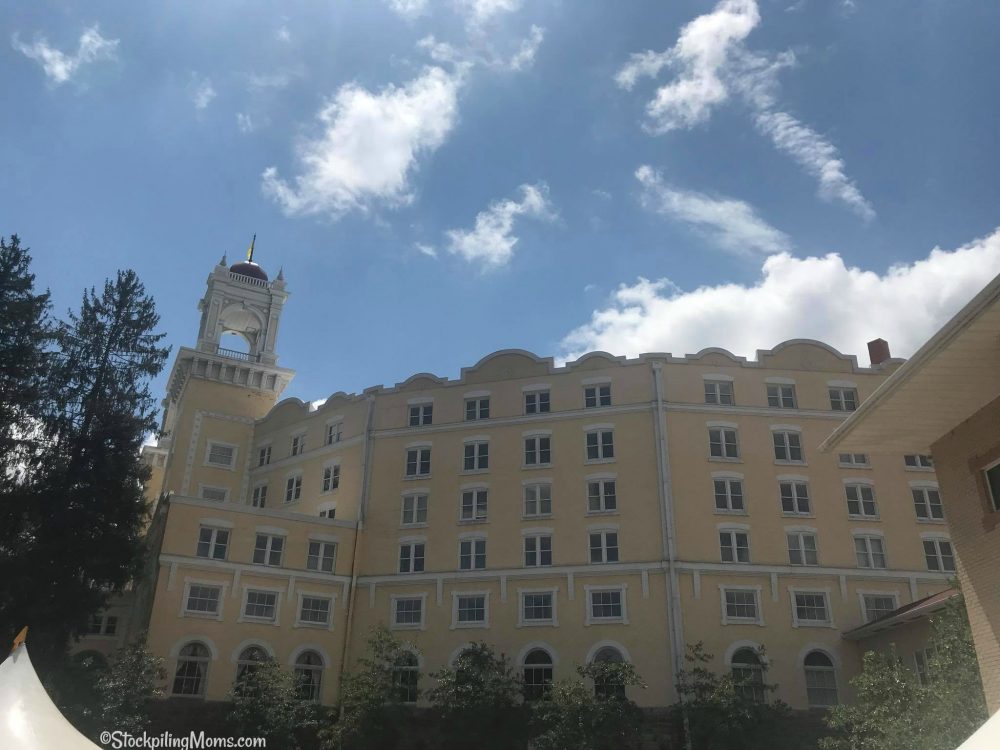 Sadly. it was time to check out. We enjoyed breakfast at Cafe at Sinclairs. My hubby enjoyed the loaf of fruit bread that they served to each table and my favorite was the hash brown casserole. Then we called for our car and bellman and it was time to say goodbye. West Baden Springs Hotel will always hold a special place in our hearts.
Disclosure: West Baden Springs Hotel provided us with accommodations and dinner at Sinclair's Restaurant. All other expenses were on our own. All opinions are 100% our own.
Other Romantic Travel Ideas:
The Kentucky Castle Anniversary Destination
Why you should stay at the Hotel Galvez, Galveston Texas
Stockpiling Moms can be found in all your favorite places. Hop on over to Instagram and follow the fun. We love posting memes, family fun, travel, and whatever we are feeling that day. Pinterest is also an amazing place to visit Stockpiling Moms. This is where you can pin all your favorite articles from our Food, Travel & Lifestyle Blog.
Melissa is a football and soccer mom who has been married to her best friend for 24 years. She loves sharing recipes, travel reviews and tips that focus on helping busy families make memories.