Summer Getaway to Lake Erie Shores & Islands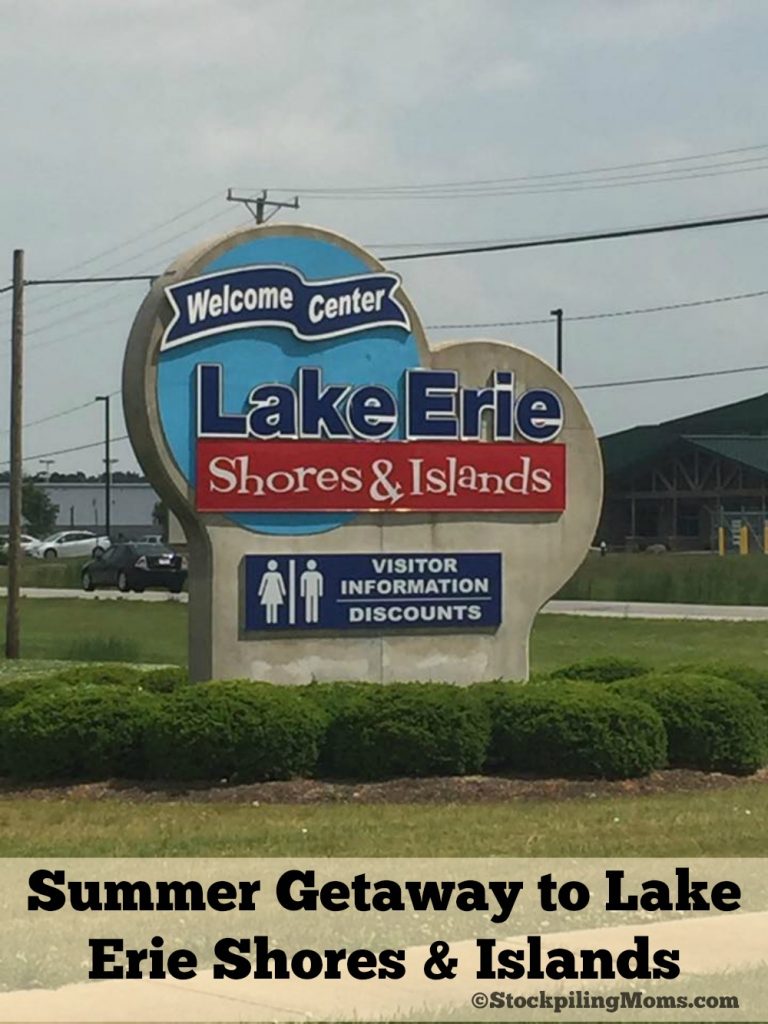 Summer Getaway to Lake Erie Shores & Islands. We are home from a fabulous two-night summer getaway to Lake Erie Shoes & Islands. If you are looking for a weekend getaway look no further than Lake Erie. I had never been so this was all new to me.
Summer Getaway to Lake Erie Shores & Islands:
We started by road tripping to Lake Erie. Our first stop as we arrived at Port Clinton, OH was the Lake Erie Shores & Islands Welcome Center. We picked up information and visited the bathroom. The welcome center was really nice, and you can purchase discount tickets for ferry boats and attractions, pick up maps & brochures, lodging information and more! They even offer RV and boat parking and a kids play area with interactive displays and exhibits. It is a great place to start your trip especially if it is your first time.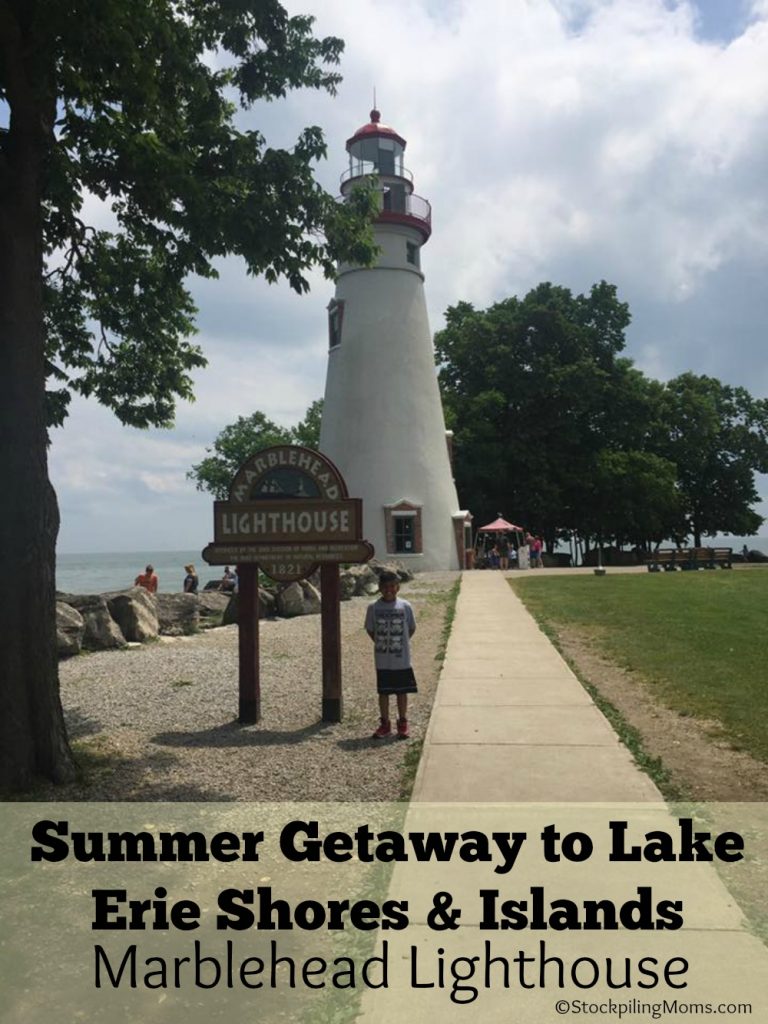 After grabbing a delicious gluten free lunch at Ciao Bella we headed to visit the Marblehead Lighthouse. It is the most photographed lighthouse on the Great Lakes. Once we arrived, we quickly understood why. We took a guided tour to the top of the lighthouse ($3 per person) and walked around the grounds. The lighthouse is located in Marblehead, Ohio and was less than a 10 minute drive from the welcome center. It is a great place to picnic and fish. They have walking trails too. The Marblehead Lighthouse has been in use since 1822. It is the oldest continually operating lighthouse on the Great Lakes.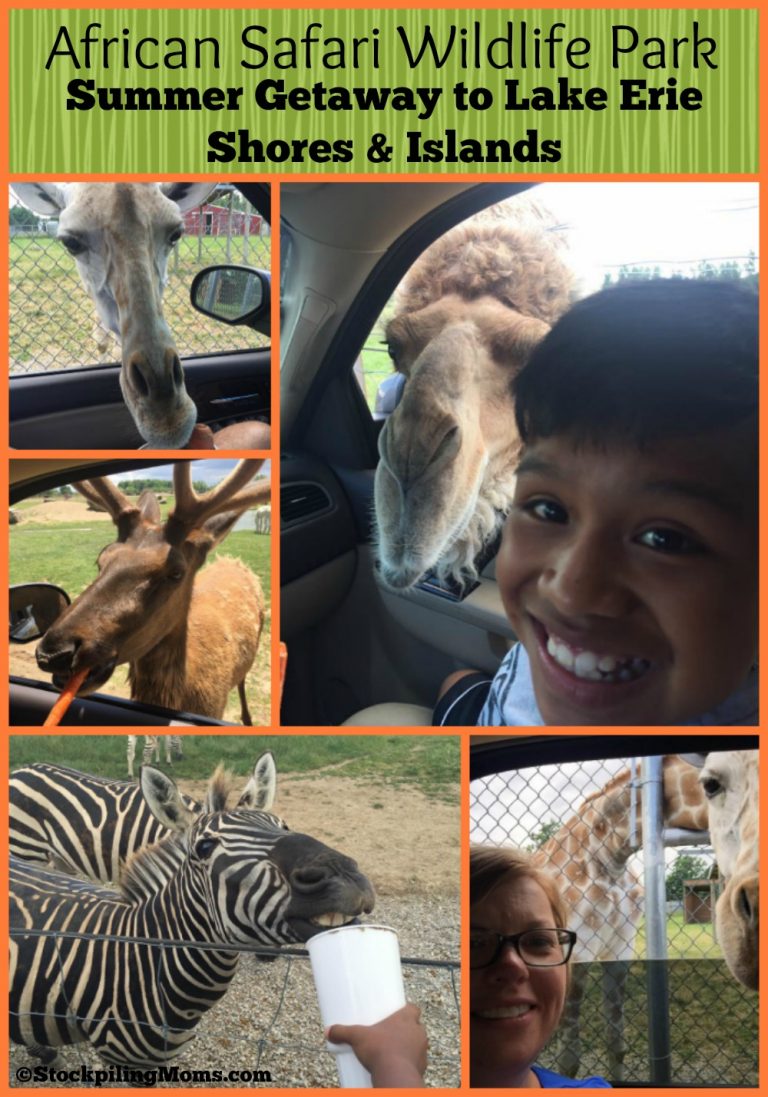 Next, we visited the African Safari Wildlife Park located in Port Clinton. I have to say that this was the coolest attraction we visited on our trip and most memorable. We all LOVED it. The African Safari Wildlife Park is the Midwest's only drive-thru safari. You literally stay in your car and you can see and feed the animals. They come right up to your windows! Home to giraffe, zebra, camel, bison, elk, deer and more!
With your windows down you stay inside your car (with doors closed) and the animals come up to your car. You can feed the animals from your window with animal feed that you purchase from the Wildlife Park. You do not touch or pet the animals but we got some amazing pictures and my son absolutely loved it. This was an amazing experience. They also feature a walk-through area with live shows and events including camel rides. Be sure to check the website for times.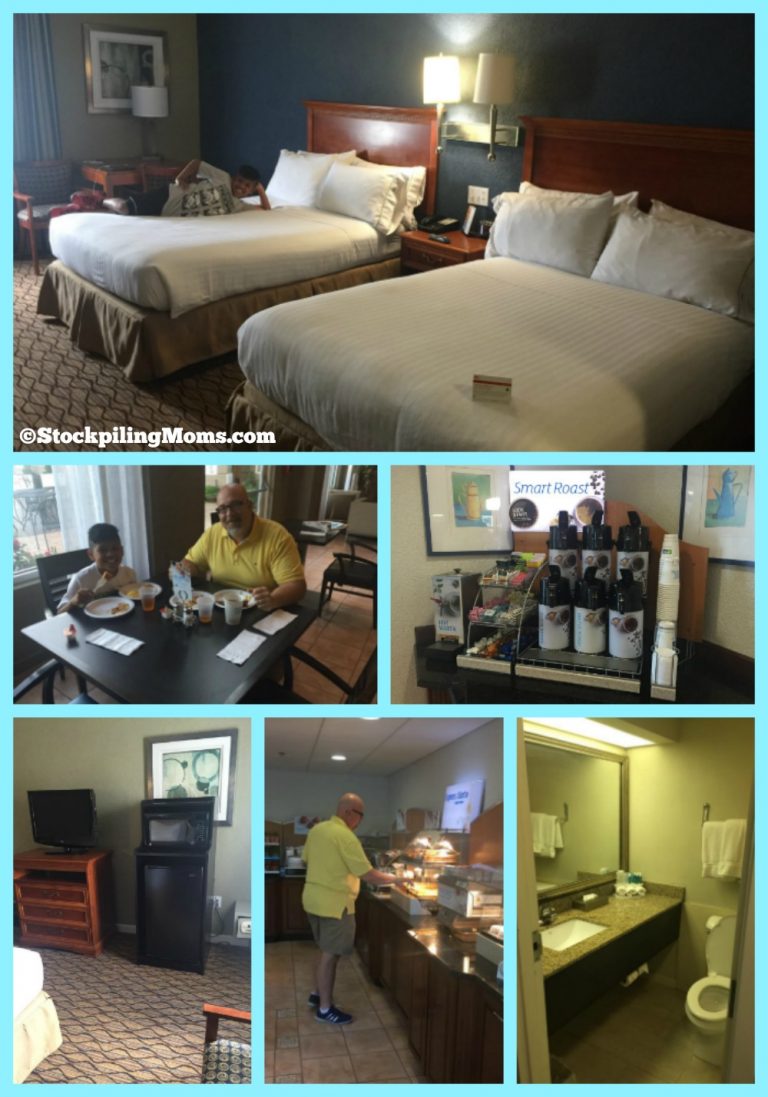 Finally, we checked into the Holiday Inn Express & Suites located conveniently in Port Clinton. They offer a free shuttle service to Port Clinton Jet Express dock which is a nice amenity. We found the hotel to be clean and quiet. I didn't hear any room noise which was also nice and perfect for families. The mattresses were not very comfortable (they seemed old and worn and you could hear the springs) however they did offer a really nice complementary hot breakfast and hot coffee with to-go cups. The breakfast started at 6:30 am which was nice for early risers.
The hotel has a nice sitting area outside with a lake view and with the combination of the location and other amenities we were able to overlook the mattresses. Hopefully they will update them soon (or if booking in the future be sure to ask if any of the rooms have new mattresses – we were in room 210 and they did not). It is a reasonable price for the location. That evening we enjoyed dinner at Mon Ami Restaurant and Winery where they offer delicious gluten free choices and live music. It was a great place to have dinner.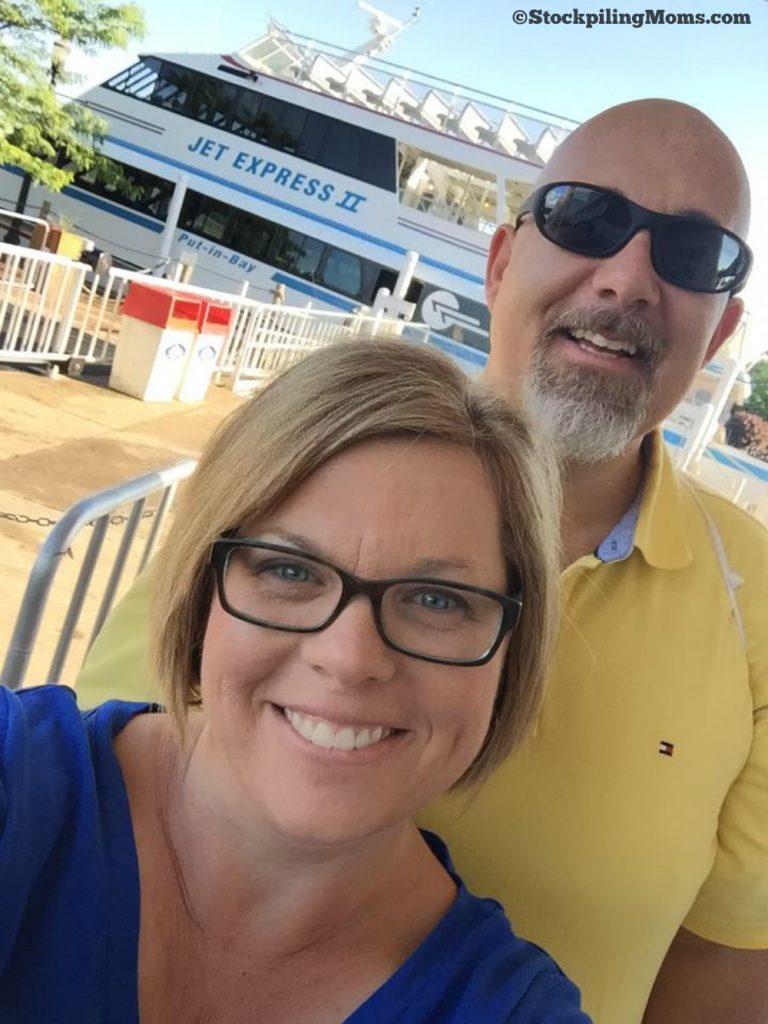 On Friday we were excited to start our day! We headed out to take the first Jet Express to Put-in-Bay. Since we had never been to this area, we were not sure about parking but in the end it cost us $12 for the day rate so if we had it to do over again we would have taken advantage of the hotel shuttle. Jet Express-Port Clinton is a high speed passenger ferry from Sandusky and Port Clinton to downtown Kelley's Island and Put-in-Bay.
The Jet Express is comfortable with nice indoor passenger cabin and open-air sundeck. We enjoyed the indoor passenger cabin on the way to Put-in-Bay and the outdoor deck on the way back. They offer a late night service (until midnight) and they are ADA accessible. They offer a narrated tour which is nice for first timers to the island. It is family-friendly for sure with affordable child rates (only $6 for kids) and they offer group rates too. I would highly recommend this Ferry for the future. It was a great. The staff was welcoming and we really enjoyed it.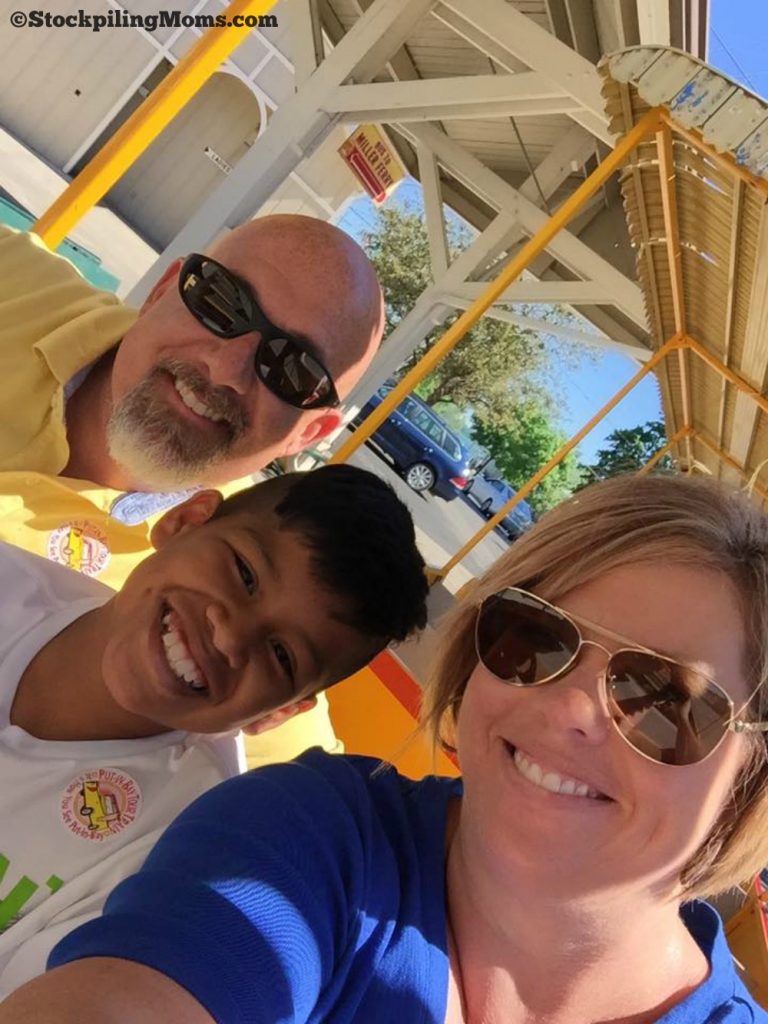 Once we arrived at Put-in-Bay located on South Bass Island we decided to walk around for a bit and get a lay of the land. We decided that the Put-in-Bay Tour Train was the best way to see the Island. We really enjoyed our narrated tour. The Tour Train is located just two blocks away. We felt this was the best way to see Put-in-Bay. The tour train departs every half hour at a quarter after and a quarter till the hour. The narrated tour covers 3/4 of South Bass Island and allows visitors to get off the train at any of its stops, then re-board the next train to complete 1 full loop around the island.
Best of all you can move at your own pace at each attraction. The stops include: Put-in-Bay Winery and Doller Museum of Island Life, The Ohio State Aquatic Visitors Center, Perry's Cave Family Fun Center, Heineman's Winery and Crystal Cave, Lake Erie Islands Nature Museum and Perry's Monument Visitors Center. I do want to note that admission to attractions are not included however it is a great way to see the Island and the narration was really informational.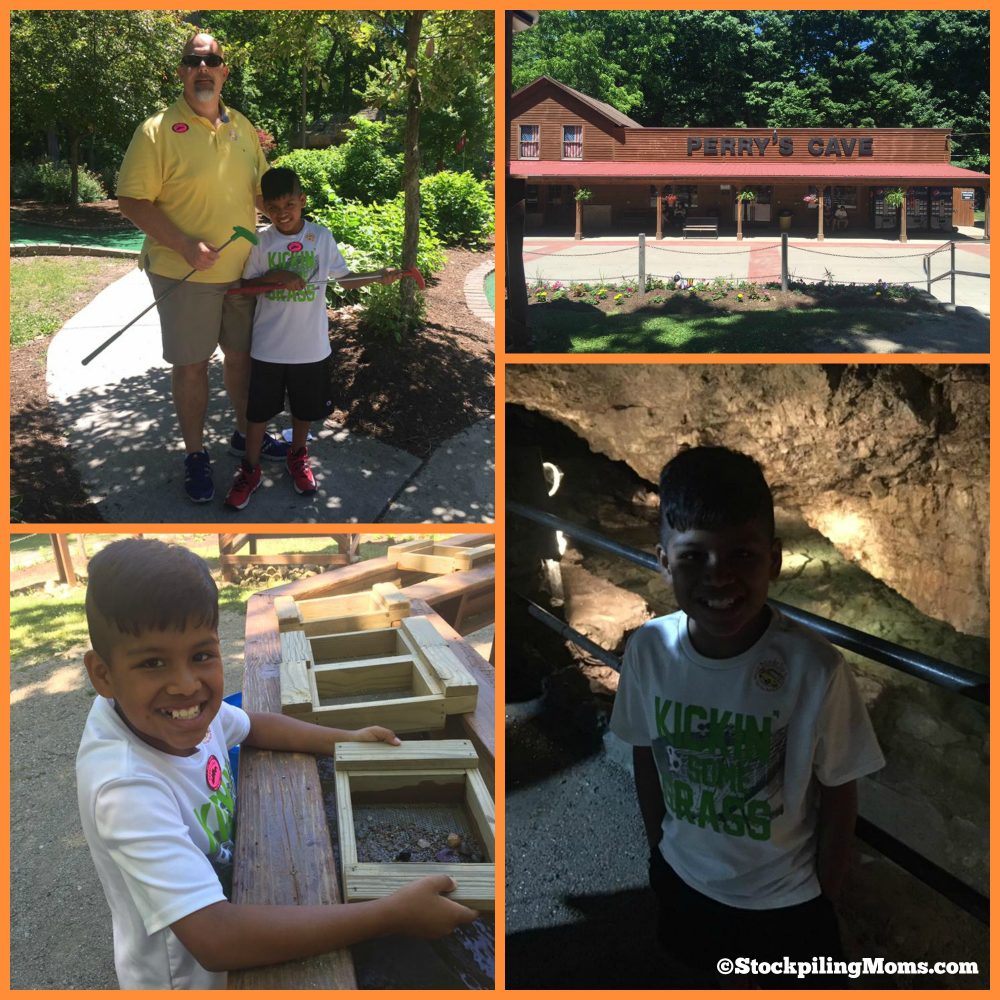 We chose to explore the Perry's Cave Family Fun Center. This was Peyton's favorite stop on the Island. Perry's Cave Family Fun Center is a one stop for family fun. You can enjoy Perry's Cave, The Butterfly House, The War of 18-Holes Miniature Golf, The Rock-Climbing Wall, Fort aMAZE'n Giant House, Gemstone Mining and two gift shops. They do have a small snack and picnic pavilion with gas grills. I would suggest packing a picnic or bringing food in a cooler so that you can really enjoy a fun filled day there. They have ticket combo offers to make it more affordable too. It really made for an awesome Summer Getaway to Lake Erie Shores & Islands.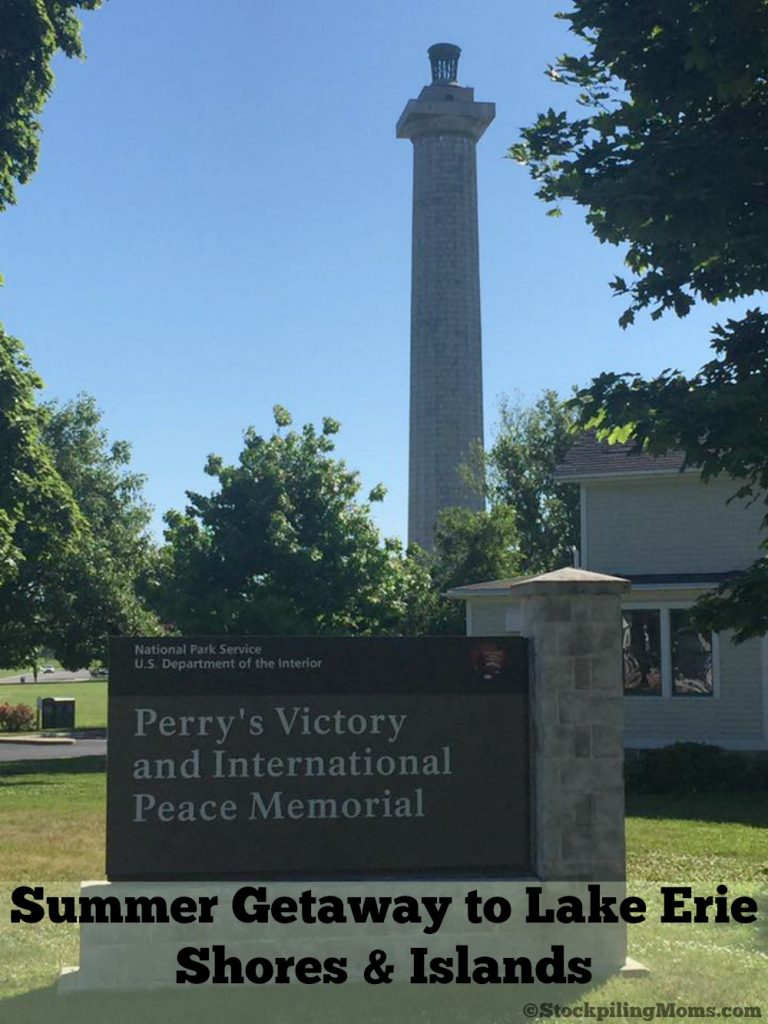 After enjoying our time and a few snacks we decided to re-board the tour train and enjoyed another stop at the Perry's Monument. We finally decided that we needed to eat a meal and we dined at The Boardwalk Upper Deck where I had the best gluten free meal ever. The staff was very accommodating too. Peyton's lunch was served in a Frisbee, so we also got a souvenir at the same time!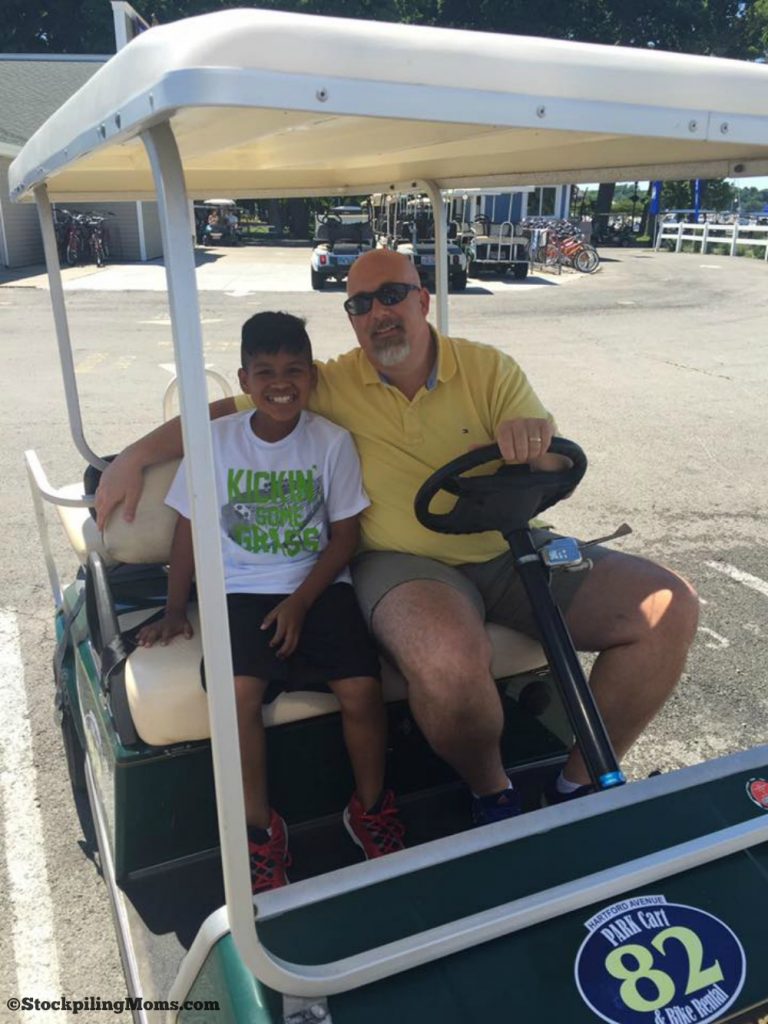 We decided to rent a golf cart for a couple hours and enjoyed seeing the rest of the island as we drove around. Peyton had a blast on the golf cart! You can rent them hourly or by the day. This was loads of family fun. We ended our day with a sweet treat at Dairy Isle (they even serve dairy free/gluten free raspberry whip, which was delicious) before taking the Jet Express service back to Port Clinton for the night.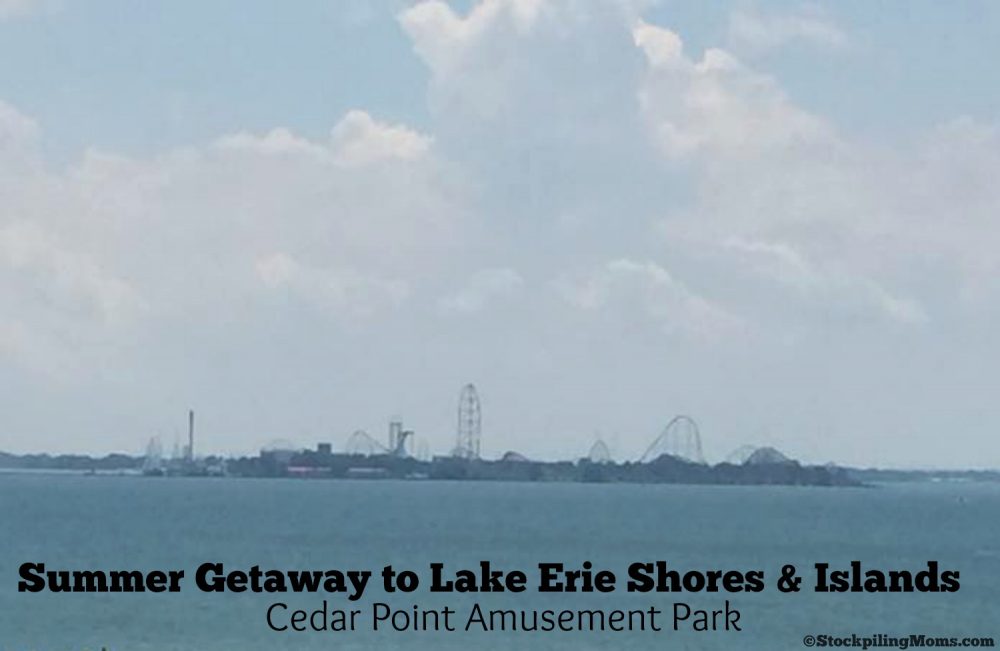 On our final day we headed to Cedar Point Amusement Park. Cedar Point is an amazing experience. If you are a roller coaster enthusiast you must plan a trip. The coolest thing to me is that it looks like a roller coaster just dropped out of the sky! I love all of the lake views and breeze. Cedar Point is the "Roller Coaster Capital of the World".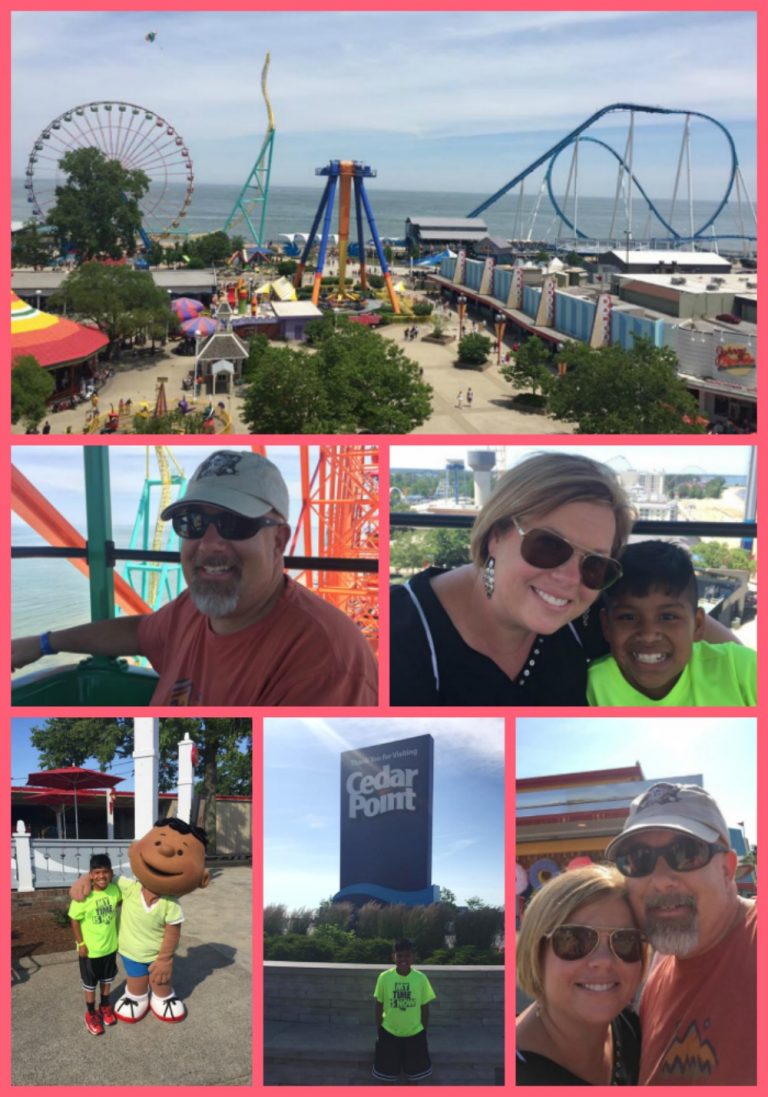 Cedar Point is home to Valravn, the world's tallest, fastest and longest dive coaster that features a 214 ft. completely vertical free-fall, speeds up to 75 mph and three inversions. Cedar Point features a total of 18 coasters, including Millennium Force (which was Peyton's favorite) – also voted the number one steel coaster on the planet. Altogether Cedar Point offers more than 150 rides and attractions. Families with young children can explore three expansive kids' areas, including Planet Snoopy. You can also see performances and meet and greet with characters.
They offer a wide variety of entertainment, such as the nighttime spectacular Luminosity and musical shows. It is so big I do suggest two days at this park to maximize your visit and I also suggest staying on property. There are benefits to staying including early admission. The prices are high for dining so I would suggest packing food and picnicking outside of the park and then coming back inside after you take a break to eat.
If you are gluten free I have to give a shout out to Jam Gluten-Free Bakeshop by Chef Eric. I saw this advertised online and we stopped on our way to Cedar Point. I am so glad we did. He makes the most amazing gluten free Swiss cake rolls! They are seriously AMAZING! I also purchased two gluten free pizza crusts. He is only opened Thursday/Friday/Saturday but if you are in town you MUST stop! His Swiss Cakes are so good that my husband said, "there is no way they are gluten free". He also has a pizza night where you can pick up fresh baked gluten free pizza's! We give him 2 thumbs up!
We hope that our tips help you if you are planning a Summer Getaway to Lake Erie Shores & Islands.
Disclosure: Some of the admission and accommodations were provided. All opinions are 100% my own.
THINGS TO DO IN KENTUCKY
Things To Do In Red River Gorge
35 Things To Do In Lexington with your Kids
Hop on over to Instagram and follow the fun! We love posting memes, family fun, travel, and whatever we are feeling that day! Pinterest is also an amazing place to visit Stockpiling Moms. This is where you can pin all your favorite articles from our Food, Travel & Lifestyle Blog!
Melissa is a football and soccer mom who has been married to her best friend for 24 years. She loves sharing recipes, travel reviews and tips that focus on helping busy families make memories.