Stockpiling 101 – Coupon Lingo
This is some basic coupon lingo. We use these common abbreviations often on our site and coupon matchups and this will be very useful to you in understanding our site. It will help you save more money too!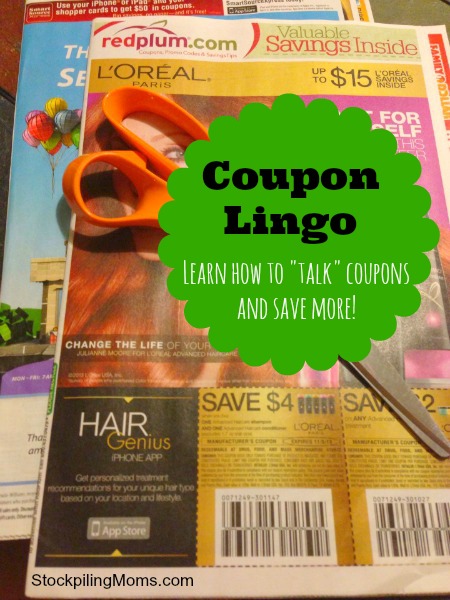 Often times when you start using coupons you will have no idea what these mean so hopefully this list will help!
Coupon Lingo:
BOGO – Buy One Get One Free
Blinkie – SmartSource machine with a red blinking light on it. Coupons from those machines are referred to as 'Blinkies'
BRICKS – "Bricks" coupons are internet printable coupons. If you print a "bricks" coupon, you will know based on a picture of a computer/printer with a small blinking dot as it sends the information to your printer. You can only print 1 of these coupons, however what you might not know is if you hit your back button 3 times after it is sent to the printer it will generally print a second copy of the coupon for you! If you want additional copies, then you will need to use another IP address.
CAT – Coupon that prints from a Catalina machine at the register
DEAD – Refers to a dead deal, or that the offer is no longer valid
DND – Do Not Double
ECB – Extra Care Buck (earned at CVS)
EX or Exp. – Expires on
GM – General Mills Insert, a booklet of coupons that appears in newspapers every month or two.
HBA – Health & Beauty Section in the store
HOT – Hot Deal
INSERTS – Coupons found in the Sunday paper
IP – Internet Printable coupon
IVC – Instant value coupons – as in Walgreens rebate booklet
MQ – Manufacturer Coupon
MIR – Mail in Rebate
NED – No Expiration Date
NT WT – Net Weight
OOP – Out of Pocket
OOS – Out of Stock
OYNO – On Your Next Order
P&G – Proctor & Gamble (Sunday Booklet Coupons)
Peelie – Coupon found attached to a product. You have to peel it off.
POP – Proof of purchase
Q – Coupon
QK – Coupon King
QQ – Coupon Queen
RC – Raincheck
Rolling – Rolling means that the date you print is current and the expiration date is rolling out from the date you print
RP – Red Plum (Sunday Insert Coupons) (formerly Valassis)
RR – Register Reward from Walgreens – This is a manufacturer coupon
Run – After you have done your matching, going to the grocery store to use your coupons
SAHM – Stay at Home Mom
SCR – Rite Aid Single Check Rebate
SS – Smart Source (Sunday Insert Coupons)
STACKING – Using both a manufacturer and store coupon on the same product (if store allows).
Stockpiling – Is a pile or storage location for bulk materials. In this case meaning groceries, personal care or household products.
DOUBLE – A coupon that a store doubles the face value
TEARPAD – A pad of rebates/coupons found hanging from a store shelf or display
TRIPLE – A coupon that a store triples the face value
UPC – Universal Product Code, barcode on the product
WYB – When You Buy
YMMV – Your Mileage May Vary ("Worked for me, may not work for you")
Stockpiling 101
Stockpiling Moms can be found in all your favorite places. Hop on over to Instagram and follow the fun. We love posting memes, family fun, travel, and whatever we are feeling that day. Pinterest is also an amazing place to visit Stockpiling Moms. This is where you can pin all your favorite articles from our Food, Travel & Lifestyle Blog.
Melissa is a football and soccer mom who has been married to her best friend for 24 years. She loves sharing recipes, travel reviews and tips that focus on helping busy families make memories.