Stockpiling 101 – Brands & Product Size
Stockpiling 101 – Brands & Product Size. In order to do really well at stockpiling, you will need to purchase the brand that is on sale that matches with your coupons. This means that you may need to "try" new brands in order to get in on the good deals.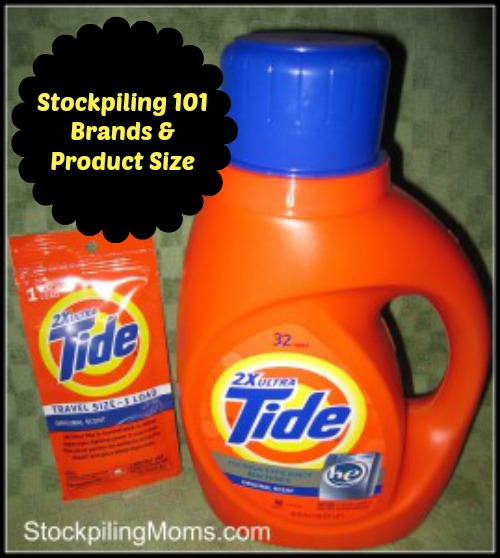 We always tell our hubbies that if a product is FREE or near free, we have nothing to lose.
Stockpiling 101 – Brands & Product Size:
We had always been very brand loyal, so this was a new way of shopping for us. One example is that I had always purchased cascade dishwasher detergent. When I started stockpiling, I kept hearing from my friend Paul about cheap or free electrosol dishwasher detergent.
I decided I had nothing to lose and gave it a try. I could either spend $3.89 on Cascade minus a $.25 coupon or I could spend .50 cents after coupon on electrosol…in the end I like electrosol just as well and I am saving at least $3.00 a package.
Another example was Skippy Peanut Butter. We made the switch from Jif (which rarely goes on sale and never goes FREE) to Skippy which I was able to purchase for FREE! In the end we like Skippy Natural better than Jif so it was a great decision for us to try brands that we normally would not. I suggest giving all brands a chance especially if they are FREE or close to it!
A big mistake that we used to make as a shopper was buying the biggest product size available. We always compared the price per unit. The reason this is a mistake is that while a product size may be less expensive per unit, the smaller item may be FREE or near free after your coupon.
When stockpiling you will want to purchase products in the smallest size that your coupon allows. If a coupon doesn't have a "size limit" then you can use it for "travel size" or "smallest size available" and get that product for free with possible overage. This is a new way of shopping for most people. As a result, with this change, we have been using FREE travel size Tide for months matched with the $1/ any size coupon available.
Stockpiling 101
Stockpiling Moms can be found in all your favorite places. Hop on over to Instagram and follow the fun. We love posting memes, family fun, travel, and whatever we are feeling that day. Pinterest is also an amazing place to visit Stockpiling Moms. This is where you can pin all your favorite articles from our Food, Travel & Lifestyle Blog.
Melissa is a football and soccer mom who has been married to her best friend for 24 years. She loves sharing recipes, travel reviews and tips that focus on helping busy families make memories.