Social Distancing Bucket List
Are you tired of staying indoors all the time? Is the pandemic just wearing you down? Why not check out this Social Distancing Bucket List! This list has great ideas of things you can do alone or as a family that is still perfectly safe with social distancing but tons of fun. We all need just a little something new to keep us occupied these days, and this is ideal!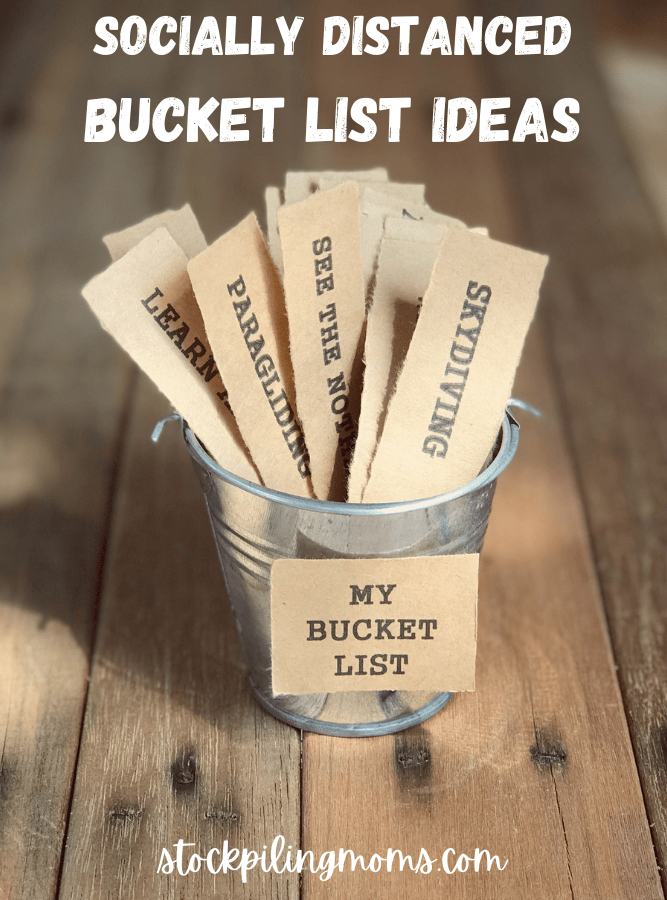 Social Distancing Bucket List
Go Geocaching
If you've never been geocaching, it's a great way to get outdoors but still be socially distanced. This fun idea gives you GPS settings to find a hidden item. Depending upon the locations and people adding them, so are just a place to find and take a picture for an app, and others have a "take something and leave something" policy where you need to drop something off and take what was left by the last person. It's excellent to do with kids and creates a fun way to get to know your community.
Crochet or Knit Items for Homeless
If you can knit or crochet, you'll love this idea. You may even want to learn just for this! Take some time to make mittens, scarves, hats, sweaters, or even just a few little items like coasters, placemats, washcloths, and dishcloths. They can be donated for individuals or to use at a homeless shelter or women's shelter in your community.
Plant a Garden for the First Time
In 2020, many started gardens for the first time. If you still haven't hopped on that bandwagon, you'll adore the activity this year. Have fun making a garden space. Use some of our best gardening tips to learn how to plant seeds in your new garden. You'll love the fun of creating your own compost and watching your favorite flowers or vegetables grow.
Do a No Electronics Weekend
Put aside the phones, computers, and even the game systems and televisions. Instead, focus on getting outside to work in your yard or even just go for a hike. Stay indoors an read, sew, crochet, or play games with your family. Enjoy what is around you instead of being a slave to devices all day every day.
Write Your Memoirs
Have a great story to tell about your life? Then take the time to type it up and share it with others! Even if it is just to keep for your children and grandchildren, why not do this now? There is no better time than today to write the story you have to share.
Shop Your Local Farmers Market
Have you ever bought fresh items at your local farmers' market? If not, this is great for you! Take the time to check out your local farmers' market and find out who has the best tomatoes, corn, or even a fresh side of beef from a local rancher.
Make Baked Goods for Local First Responders
If you have time, make some great cookies, brownies, or other treats to share with your community local responders. Firefighters, police officers, EMT's, paramedics, and even just your local city offices may all appreciate a special treat and your thanks. This year has been tough for everyone, so why not recognize them with a sweet treat!
Get to Know Your Local Leaders
Do you know who your local leaders are? School board members, city council members, mayor, and more play a huge part in your daily lives in your community. Do you know who they are and what they do for your community? Now is the time to learn about them, ask questions, and see how they and their choices make an impact in your life.
What would you add to your bucket list?
Stockpiling Moms can be found in all your favorite places. Hop on over to Instagram and follow the fun. We love posting memes, family fun, travel, and whatever we are feeling that day. Pinterest is also an amazing place to visit Stockpiling Moms. This is where you can pin all your favorite articles from our Food, Travel & Lifestyle Blog.
Melissa is a football and soccer mom who has been married to her best friend for 24 years. She loves sharing recipes, travel reviews and tips that focus on helping busy families make memories.