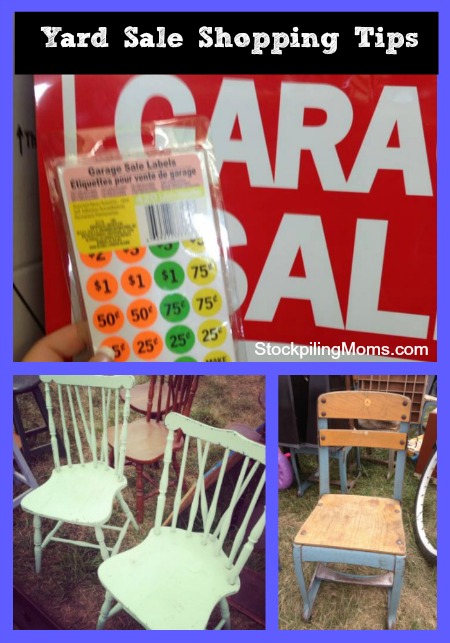 Yard Sale Shopping Tips. Are you getting excited for yard sale season? I am! I love to stop at garage sales because you never know what kind of great finds you will come across. I have fond memories of "Yard Saling" with my Granny. She loved a good yard sale. Well, a good bargain anywhere for that matter.
I asked my sister to share some tips for shopping at yard sales with you. She says that when she goes to yard sales, she basically looks for the same tips that she suggests for holding a successful yard sale.
Yard Sale Shopping Tips:
1. She won't stop at the ones that either everything is piled on the ground with no order whatsoever.
2. She will not purchase anything from a yard sale where nothing is priced.
3. She looks in the newspaper beforehand and makes a plan of the addresses she wants to go to, in order so that you aren't backtracking all over town. It is fine to stop at the ones that aren't advertised also but it gives you kind of a game plan.
4. You can always haggle over prices, but be fair about it, don't be stingy, if you have picked it up you are already willing to buy it. Be friendly and respectful and consider haggling with the price.
5. Watch out for animals running free, especially if you have young children.
6. Carry lots of small bills and change so that if you do haggle down a price you can pay with the exact change.
7. Bring snacks and drinks with you so you don't have to pay out of pocket or make stops.
8. Bring a reusable shopping bag with you for shopping ease.
9. Wear comfortable clothes and shoes.
10. Have fun!
Be sure to check out Melissa's thrifting adventures on Instagram and Facebook (in case you want to follow along). Her booth is – Booth 26A located at Chestnut St Mini Mall in Berea, KY (404 Chestnut St. Berea, KY 40403).
Hopefully these tips help you score some deals at yard sales this season! Do you have any Yard Sale Shopping Tips to share?
Melissa is a football and soccer mom who has been married to her best friend for 24 years. She loves sharing recipes, travel reviews and tips that focus on helping busy families make memories.