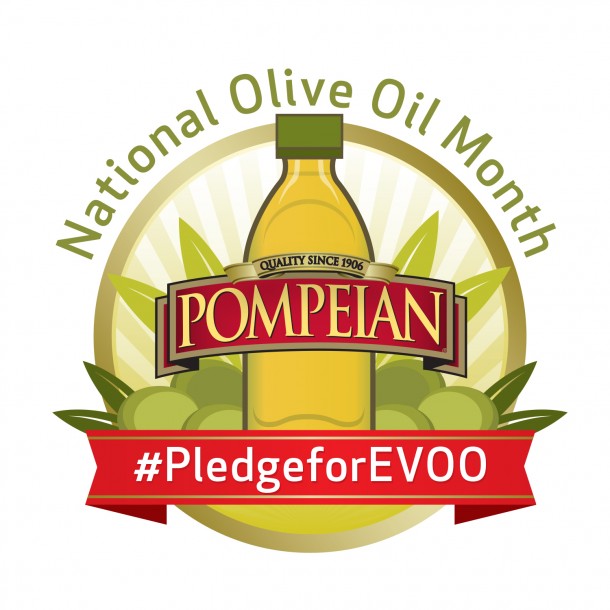 It is National Olive Oil Month. As you know I am a heart patient, in fact it is hard to believe that I am approaching my one-year anniversary of surviving my 2nd open heart surgery! I actually made the switch to using only Olive Oil several years ago. My cardiologist suggested it to me because it contains no cholesterol. When Pompeian reached out and asked if I would be interested in sharing this challenge I quickly said yes!
National Olive Oil Month:
Making the switch from butter to olive oil can feel scary at first. Will your food taste as good? Will your recipe fail? You don't want to waste your time or ingredients. I can tell you from personal experience that it is really easy to do with almost any recipe. You can use this handy Butter to Olive Oil Conversion Chart. I personally made this switch years ago and have never looked back. My family has NO idea.
I love that Pompeian is celebrating National Olive Oil Month this August by launching the Pompeian Pledge – a call for consumers nationwide to swap butter for olive oil in everyday recipes.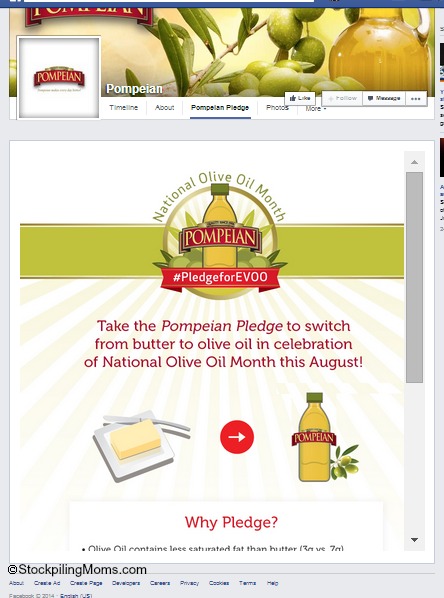 I encourage you to consider taking the challenge too! Simply visit Pompeian on Facebook and to take the Pompeian Pledge for a chance to receive a gift from Pompeian (a free movie redemption code and a coupon for a free bottle of olive oil). Every week in August (which is National Olive Oil Month) 5 additional fans who have pledged will win a fun prize pack on Pompeian's timeline. If you are like me and you love Olive Oil this is a great chance to win. If you have never used Olive Oil before this is a great time to try it!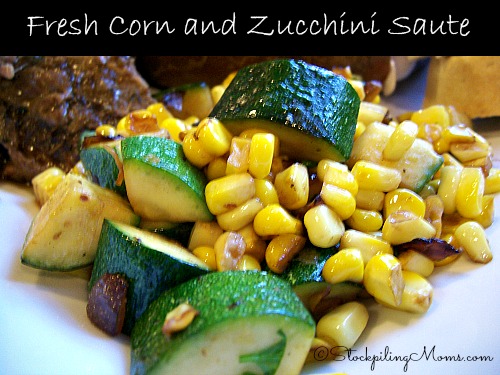 Right now, I am in love with using Olive Oil with veggies fresh from my garden. I love this recipe for Fresh Corn, and Zucchini Saute that uses olive oil.
I use Olive Oil to prepare our eggs in the morning instead of buttering the pan, I use it on bread instead of butter and we even use it for baking. I make cupcakes and breads with it, and NO ONE has an idea!
While the health benefits of olive oil are no secret, it is so easy to swap butter for olive oil in nearly any recipe – and best of all during National Olive Oil Month, Pompeian will reward consumers who pledge to make the swap. 1,000 fans who sign up to take the pledge will be randomly selected to receive a gift from Pompeian (a free movie redemption code and a coupon for a free bottle of olive oil).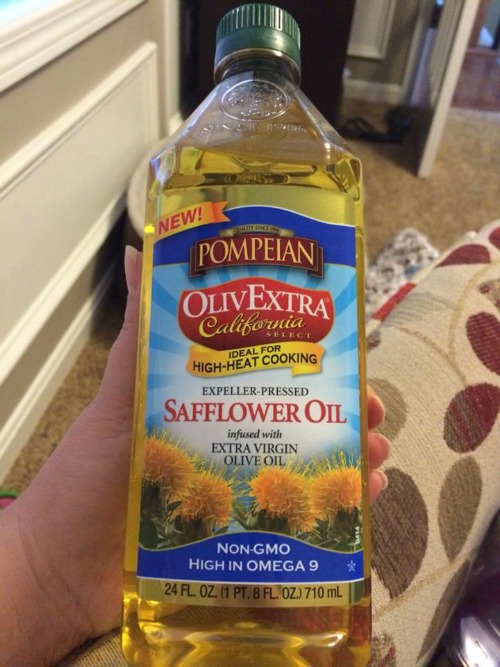 Pompeian has a full collection of olive oils, including Extra Virgin Olive Oil, Special Blends, the premium Varietals Collection and more.
I hope you will consider joining me. Have you tried swapping butter for Olive Oil?
Recipes that use Olive Oil:
Roasted Balsamic Brussels Sprouts
Disclosure: This is a sponsored post written by me on behalf Pompeian.
Melissa is a football and soccer mom who has been married to her best friend for 24 years. She loves sharing recipes, travel reviews and tips that focus on helping busy families make memories.