My Favorite Whole 30 Convenience Foods
My Favorite Whole 30 Convenience Foods. As you know I just completed my first Whole30. The first week I ate really bland in order to be sure that I stayed on track. By week two I was in a rut and decided I better branch out.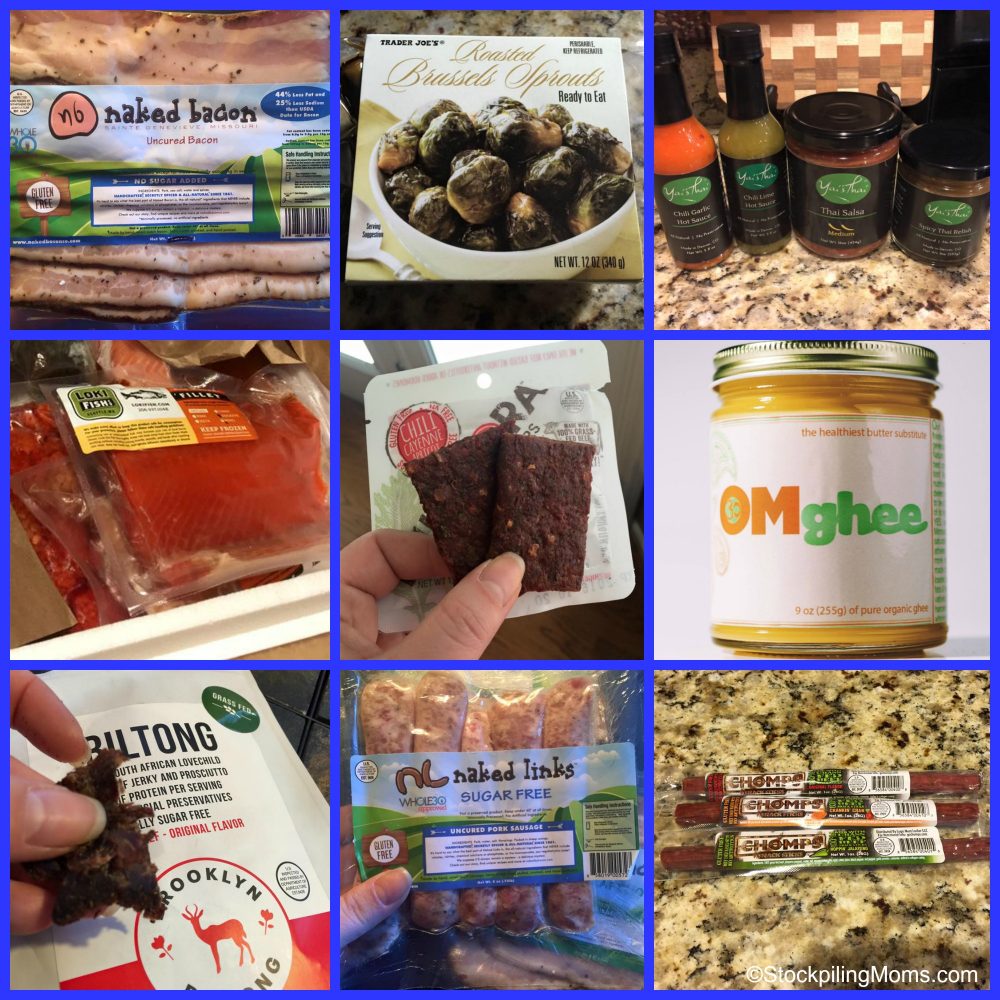 While it is true you need to eat natural foods without preservatives there are some Whole30 approved convenience foods that you can enjoy. I think it is important to have some on hand for emergencies. There were days that I found myself needing to be gone for a full day. These were days that I could have easily gotten de-railed if I hadn't been prepared.
There were also days that I needed some added flavor to my food. I have a roundup of my favorite compliant Whole 30 convenience foods and sharing if they are worth the investment.
My Favorite Whole 30 Convenience Foods:
Yais Thai – If you love Thai food, you will love these sauces and condiments! They are flavorful and add a nice variety to your otherwise bland food. I tried the Thai Salsa (which I loved on top of my Plantain Nachos), Spicy Thai Relish (which I loved with canned salmon or tuna) and I tried Chili Garlic and Chili Lime Hot Sauce (which were amazing on wings). Best of all this brand is all natural with no preservatives and no sugar added. They are gluten free, soy free, vegan and Whole30 approved!
Naked Bacon – Oh My Goodness! You never know how much you miss bacon and sausage until you go on Whole 30 and can't find ANY without sugar! I had no idea that there is so much sugar in traditional bacon – including the gluten free brands! Of course, I already only eat bacon and sausage that is gluten free but ALL of the brands I use contain sugar. Naked Bacon is just that, naked. That means NO nitrates, nitrites, chemical solutions, phosphates or water. It really has and amazing flavor and I think I liked the sausage as much as the bacon! Perfect for breakfast, bacon wrapped scallops or pineapple. The flavor was so clean and delicious! It is dry cured by hand and there is no water added so you get more bacon per pound. For example, two pieces was extremely filling. Best of all they ship to all 50 states and Whole30 approved!
Biltong – Prosciutto + Jerky = Biltong. Biltong is something I have never eaten before! It is South Africa's version of beef jerky. Dried with air rather than heat, biltong stays more tender than traditional jerky. It is high in protein, all natural, gluten free, low fat, Whole30 approved and MSG free. It is also sugar free! It is perfect for when you are on the go and need some protein while you are out and about. It seemed a little salty to me, but I found it to be tasty.
Wild Zora – Hands down my favorite high protein snack for on the go. I could seriously eat one of every single day. The reason I like these is because they are a meat and veggie bar. They are snacks made from minimally processed meat without antibiotics or added hormones,m mixed with organic veggies and no artificial ingredients. Every package contains about one serving of certified-organic veggies which is what makes this a winner in my book. They contain no grains, no gluten, no soy, no nuts/peanuts/treenuts, no milk (except the cheese recipe) no rBST, no MSG and no ADDED sugar! They are Whole30 approved! In my opinion all the flavors are delicious, but the Lamb and Rosemary are my personal favorite! They are not salty. They are filling and they are my personal favorite on the go Whole30 snack! I LOVE Wild Zora!
Chomps Snack Sticks – 100% grass fed beef sticks that contain no nitrates, nitrites and no synthetics. If you like beef sticks you are going to love these all-natural snacks! They are high in OMEGA 3's and CLA and infused with celery juice to extend the shelf life! They are Whole30 approved! I personally liked the original flavor, and the jalapeno was a little spicy for me but a nice snack to grab and go when I was out and about for the day.
Tessemae's Whole30 approved sauces and mayonnaise – I feel in love with this brand about a year ago and I was so excited to find out that some of their products are Whole 30 approved (be sure you look at the list). My go to is the Lemon Garlic and Mayonnaise but I have also grown to love the Balsamic. Best of all they are gluten free, dairy free, sugar free, vegan, paleo, kosher and low sodium! I just ordered the entire Whole30 pack for my next round. Best of all when you order online, they offer flat rate shipping of $7 for all ground orders to the continental US and a subscribe and save 10% discount.
Primal Palate Organic Spices – I am in LOVE with these spices that are Whole30 approved! Once I started using them, I realized how bland my food was prior to discovering their three signature blends. I use the meat and potatoes seasoning literally every day! The BBQ rub is my go-to for meats and then I use the adobo seasoning in my marinara and veggies! All of the blends are made from USDA-certified Organic ingredients. Adobo Seasoning is versatile and brings all sorts of dishes to life. Try it on grilled meats and sautéed vegetables. Barbecue Rub: This "cookout hero" nicely flavors all sorts of meats, from wings to ribs and everything between. Meat & Potatoes Seasoning: Perfect for seasoning home fries and meatballs. It adds wonderful flavor to just about anything.
Loki Fish Company – Seriously the best and cleanest tasting wild fish I have ever eaten. The salmon is AMAZING! All of their products are free of added sugars. None of our products contain any artificial additives or preservatives and they are Whole30 approved. I baked several pieces with nothing more than salt and pepper with olive oil and it literally melted in my mouth. Perfect for breakfast, lunch or dinner! I absolutely loved the quality and taste. The canned salmon was top notch! Better than any brand I have ever eaten!
LaCroix Sparkling Water – Believe it or not but I had never tried sparkling water before the Whole30 plan. My Dad and husband both LOVE LaCroix but I decided to try it for myself. For me it was a nice special occasion drink. I tried it for the Super Bowl. I tried the new LaCroix 'Cúrate' kiwi sandía flavor and I liked it. If you drink soft drinks and miss the carbonation, I would suggest that you give these a try. For me they are perfect for special occasions or when I am hosting a party. Not something I would drink on a daily basis. They are Whole30 approved.
OMghee – If you are missing butter look no further! – Handcrafted and thoroughly inspected to ensure the highest quality ghee available in the market. Made from the milk of grass fed and pastured cows. It is 100% Organic, NON-GMO and Whole30 approved! It is the best tasting ghee I have ever used! It really added a nice rich flavor to my food without the concern of dairy. Ghee is clarified butter, basically all water, milk solids and casein (milk proteins) have been removed over an open flame. This leaves you with rich, golden and pure butter fat. I have to say it is so good I could have eaten it with a spoon (but don't worry, I didn't).
Larbar – NOT all but the compliant ones are Apple Pie, Banana Bread, Carrot Cake, Cashew Cookie, Cherry Pie, Chocolate Coconut Chew, Coconut Cream Pie, Key Lime Pie, Lemon Bar, Pecan Pie and Pumpkin Pie. Let me state that you should not eat these as a treat or a dessert or to satisfy sugar cravings. I did NOT eat these until after day 12 personally. I did not eat one every day. However, I LOVED having them when I was on the go. They are non-GMO and made from real food!
Trader Joe Roasted Brussels Sprouts – They are simply amazing! They don't stink up the house by roasting and sometimes you don't feel like cooking and this side dish saves you day! They don't have a long shelf life, but they were really tasted and quick to serve.
Trader Joe Plantain Chips – Seriously yummy! I decided to make plantain nachos for the super bowl, and they were the base for my nachos. I simply browned and seasoned some beef, added Yais Thai Salsa, avocado, black olives and enjoyed! These are not something I would suggest eating daily but they are great on occasion for for special occasions.
Trader Joe Riced Cauliflower – Looking for an easy side dish? Head to Trader Joe and stockpile this! It is located in the frozen section and seriously tastes like rice! You can even make chicken fried rice with it!
Pompeian Spray Oils – Pompeian Cooking Sprays are innovative and eco-friendly non-stick cooking sprays that are easy to use! With varying smoke points, there is a Pompeian Cooking Spray to fulfill every cooking need, from salad dressing to baking or frying. Each spray utilizes a powerful pouch system without the use of propellants or other artificial additives, so the oil is never mixed with chemicals and no drop is wasted. The unique spray can, and pouch system also help to protect the oil from sunlight and oxygen, keeping the product fresher for longer. I personally used the Coconut Oil. I loved it for prepping veggies and eggs.
Pre-made Paleo – This is a FANTASTIC service! You can order pre-made Whole 30 approved foods! They arrive frozen and all you do is quickly thaw them out and then re-heat. It literally took minutes to re-heat and the taste was really good! I suggest this service to anyone who "doesn't cook" and for "emergency meals". I couldn't believe how tasty and there were several evenings where I ended up coming in late or found myself "on my own for dinner" that these meals came in so handy! They are Whole30 approved!
Almond Butter – I purchased mine at the grocery and they ground it for me right on the spot. The only ingredient was almonds, and I chose to get unsalted. That was a win in my book! I loved to eat this with a banana.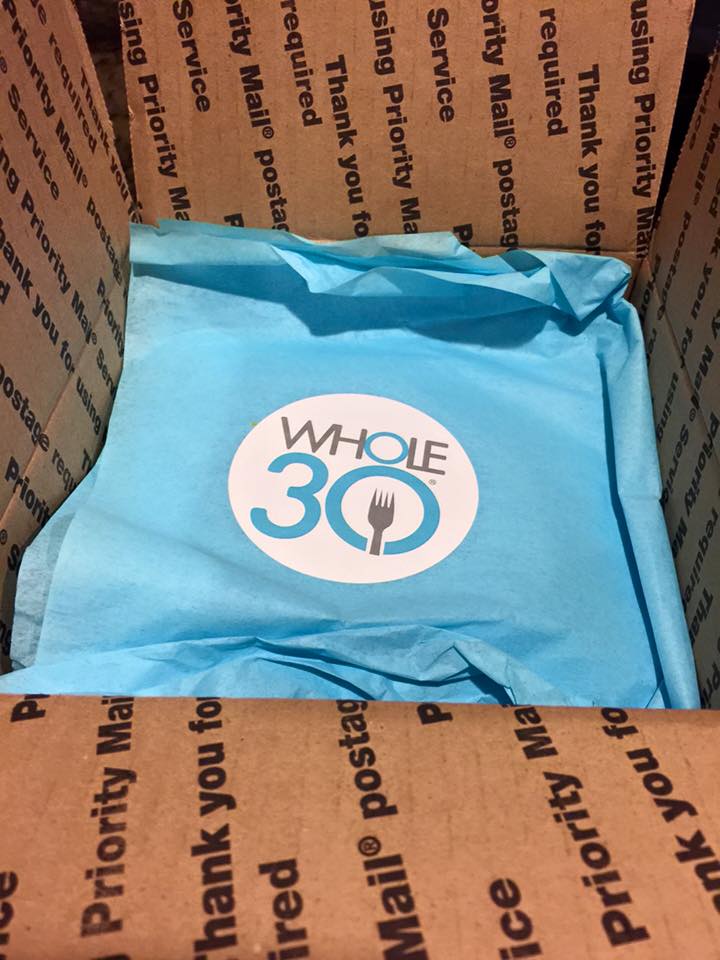 So if you are all new to Whole 30 I would suggest that you consider ordering a Whole 30 Compliant Box from Barefoot Provisions. This is a great way to "sample" and see which brands you like before buying a lot of one item. Working with the awesome team at Whole30, Barefoot Provisions created four special collection of 100% Whole30 compliant foods! They have the Whole30 Mega Kit, Whole30 Classic Kit, Whole 30 Mini Kit and the Whole30 Healthy Mama, happy baby kit.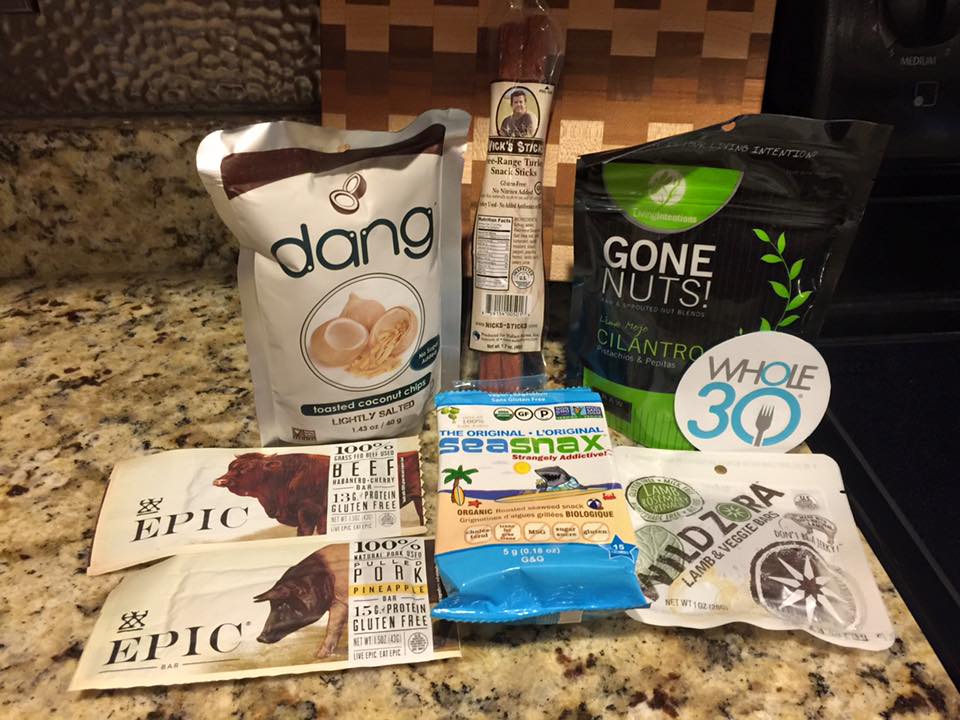 Because all of these great products have been carefully selected and approved by the Whole30 team, all you have to do is pick which collection you want to try! In my opinion it is really important to have a few convenience foods for on the go or emergencies! Trust me – in 30 days they WILL arise. Be prepared! In addition to the kits, you can order individual Whole30 approved items too!
I hope you enjoy My Favorite Whole 30 Convenience Foods.
Disclosure: Some of these products were sent to me as samples but not all. This is 100% my own opinion.
Stockpiling Moms can be found in all your favorite places. Hop on over to Instagram and follow the fun. We love posting memes, family fun, travel, and whatever we are feeling that day. Pinterest is also an amazing place to visit Stockpiling Moms. This is where you can pin all your favorite articles from our Food, Travel & Lifestyle Blog.
Melissa is a football and soccer mom who has been married to her best friend for 24 years. She loves sharing recipes, travel reviews and tips that focus on helping busy families make memories.