How to make multipurpose cleaner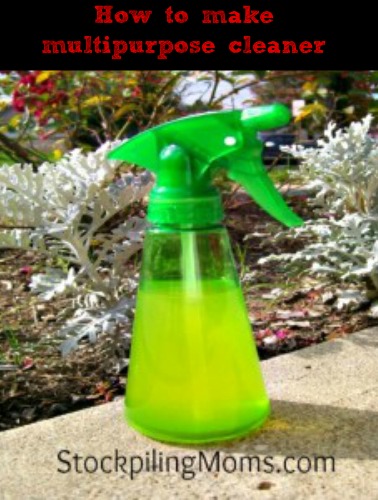 Here is a great recipe for making your own multipurpose cleaner. When you make your own cleaning products be sure to label them in new containers with the ingredients attached. Also, do not reuse containers. It is best to purchase a new spray bottle.
Even if you clean out a bottle there could be a residue that when mixed with your ingredients that could cause a reaction. It is always better to be safe than sorry. I used to teach across from the chemistry lab, so I have experienced several reactions firsthand. I hope you enjoy this DIY as it is great for the environment and cleans great! You can pick up empty spray bottles at the dollar store so it always better to be safe than sorry.
Multipurpose Cleaner:
1 TBSP liquid hand dish washing soap
2 cups water
Several drops of your favorite essential oil — I like to use lemon or Melaleuca
Directions:
Fill a clean spray bottle with water, add soap.
Add essential oil a few drops at a time until desired scent is achieved.
Replace nozzle and gently swirl.
This mixture can be used to clean counters, tubs, sinks, baseboards, tile and more. It is a multipurpose cleaner. Use it just like you would any traditional multipurpose cleaner that you would purchase at the store. You can use with paper towels or rags that you designate for cleaning. That is another great way to save money!
I use this cleaner in my home just as I would any multipurpose cleaner. What is nice about this cleaner is that it is chemical free. I use a natural dish washing soap like Mrs. Meyers or 7th Generation, however, feel free to use any that you have on hand. You can even add a drop of OnGuard Essential Oil to add the benefit of killing germs too! I hope you enjoy using this multipurpose cleaner. It is a great way to save your family money and know what products you are using in your home. If you are looking for a more natural approach to cleaning this is for you!
Essential Oils:
Uses and Benefits of Lemongrass Essential Oil
Uses and Benefits of Lavender Essential Oil
Use and Benefits of Lemon Essential Oil
Uses and Benefits of Slim and Sassy Essential Oil
How to remove sour smell from wet clothes
34 Uses for Lemon Essential Oil
Melissa is a football and soccer mom who has been married to her best friend for 24 years. She loves sharing recipes, travel reviews and tips that focus on helping busy families make memories.