How To Keep Mother Earth Happy
How To Keep Mother Earth Happy? Just a couple weeks ago, my 5 yr. old son was helping me bring in the garbage cans and recycling bins. As we walked up the driveway, my son said, "Oh, dada, Mother Earth is going to be sad." I was like, "What do you mean?" And then he pointed to a piece of paper (garbage) lying in the lawn next to the drive. It just amazed me how much influence our actions and words have on such young minds. That got me to thinking about simple things we do, or I've heard of from others to help keep "Mother Earth happy" and wanted to share with you.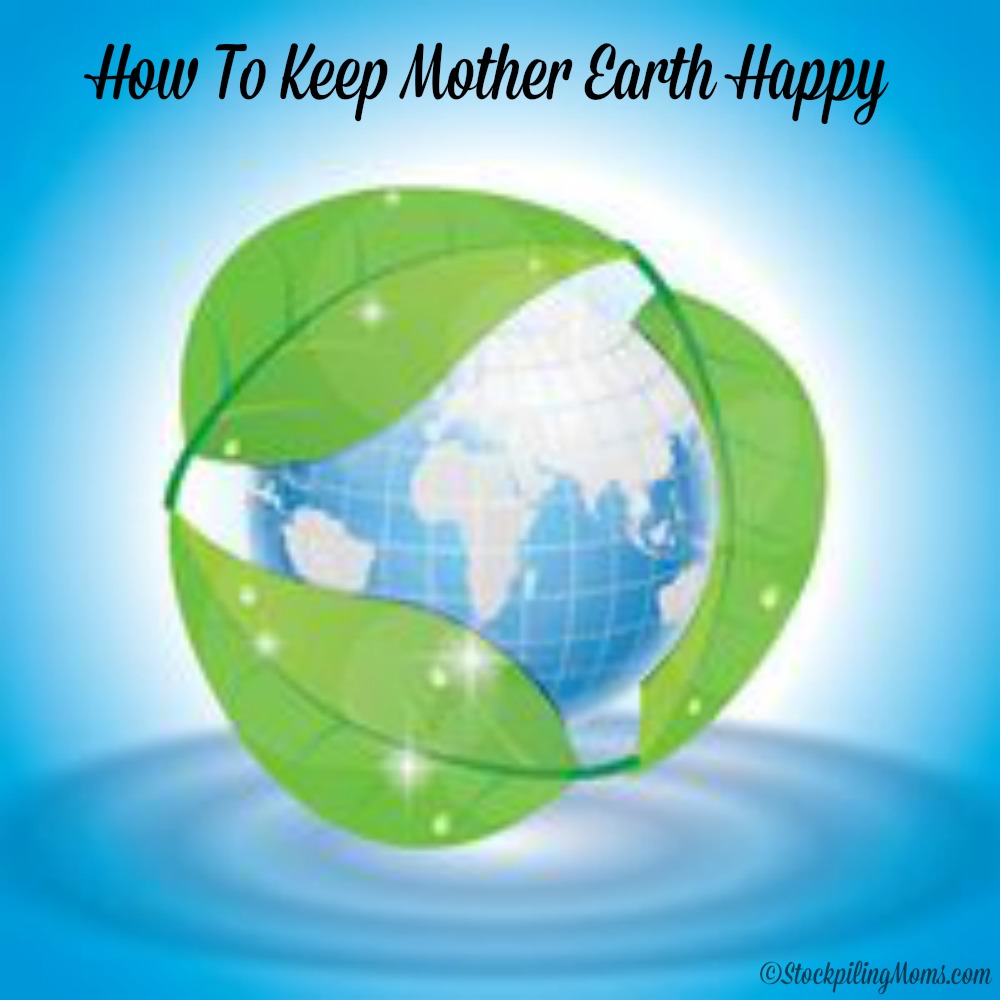 How To Keep Mother Earth Happy?
Recycle. Contact your local waste management company and request a recycling bin to recycle paper, plastic and glass. Most localities have recycling services included in your annual waste management expenses or city taxes. A by-product of recycling is a reduction in the amount of "garbage", thus reducing the number of garbage bags.
Be a STAR. When shopping for new appliances, look for Energy Star products, which may have a slightly higher purchase price; however you'll save in the long run by using less energy – just purchased an upright freezer 6 months ago and I'm a STAR.
Fluorescent Ambiance. We have gradually switched over to fluorescent light bulbs, which advertise a longer life and use only 25% of the energy as incandescent bulbs.
Pulling the Plug. At night in the dark, have you noticed all the little lights on various household appliances/gadgets? There have been nights were I couldn't sleep, so I thought I lay down on the sofa to sleep. Well, I couldn't go to sleep, because it was too bright. Just at the TV location in my family room, I have 3 components (audio receiver, satellite receiver and DVD player) and each has bright blue, green and red lights. Guess what, even though they are turned "off", they are still consuming 50-75% of the same amount of energy as required with normal operation. It may not be feasible to unplug these appliances; however for those items not used daily or while on vacation, you should unplug them and their wasteful "drain".
Left Hung Out to Dry. With the summer coming to a close and only another month of pool season, we've made it a habit to hang our swim suits and beach towels up outside to dry.
Less is More. Use your dishwasher versus hand washing dishes and make sure your dishwasher is full before running.
Your Hot Water Heater Could Use a Hug. Wrap up your water heater with an insulated blanket, which could save you 7% in heating costs.
Stay Even Tempered. Use of an electronic thermostat that offers multiple settings for each day of the week. If no one is home during the work day, adjust the setting by 5 degrees of the desired setting (higher in the summer and lower in the winter) until someone is expected to get home.
You can read Part 2 of how to keep mother Earth Happy.
Ways to Recycle and Upcycle:
How To Make A Recycled Milk Jug Watering Can
Re-grow green onions from green onions
Re-grow a pineapple from a pineapple
Stockpiling Moms can be found in all your favorite places. Hop on over to Instagram and follow the fun. We love posting memes, family fun, travel, and whatever we are feeling that day. Pinterest is also an amazing place to visit Stockpiling Moms. This is where you can pin all your favorite articles from our Food, Travel & Lifestyle Blog.
Melissa is a football and soccer mom who has been married to her best friend for 24 years. She loves sharing recipes, travel reviews and tips that focus on helping busy families make memories.