How to Use Vintage Items to Dress up your Garden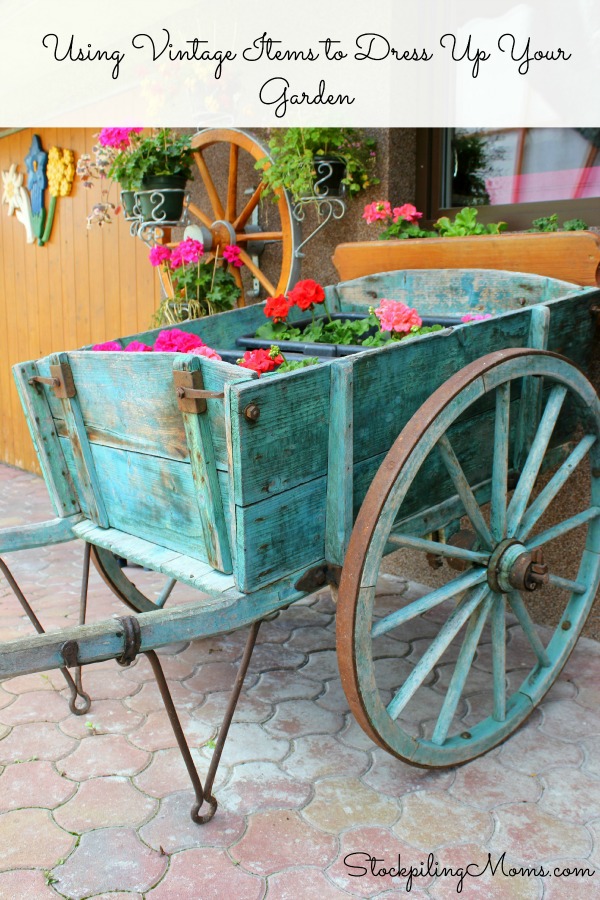 How to Use Vintage Items to Dress up your Garden. The possibilities of using vintage items to dress up your garden are endless! Finding broken down items that you have laying around your house and using them to make displays in your garden is great for the environment, easy on the pocketbook and it looks great too! So just how do you go about using vintage items to dress up your garden?
How to Use Vintage Items to Dress up your Garden
Start by taking a look around your own home and see what you can find. Old shoes, pots and pans, wagons, chairs or dressers are just a few ideas to get you started and the possibilities are endless. No need to worry if an item is broken or the paint is chipped! It actually adds character to your garden and gives it a rustic old time feel.
There are tons of places to find old vintage items if you have used up all your goodies at your house. Ask you friends if they have any old junk, they need you to take off your hands or head out and do some garage sailing! People usually have junk marked down pretty cheap not knowing what treasures they actually have!! It really puts another spin on another man's trash is another man's treasure, doesn't it? Your local antique stores are another great place to find old vintage items.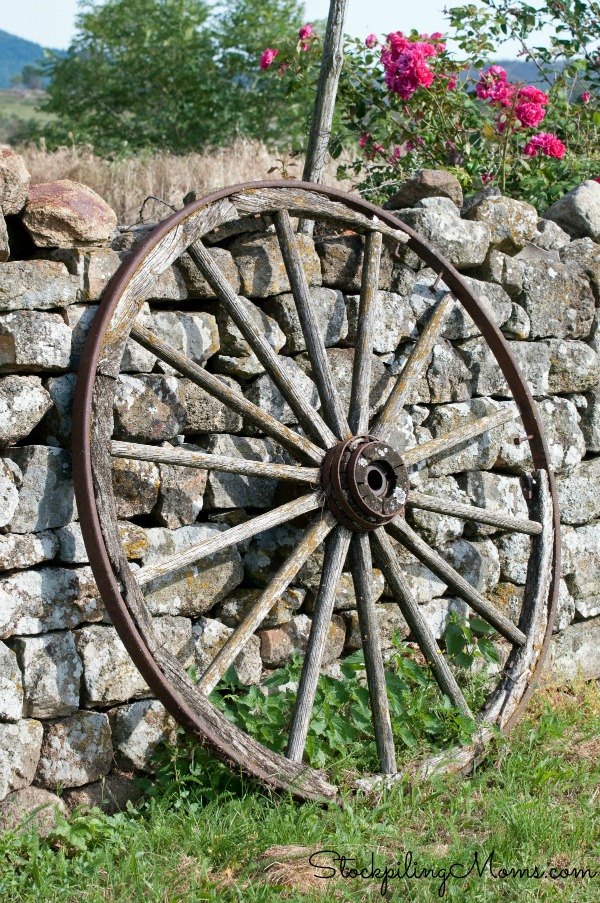 Wooden wagon wheels allow you to re-use a beautiful item from the past and bring new life back into it. To maintain the rustic look of the wheel, leave the exposed portion as is and let it weather naturally. Another option is to bring a bright pop of color to a corner of your garden by painting it. These looks great propped up against your home, garage or even a tree. You can even bury a portion of the wagon wheel in the ground for a free standing look. Another option is to hang your wagon wheel on a wall and attach small pots to hold colorful blooms of color.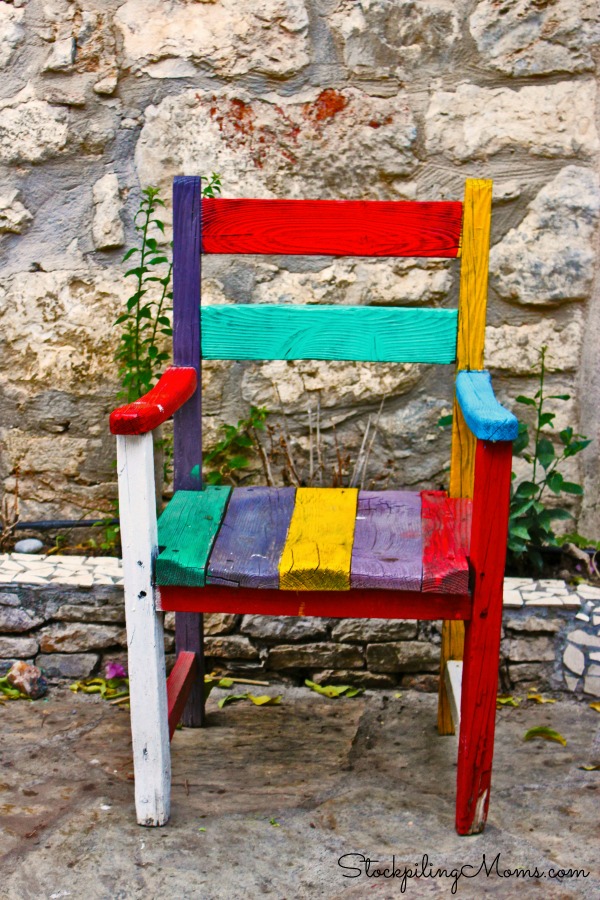 Wooden chairs can add a nice splash of color and even be used for additional seating when hosting a party. From small children's chairs to adult chairs there are plenty of sizes to work with depending on the size of the area you have. I prefer a brightly colored chair but all natural works well also. If you have a potted plant or two you can place them on the chair seat or even cut a hole in the chair the size of your flowerpot and have it nesting inside.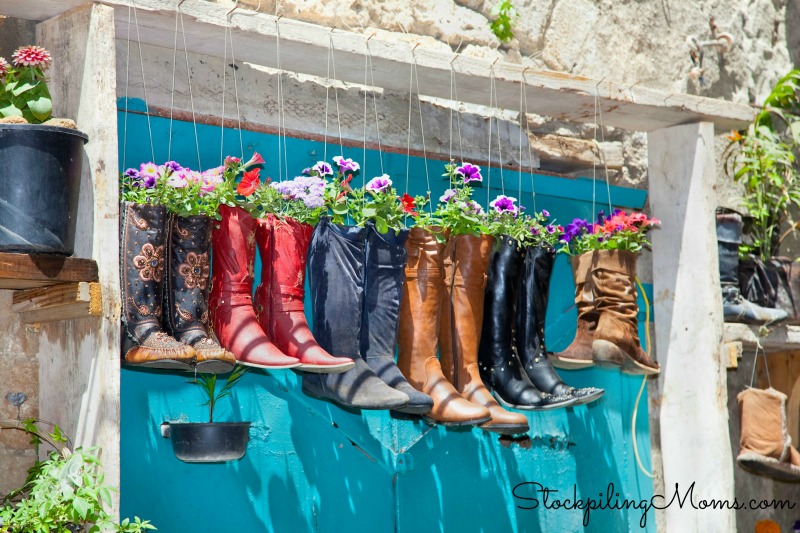 Boots and shoes can give you a great place to plant flowers in lieu of a traditional flowerpot. Old and new alike are perfect containers for some pretty blooms. When planting in shoes you will want to provide some drainage holes to keep your plants from getting to much water. Use a screwdriver or drill and place drainage holes along the bottom of the sole.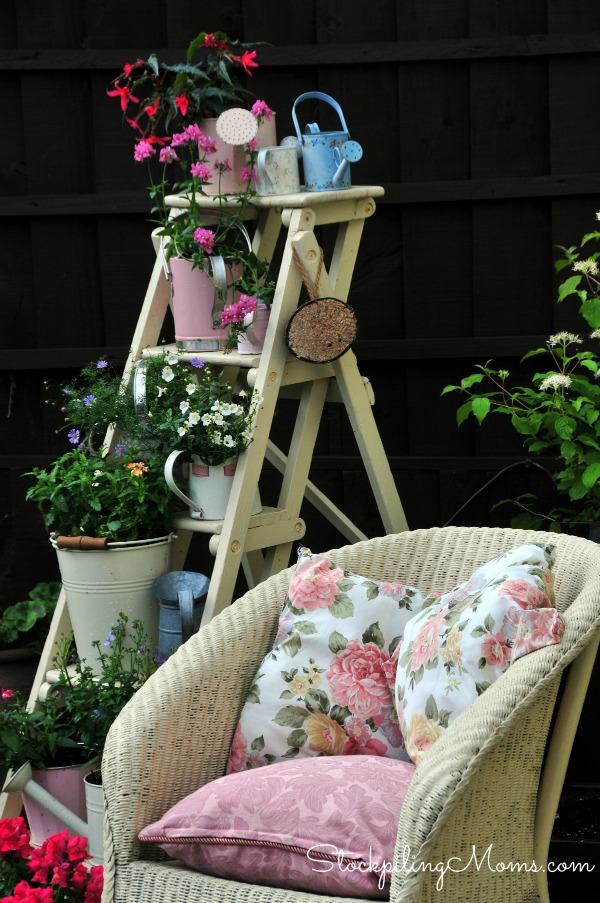 Using an old ladder in the garden can add some much-needed height to a display. You can once again leave it all natural or paint it for a nice pop of color. They look great as a stand-alone or leaning up against a wall. You can use them to display your old garden boots, bird houses, plants or just have a vine plant creeping up it. Hosting an evening dinner party? Place candles on the steps of the ladder for a great backdrop to a perfect evening.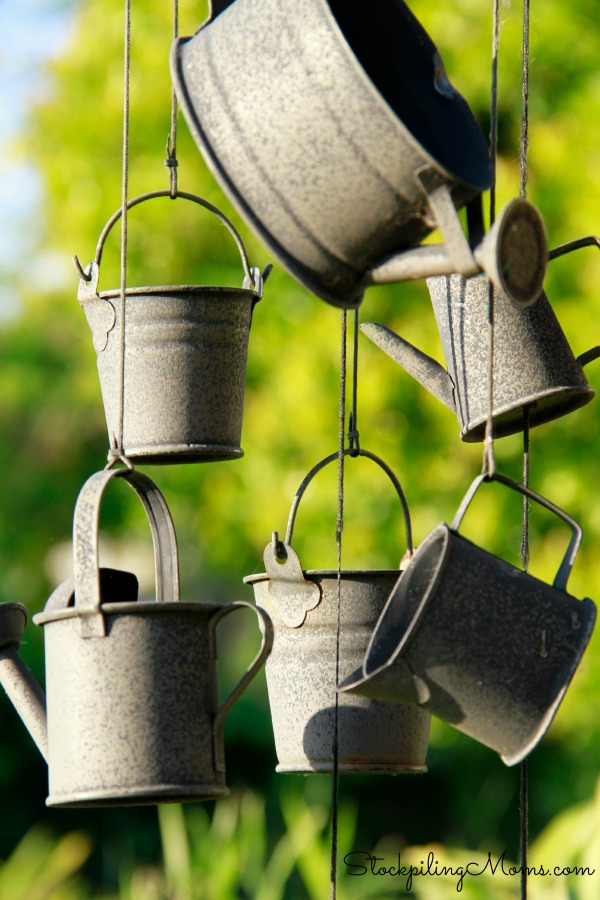 Pots and pans will eventually reach their prime in your kitchen. When the coating is scratched off don't be too hasty at throwing them away. They can be used for displaying plants or herbs around your garden. Make sure to punch some draining holes in the bottom before you plant in them. They also look great grouped and hanging on a wooden fence. Try stacking them around your garden for a rustic look and you can even let the kids use them to make some good old fashioned mud pies! You can also take smaller pots, pans and cups and make a beautiful wind chime. Use fishing string or twine to creative a cute display hanging from your back porch or garage.
Dressing up a vintage garden is a wonderful way to up-cycle many things and can be great for keeping them out of our landfills. It is best to keep a little structure to your garden by creating "rooms" just like you would in your house. Start by picking a corner to work with and take it one step at a time. Bushes, paths and fencing can help in divide your garden up and give you a little organization to your clutter.
Do you have vintage items in your garden? I hope this How to Use Vintage Items to Dress up your Garden helps create a space you will love.
Stockpiling Moms can be found in all your favorite places. Hop on over to Instagram and follow the fun. We love posting memes, family fun, travel, and whatever we are feeling that day. Pinterest is also an amazing place to visit Stockpiling Moms. This is where you can pin all your favorite articles from our Food, Travel & Lifestyle Blog.
Melissa is a football and soccer mom who has been married to her best friend for 24 years. She loves sharing recipes, travel reviews and tips that focus on helping busy families make memories.