How to Redo the Fabric on Kitchen Chairs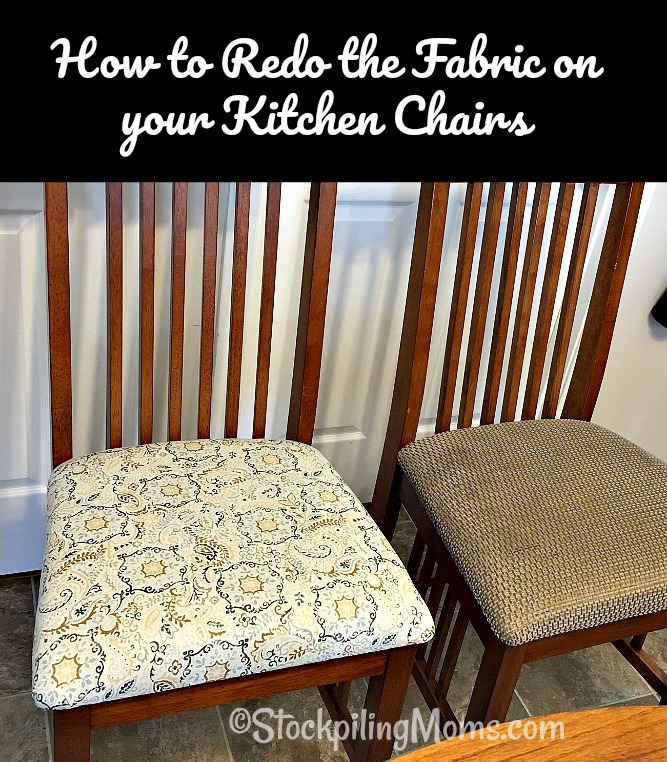 My seat cushions on my kitchen chairs were getting run down and I wanted to redo them. So here are easy instructions on How to Redo the Fabric on your Kitchen Chairs. Now some people will say you probably need to use upholstery fabric for the seats, but that is quite expensive. When I went to compare pricing at Michael's and JoAnn's I was astonished at how much a yard of upholstery fabric was. The cheapest for a yard of upholstery fabric was $26.99. So I decided instead that I could just get fabric from Walmart and place it over the fabric that was already on the chairs. By doing this I could keep it cheaper in cost and then I can change the patterns as often as I want by doing this.
How to Redo the Fabric on Kitchen Chairs:
I headed over to Walmart and picked out the fabric I wanted and I bought 3 yards thinking I could do 2 seats per yard. I have six kitchen chairs with my dining table. Well because my seats are not perfectly squared I had to use more than expected and returned the next day to get two more yards. But the pattern I picked out was only $3.96 a yard! Huge savings compared to the upholstery fabric.
At home I already had a staple gun, but if you do not have one you can get one at Walmart for less then ten dollars and it comes with staples. You will need one to attach the fabric to the chairs.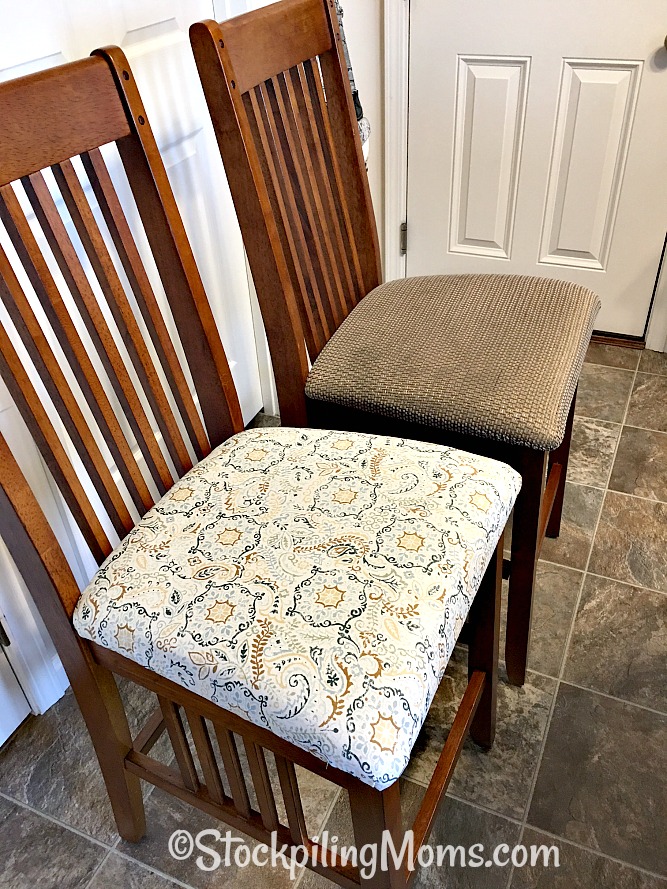 How to Redo the Fabric on your Kitchen Chairs
Start by detaching the seats from the chairs. For my chairs I just had to unscrew them.
Next I laid out the fabric on the table and flipped the seat over on top and cut the fabric about two inches out. This would give me room to pull over the seat and staple to the bottom.
Do not remove the fabric that is on the chair, just leave it on so it provides padding. Make sure when you are stapling the fabric to the seat that you are pulling tight and keeping the fabric wrinkle free with no gaps.
Once the fabric is attached to the seat cushion, then put the seat back on the chair.
Continue until the seats are all done.
More DIY Ideas You May Enjoy:
Shelley is a boy mom, marine wife, and is blessed with an amazing family. She loves sharing recipes, travel reviews and tips that focus on helping busy families make memories.