How to Remove Urine from a Mattress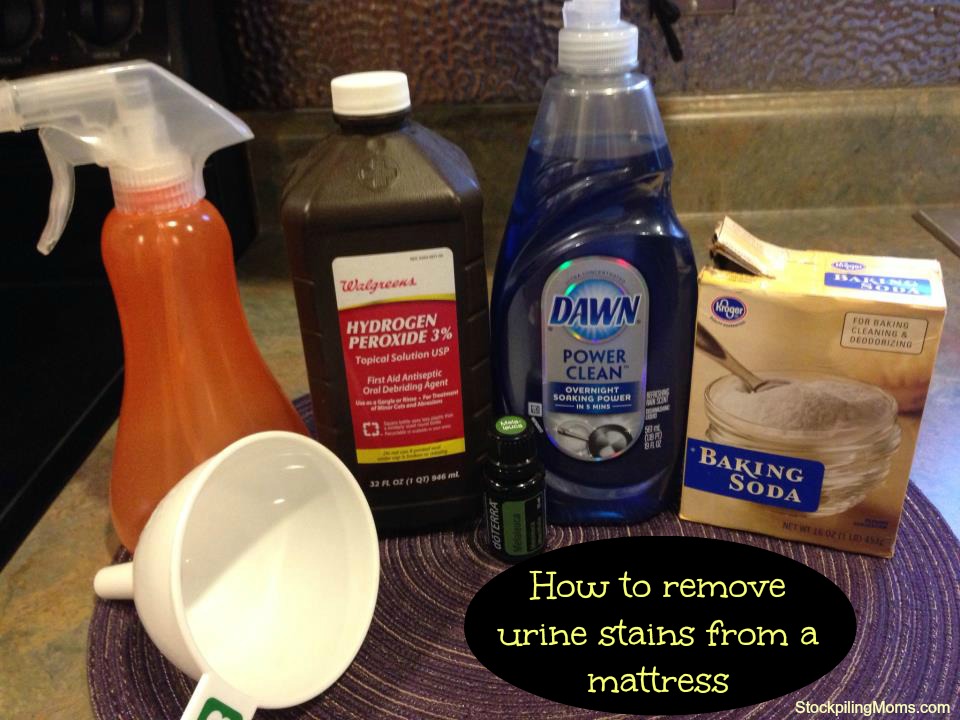 How to Remove Urine from a Mattress. If you have a child, I am sure you have found yourself in the boat I found myself in. I was flipping a mattress in our guest bedroom when I stumbled upon a huge urine stain on the mattress. No one happened to "mention" an accident unfortunately so there is no telling how long it had been there. It was on side I was flipping so not only did my guests not tell me they also tried to hide it from me. Oh well, no point in being upset – it was time for me to clean up the mess though!
How to Remove Urine from a Mattress:
1. Mix 8 ounces of hydrogen peroxide (3% solution), 3 tablespoons baking soda and a few drops of dish soap in a bowl and then stir to blend (do not shake) until the baking soda has dissolved.
2. Pour the solution into a plastic spray bottle, using a funnel. (I added 3 drops of Melaleuca Oil too for disinfection).
3. Spray the cleaning solution immediately onto the urine stain, soaking the area thoroughly and allowing the liquid to penetrate into the mattress layers. The solution is effective only for 30 minutes, so apply it to the stain within a few minutes of mixing.

4. Sprinkle baking soda on top of the mattress.
5. Let the area dry completely. If possible, set the mattress in the sun to speed drying.
6. Vacuum the area to remove any residue from the baking soda.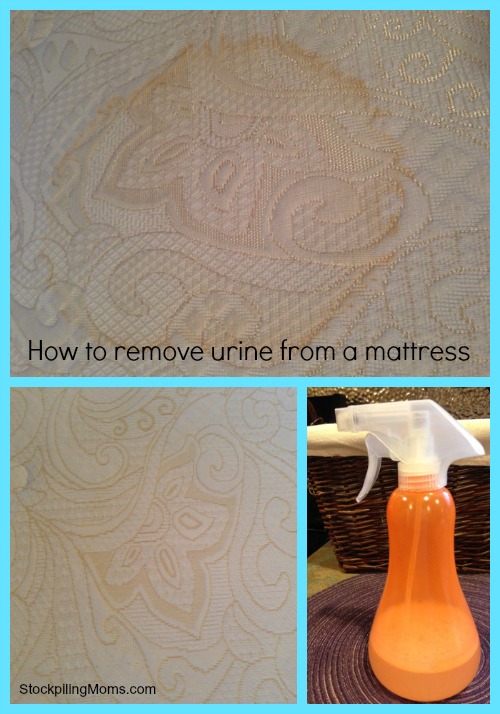 As you can see from the picture above the solution really removed the majority of the urine stain. Of course, I am really uncertain to how long the stain had been there, but I can testify that this works really well. I did open the windows in the room because I was unable to carry the mattress downstairs and I turned on the ceiling fan too. It did take hours to dry but it really did work so I am happy!
10 Laundry Tips:
How to make your own dryer sheets
How to make your own laundry detergent
How to remove laundry stains with lemon essential oil
How to remove sour smell from towels
How to remove sour smell from wet clothes
How to remove stinky smell from HE washing machines
How to remove mud from clothing
Melissa is a football and soccer mom who has been married to her best friend for 24 years. She loves sharing recipes, travel reviews and tips that focus on helping busy families make memories.