You are going to fall in love with this DIY Cupcake Stands Project! Who doesn't love a good cupcake? I mean SERIOUSLY, I love cupcakes. However, for a birthday party, cupcakes have become my favorite way for everyone to have their own little mini birthday cake.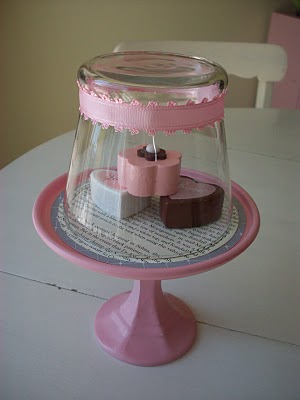 On a trip to my favorite Dollar Tree I started brainstorming ways to copy my Pottery Barn cupcake stand that I picked up several years ago. I only had one because I'm pretty sure they were rather expensive. For my daughter's upcoming birthday there will be 4 kiddos so I could easily afford to make a cupcake stand for each kid. With supplies and the glass, I will all 4 of these cupcake stands for about $15! WAYYYY less than what I paid for 1 of the PB cupcake stands.
DIY Cupcake Stands:
Supplies:
glass candlestick, round candle plate and glass vase ($1 for each piece from the Dollar Tree)
E6000 glue
spray paint
hot glue
ribbon
scrapbooking paper
Step 1: Glue the round candle plate to the candlestick with a generous amount of E600 glue. Let dry overnight.
Step 2: Spray paint your glued piece in your choice of color. I did 2 pink and 2 gray for the 2 girls and 2 boys that will be at the party.
Step 3: Hot glue a piece of ribbon around the vase that will become the dome on the stand. This helps distract from the fact that it is actually a vase 🙂
Step 4: Cut circles from scrap booking paper. I chose to cut two different sizes of circles and stack them to incorporate the book pages that I'm using throughout the party décor.
Step 5: Place the circles on the top of the stand. As a note of caution, do NOT put food directly on the cupcake stand if you spray paint it. The scrap booking paper serves as a barrier, and the cupcakes will be in a cupcake wrapper. Just being extra cautious!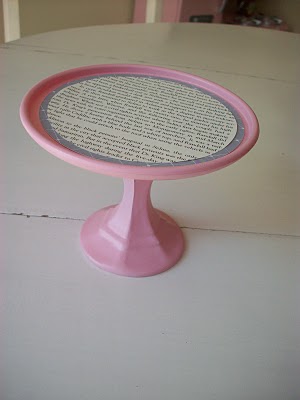 Step 6: Place your treat on the stand and put the dome on top.
And that's it! A delightfully simple and adorable way to make your cupcakes look extra special!
If you enjoyed this post you may like these DIY Projects:
St. Patrick's Day – I'm so LUCKY Gold Bar
How to make a beaded bracelet – Frugal Gift Giving Idea
Gift Giving From Your Stockpile
Inexpensive Teacher Gift Ideas
Melissa is a football and soccer mom who has been married to her best friend for 24 years. She loves sharing recipes, travel reviews and tips that focus on helping busy families make memories.