How to Organize and Uses for Rubber Bands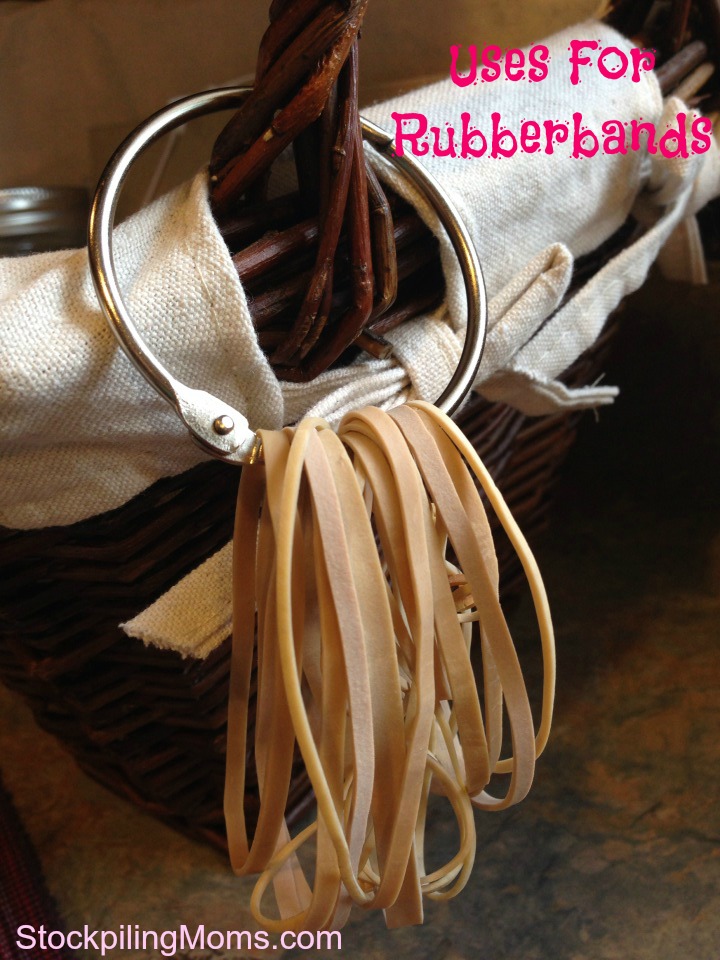 How to Organize and Uses for Rubber Bands. I wanted to share with you a storage idea and uses for rubber bands. A great tip for organizing your rubber bands is to simply use a circle clip or carabiner clip like the one pictured above. You can purchase these at your local office supply store or hardware store. I simply add the rubber bands onto the clip and then attach it to a basket in my kitchen. Now the rubber bands are available and organized when I need them. No more searching through the desk drawer. They are now available whenever I need them!
How to Organize and Uses for Rubber Bands
A great tip for opening jars is to use a thick rubber band. Simply place it around the jar lid and it provides the grip you need to remove the lid. I keep one in my kitchen just for this use.
Another great use for rubber bands is when your zipper won't stay up. Shelley actually learned this after many years of waiting tables and not wanting to buy new pants! You get a small rubber band, loop it through the loop of the zipper, and wrap it around your button. Your zipper will stay up!
My husband uses rubber bands to seal small leaks in water hoses when they are still good enough to continue using and he doesn't want to replace them.
My niece uses a rubber band around her paperback books in her back packs to keep the cover from getting bent. That is perfect for poolside summer reading.
I carry a tape measure with me in my purse, so I have it with me while shopping and I use a rubber band to keep it neatly placed in my purse.
To seal open packages in your pantry.
I hope these how to use and organize rubber bands tips help you. Let us know if you have any other uses for rubber bands around the house!
Household Tips:
How to get rid of Fruit Flies with Apple Cider Vinegar
Downey Unstoppables In Your Wax Burner
How to get the white spots out of wood
How to clean your drain naturally
Using Vinegar to Clean Your Home
How to clean your top loading machine
How to clean your dishwasher naturally
Melissa is a football and soccer mom who has been married to her best friend for 24 years. She loves sharing recipes, travel reviews and tips that focus on helping busy families make memories.