How to Get Your Child to Enjoy Green Smoothies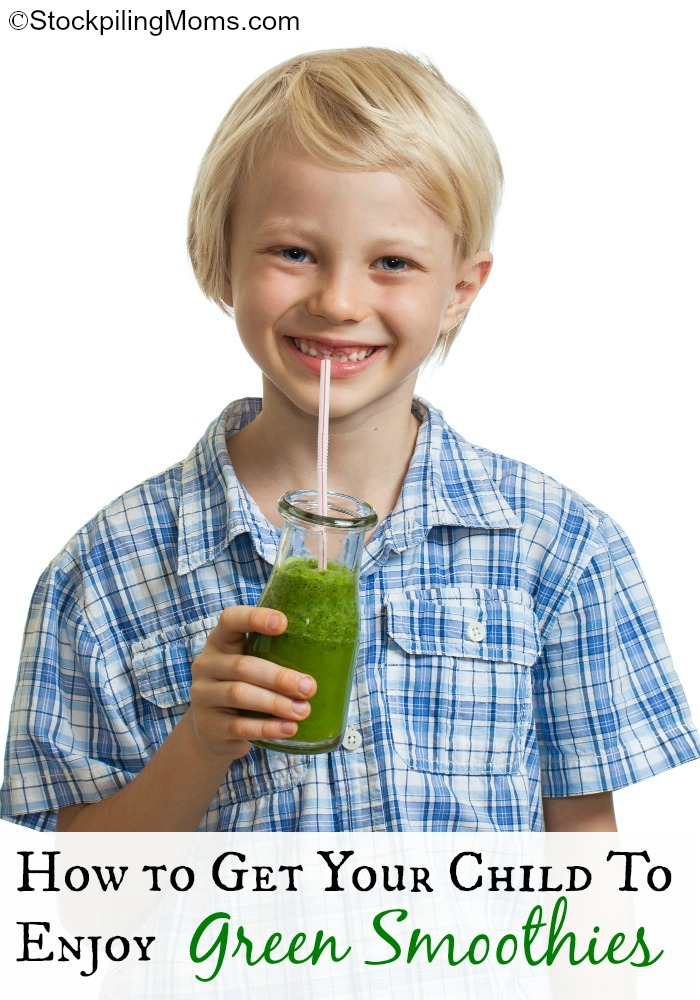 Want to know How to Get Your Child to Enjoy Green Smoothies? If you are joining the green smoothie kick, you might be wondering how you can get your child to enjoy it with you. After all, green smoothies are a great way to boost our nutrition! However, as soon as they see veggies going into it, the nose turns up and you have lost your chance. Here are some tips for getting your children to enjoy green smoothies with you!
How to Get Your Child to Enjoy Green Smoothies
Use greens that have a mild taste like Swiss chard. Your child will probably not even notice much of a difference in taste between that and a full-on fruit smoothie. Other greens to try that are mild in taste are spinach, and certain types of lettuce (avoid Kale).
Allow your kids to make them with you. Often times, if you want kids to try something, allowing them to be an active part of the process will get them interested because they want to try what they just made and feel like they have some control over what is in the smoothie.
Add fun garnishes. This could be a strawberry on the side of the glass to something more elaborate such as a skewer with a couple types of fruit on it. Just make it fun and get creative with what you have. Your kids might actually like making the garnishes for them!
Transition them. Most kids like full fruit smoothies. Allow them to add a little bit of greens at a time so they get used to the taste of them and see that it won't change the flavor very much. Just add a little leafier green every day and your child may not really notice much difference in taste.
Come up with some fun names. Since green smoothies are green, "The Hulk" seems pretty fitting, doesn't it? Let your kids come up with their own recipes using the formula of greens+juice+fruits and then have fun naming each one they make. A little trick is if you add colored berries (like blueberries and blackberries) the green smoothie will turn blue instead of green.
Make sure you drink up! As with anything we want our kids to do, it starts with good, modeled behavior. Show them how much you like your green smoothies and they may just want to know what all the fuss is about.
Serve up the green smoothies in style. Go to the store and pick out fun straws, drink garnishes such as paper umbrellas, and fun cups. Let your child know these are your special cups and goodies for your green smoothies. Making it fun allows them to see just how special they are and creates a vision that a green smoothie is a treat.
Don't give up, but don't nag. Your child may not like it at first but keep offering it and encourage drinking them by giving compliments when they do. A simple, "You made a great healthy choice!" may be all they need to hear. Remember, kid's taste buds change over time so they may be willing to try them later on.
If your child complains of them being not sweet enough, try adding a tad bit of a natural sweetener such as agave syrup or stevia powder or even a little honey. Here are some green recipes that they are sure to love!
Green Smoothie Recipes:
Advanced Green Smoothie Recipe
Blueberry Delight Green Smoothie
Amazing Tasting Green Smoothie
I love to freeze ingredients for my green smoothies! It saves me time and money!
Check out this post on How To Make Green Smoothies
Melissa is a football and soccer mom who has been married to her best friend for 24 years. She loves sharing recipes, travel reviews and tips that focus on helping busy families make memories.