7 Healthy New Year's Resolutions To Start Now
You don't have to wait for the new year for these 7 Healthy New Year's Resolutions to Start Now. These are great ways to easily improve your health and give a jump start to your new year resolutions that may be a bit more focused. Everyone can improve their health without putting a ton of effort into it when you follow these tips.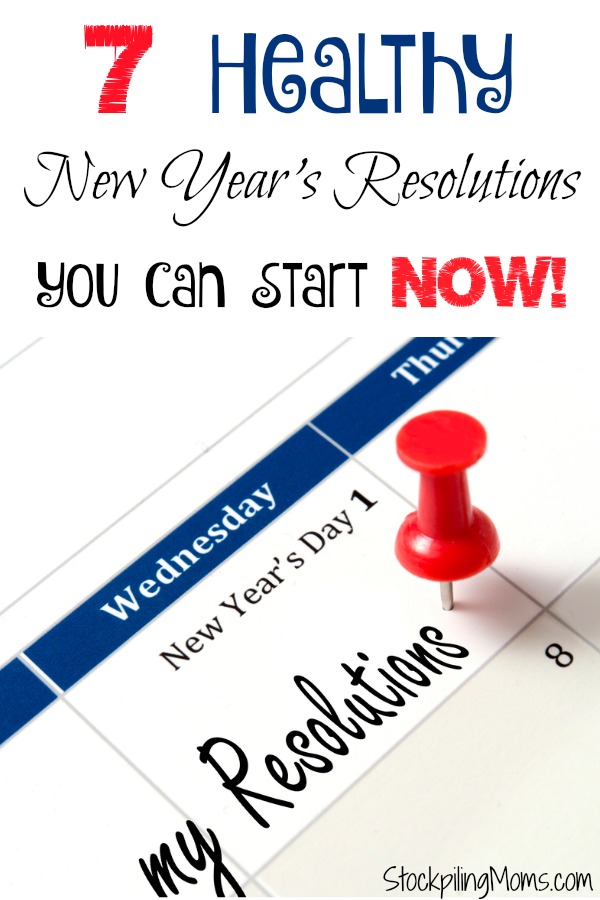 7 Healthy New Year's Resolutions to Start Now:
Get more sleep. There is almost nothing that will make as big of an impact on your health as getting the right amount of sleep. Our bodies need sleep to do everything from properly digest food, to help our brains grow and our muscles build. Lack of sleep can seriously impair your daily activities, as well as your physical health. It can affect brain function, heart health, liver function and digestion. Your body can quite literally go longer without food than it can without sleep.
Stop buying processed foods. This is hard, but if you plan to change your diet in the near future anyway, now is the time to stop making those purchases. Processed foods can include everything from the chips and candies to boxed meal kits or cake mixes. Making these things from scratch is almost always healthier than any of the chemical and preservative laden products in the store.
Start menu planning. A menu plan is a great solution to health improvement. Not only does it help save you time and money, but it can also provide consistency in your eating habits which will benefit your overall health. If you have something ready for breakfast, lunch and dinner you are less likely to grab the unhealthy takeout that will be worse for your health.
Drink 1-2 more glasses of water a day than you have been. Start slowly with just one glass of water more each day and add to that over the course of a few weeks. If you already drink water, it will be no problem for you. If you typically don't drink much water, then it is best to gradually work your way up so you don't get frustrated fast. Add fresh fruit for infused waters to make it even better!
Add in a daily multi-vitamin. A daily multi-vitamin is almost always an excellent choice for improving your health easily. It can boost your immune system and provide you with nutrients you aren't getting in your food. However, it is best to talk to your physician before including some supplements because of interactions with any medication you may be taking. Always ask before you add in a supplement to be on the safe side.
Eat an apple a day. The old adage really does ring true. An apple a day, or any other high fiber and high nutrient fruit or vegetable are a great choice. Apples are full of good vitamins and tons of fiber, both of which are great for your health. Include at minimum 1-2 servings of fiber and vitamin rich fruit in your diet each day. Pick fruits you like, and start adding them as your dessert, snack or addition to a meal instead of other high fat or high sugar products.
Keep a food journal. Even before you begin formally dieting, you should learn to track your food intake each day. That includes your beverages, snacks, and meals. This can show you places you can improve in your eating habits and will help you to realize how much you are taking in each day even when you don't feel like you are eating very much. It's enlightening and can help you to really know how to focus on your health in the new year.
These healthy New Year's resolutions to start now are easy to follow and apply to your life no matter what your health needs may be!
Stockpiling Moms can be found in all your favorite places. Hop on over to Instagram and follow the fun. We love posting memes, family fun, travel, and whatever we are feeling that day. Pinterest is also an amazing place to visit Stockpiling Moms. This is where you can pin all your favorite articles from our Food, Travel & Lifestyle Blog.
Melissa is a football and soccer mom who has been married to her best friend for 24 years. She loves sharing recipes, travel reviews and tips that focus on helping busy families make memories.