Weight Watchers Success While Eating Out
One of the biggest struggles when working on health and wellness comes from trying to manage mealtimes. While we provide you with a ton of great Crockpot and Freezer Meal ideas here every week, we know that sometimes you just have to eat out. This is our 7th week in our 52 Weeks to Wellness and we want to focus with you on how to have Weight Watchers Success While Eating Out. Not only are we going to cover some basic tips on how to make wise choices, but we will give you some ideas on point values of popular restaurant foods.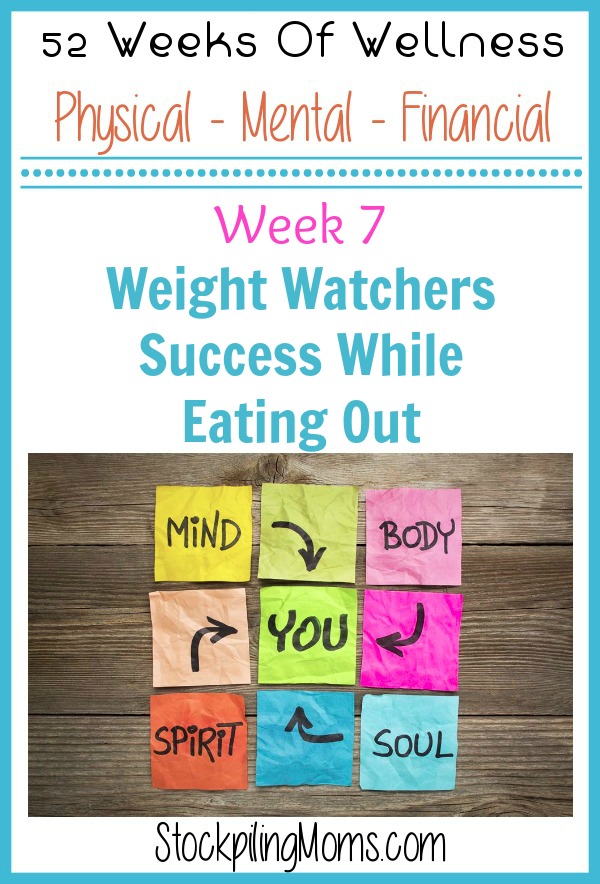 Weight Watcher Success While Eating Out
Some of the very basic tips to keep in mind when eating out are those things you are likely implementing already in your daily menu and diet. Thinking ahead to look at restaurant menu's is great, but if you don't have that opportunity, then use the tips listed below to help stay on track.
Split meals for smaller more reasonable portions.
Avoid anything fried.
Ask for salad dressings on the side.
Choose low fat or vinaigrette versus creamy salad dressings.
Choose grilled, baked or broiled meats.
Skip potatoes and rice and ask for steamed veggies.
Watch for menu items that are noted to be diet or light
Aside from these tips, you can also manage eating out better by going to restaurant chains you know have lighter menu options. Ruby Tuesday's, Applebee's and most fast-food restaurants have either a light menu, or an extensive menu of salads and grilled items to replace the more traditional items. While not always your favorite, this can help you stay on track easily in a pinch.
Here are some great restaurant options and their point values to help you stay on track when eating out.
McDonald's Grilled Chicken Snack Wrap (no dressing) – 6 Points
McDonald's Fruit & Yogurt Parfait – 4 Points
Wendy's Large Chili (no added cheese) – 7 Points
Wendy's 5 Piece Nugget (no sauce) – 6 Points
Burger King Whopper Jr. (no Mayo) – 7 Points
Chili's Guiltless Grill Chicken Salad (with fat free dressing) – 5 Points
Applebee's Apple Walnut Chicken Salad (grilled half size with no dressing) – 10 Points
Applebee's Weight Watchers Cajun Lime Tilapia – 9 Points
This is just a sampling of the things you can get when you eat out that are both satisfying and lower in point value. For a huge selection of point values already calculated for Weight Watchers for common restaurants, check out the guides on Just Diet Now.
This week in our series of wellness tips, focus on learning how to navigate your diet not just in your own home, but when you are out and about. Whether it is a last minute meal on a busy evening, or a special evening out with your spouse, improving your health doesn't mean you can't go out to eat and enjoy a special meal on occasion.
Be sure to check out our Weight Watchers Recipes and follow our Weight Watchers Pinterst Board for more inspiration.
Melissa is a football and soccer mom who has been married to her best friend for 24 years. She loves sharing recipes, travel reviews and tips that focus on helping busy families make memories.