Top Keto Diet Pantry Must Have Items
Top Keto Diet Pantry Must Have Items. You've started the Keto Diet and now you know you need to stock your pantry with great products that will help you to feel satisfied while giving up your favorite carbohydrates. The answer comes with our great pantry must have list for this specific diet. There are so many great items that you will love having on hand, but also basic foods to grab in the grocery store that create delicious meals in no time.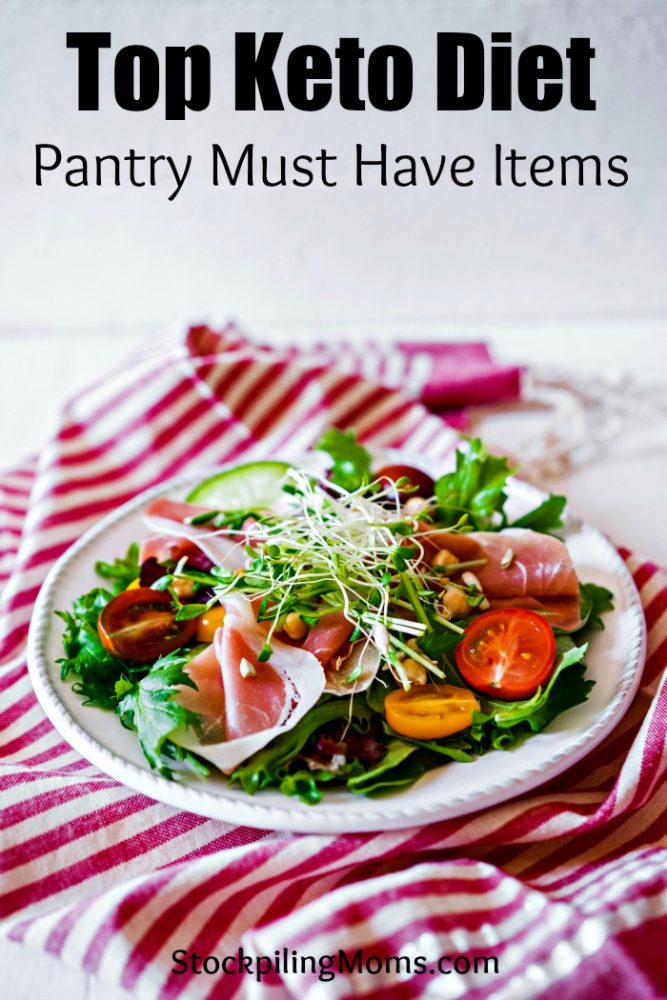 Top Keto Diet Pantry Must-Have Items
Everyone needs a few items they know will fit into any Keto Diet meal. I love knowing that if I keep these items on hand in the pantry, freezer, and refrigerator I can always stay on the diet without cheating or going off track.
Protein: The base of this diet is to focus on quality proteins instead of carbohydrates. This list is the perfect place to begin. While it is a higher fat diet, I prefer to focus the fats in the diet on natural things over fatty meats. That means my list of proteins is typically leaner than others.
Salmon (buy fresh Wild Caught Salmon and portion to freeze for easy meals)
Tuna (canned and fresh)
Shrimp
Eggs
Fresh nuts (my favorites are sunflower seeds, chia seeds, flax seeds, sesame seeds, pecans, walnuts, almonds, sunflower seeds and macadamia nuts)
Turkey breasts and ground turkey
Pork chops
Flank steak, Sirloin, Chuck Roast, Lean Ground beef
Chicken breasts, chicken thighs, chicken drumsticks, and ground chicken
Dairy: Dairy is important for overall health. I prefer to recommend organic or fresh/raw milk products. You may also prefer to utilize non-dairy products like almond milk or cashew milk for calcium and protein. These items are my personal favorites to keep on hand.
Butter
Heavy Cream
Sour Cream
Cream Cheese
Ghee
Sharp Cheddar
Parmesan
Vegetables: We need the nutrients found in vegetables, but many are concerned since they contain a lot of carbohydrates. The main concern with the Keto Diet is not in the carbohydrates themselves but the type you consume. These naturally occurring carbohydrates are nutrient-dense and good choices.
Broccoli
Cauliflower
Asparagus
Cabbage
Bell Pepper
Tomato
Onions
Peas
Radish
Turnip
Spinach
Squash
Zucchini
Fats: Healthy fats are definitely needed for overall success with the Keto Diet. These are my personal favorites to keep on hand. I also include some of the best fats under dairy and protein.
Coconut oil, avocado oil, sesame oil, olive oil
Avocado
Olives
Coconut flakes
Flax seed oil
Pantry Staples: There are great items you can grab to keep in your pantry and have for easy meals. These are our favorite options to have for creating those special treats.
This Top Keto Diet Pantry Must Have Items is a great place to begin to build your Keto Diet Pantry! Is this list missing something? Drop your favorite Keto Diet friendly foods into the comments and we'll add them to the list!
Just Getting Started on the Keto Diet?
What Can You Eat on the Keto Diet?
Ultimate Keto Diet For Beginners
Melissa is a football and soccer mom who has been married to her best friend for 24 years. She loves sharing recipes, travel reviews and tips that focus on helping busy families make memories.