Do you want to know How To Cook a Turkey? There's really no wrong way to cook a turkey, that is unless it's been dried out in the process. Over the years, grandma probably taught you how to roast a turkey in the oven. While this produces good results, believe it or not, there are other methods that might actually be a little better, but we'll let you decide. Here are a few ways that you can consider cooking your Thanksgiving turkey this year.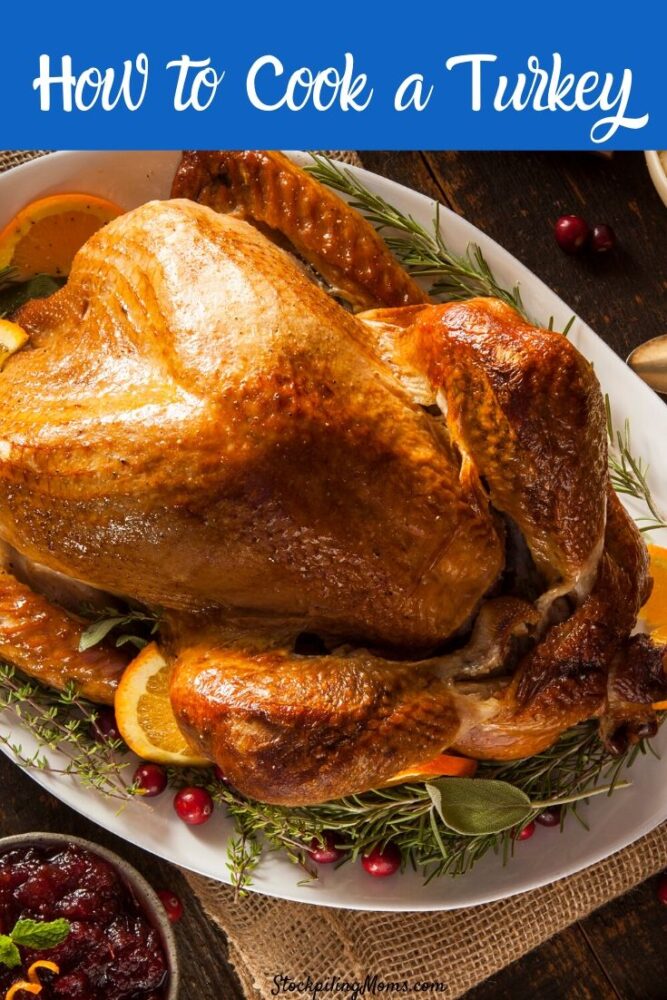 How To Cook a Turkey
If you are here because you are preparing for Thanksgiving – make sure to check out all of my Turkey Day tips! You may need to start with my tips for how to thaw a turkey for Thanksgiving first. If you've never cooked a turkey, then you may also need my tips for how to pick the right sized turkey for Thanksgiving dinner. Scroll down and check out my best recipes once you read all the tips for making the best turkey!
Grab my 30 Days of Thanks printable to help you keep your focus during the holiday, and make sure to share with your friends and family around the dinner table.
Traditional Roasted Turkey
Most families, for Thanksgiving, have traditionally roasted their turkey in the oven. While this is the most popular way to cook a turkey, if not done correctly, you'll be left with flavorless dry meat as an end result. To make sure you don't overcook your Thanksgiving meal, consider these Turkey Roasting times. You also need to be sure to have a great recipe for roasted turkey on hand.
Roasting Oven
My personal favorite is to cook your turkey into a roasting oven. Trust me on this!
Deep Fry a Turkey
Deep-fried turkey has really taken off as a great way for cooking a crispy and wonderful-flavored turkey. Having experience with deep-frying meats is necessary to not mess this one up You'll need to be extra careful with this method, and be sure to deep fry it outside. Follow this chart for the correct amount of oil for deep frying a turkey.
Check out my Frugal Thanksgiving Dinner Tips to help keep your budget on track this year for holiday meals. If you have extra after the holidays, check out my tips for freezing leftover turkey.
Crockpot Turkey
First off, don't try cooking a whole bird in a crockpot. You might run into difficulty cramming it in the pot. Use parts of the turkey, next to vegetables and stuffing, while cooked on low. Just be sure to have a thermometer to make sure the turkey is all the way done.
Make sure to check out my recipe for 2-Ingredient Slow Cooker Turkey Breast if this is the way you go for Thanksgiving!
Brine Turkey
Brining the turkey is another great way of adding more flavors and keeping juices during the cooking process. It also helps the meat to be extra tender. Check out these turkey brining recipes, or you can buy a brine kit at your local grocery store. Be sure to keep your turkey cool while brining.
Use your leftovers to make these creamy slow cooker turkey and dumplings after Thanksgiving.
Smoke a Turkey
Smoking a turkey is a delicious way to cook and enjoy Thanksgiving dinner. It's slowly cooked to keep in all the juices and flavorings. We advise you to be an expert pitmaster and have tried this before, instead of trying a new cooking method on Thanksgiving morning.
Grill a Turkey
Yes, you can grill a tasty turkey too. Grilling is not just for backyard BBQ in the summer. It doesn't matter if there's snow on the ground, you can grill anytime. Be sure to keep the grill at a constant low temperature. Check out the greatest grilled turkey recipe on the planet.
These are a few ways of cooking a turkey. Which ways are you considering cooking your Thanksgiving meal this year?
My Best Thanksgiving Recipes
Melissa is a football and soccer mom who has been married to her best friend for 24 years. She loves sharing recipes, travel reviews and tips that focus on helping busy families make memories.