Homemade Shower-Bathtub Cleaner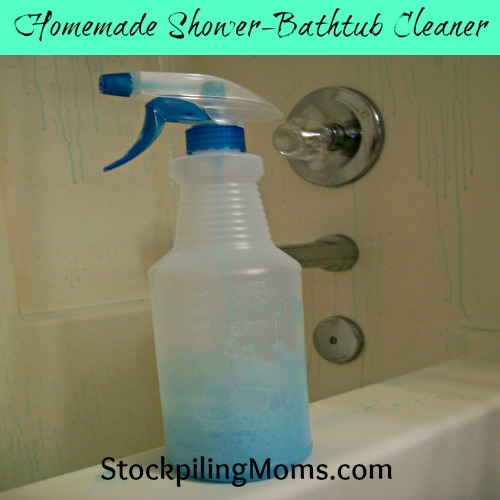 Check out this Homemade Shower-Bathtub Cleaner. You only need 2 ingredients to make this simple cleaner – Dawn dish soap and vinegar. I have plenty of Dawn dish soap in my stockpile so I decided to try it. If you don't have this brand of dish soap feel free to try another brand but I do find that this one works well. I think it is the de-greasing agent.
Homemade Shower-Bathtub Cleaner
To make this all you have to do is microwave 1/2 cup of vinegar for 90 seconds. Pour into spray bottle. Add 1/2 cup Dawn dish soap and mix together. You heat the vinegar so that it mixes easily with the dawn and becomes more effective for cleaning. Next you simply spray your entire tub and shower and let it sit for an hour. Then wipe with a damp cloth and rinse well. (I had to scrub some spots with a little elbow grease to get them completely clean). I like how I can use common household ingredients to make this cleaner! It is nice to be able to use this instead of expensive store bought cleaners.
The smell of the cleaner is not bad because the smell of Dawn comes through more than the vinegar. I found that the dawn really helps cut the grime from the tub. Some say that they don't heat the vinegar before mixing and it still works for them. I tried it both ways and it was more effective for me to heat it. I only heated it the first time I mixed it up and not before each use. Simply purchase an inexpensive spray bottle and mix this up and give it a try!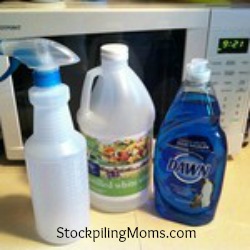 Here is a sample of my before and after shower when I used it to clean. As you can see it is really sparkling! I love how clean it made the shower and cut the grime too! With my boys who play outside and in sports there is always a ring around the tub or shower. I hope this tip comes in handy. If you are looking for an alternative cleanser when you run out of the store bought version be sure to give this one a try. If you have some Dawn in your cabinet you having nothing to lose. I am glad I gave this homemade shower-bathtub cleanser a try!
Non Toxic Cleaners:
Melissa is a football and soccer mom who has been married to her best friend for 24 years. She loves sharing recipes, travel reviews and tips that focus on helping busy families make memories.