DIY Powder Laundry Detergent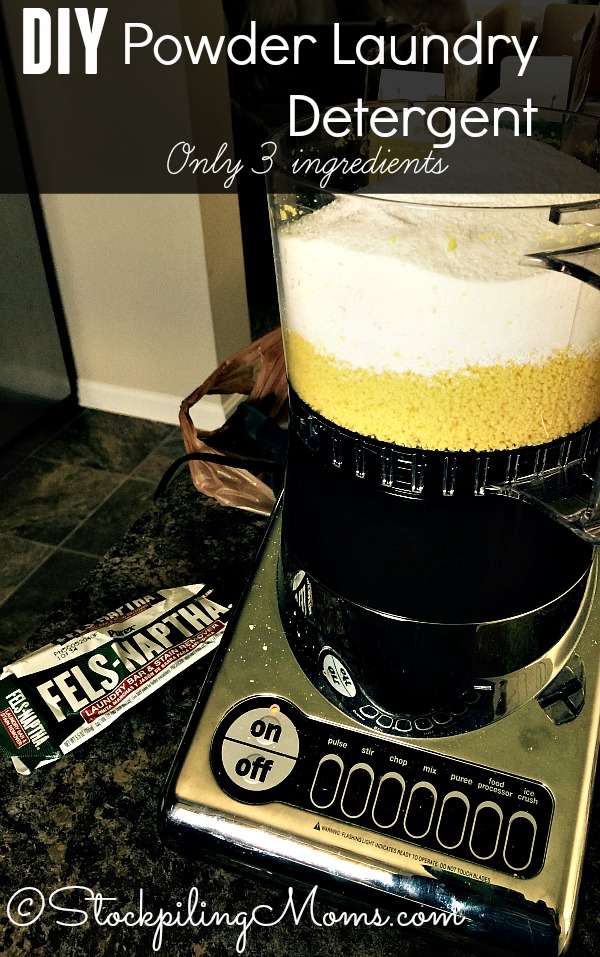 Here is a very simple DIY Powder Laundry Detergent recipe requiring only 3 ingredients plus essential oils. With this recipe you can omit the oils too if you like, but I did add some to make the detergent even better. I love making this powder detergent to help save my family money, but also because I feel like it cleans the clothes better.
DIY Powder Laundry Detergent:
My youngest son also has many allergies and some store bought detergents cause him to break out in hives. With this DIY Powder Laundry Detergent is contains natural products that has been around for years. This recipe makes 80 loads, but for my family it makes a little more because we have a water softner and do not need to use as much. Adding a water softener to your home can help save money as well because you will use less soap, shampoo and dish cleaner.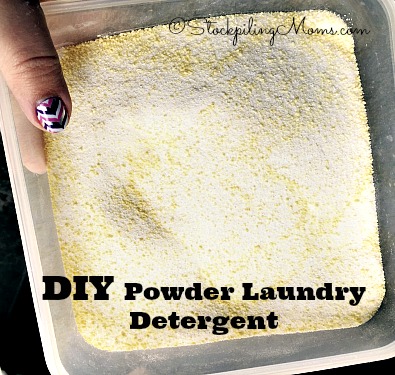 DIY Powder Laundry Detergent
You will need a food processor or blender, Fels Naptha Bar, Borax and Arm & Hammer Washing Soda which you can find all of these items in the laundry aisle at your local grocery store. Plus essential oils – Lavender if you are adding it.
Start by grating the Fels Naptha bar and adding to the food processor. Next add in 1 cup Borax and mix. Next add 1 cup Washing Soda and mix. Now add in another cup of Borax and mix. Finish with adding another cup of Washing Soda and mixing well. I add everything a little at a time to make sure it gets evenly distributed.
If adding essential oils – put 5-6 drops of Lavender and mix well. It will make a very fine powder. Add to a container and use 1 Tbsp for a light load and 2 Tbsp for a heavy load. I like to mix my detergent to a very fine powder to make it easier to dissolve in cold water.
***When buying the ingredients keep in mind that the box of Borax and Arm & Hammer Washing Soda will make several recipes. So the next few times you remake this you only have to buy the Fels Naptha Bar which at my store only costs $1.29.
More Household Tips
How to Remove Urine from a Mattress
How to clean your drain naturally
How to make a Mini Greenhouse with an Egglands Best Carton
How to make your own dryer sheets
How to make homemade detergent and dryer sheets
How to remove laundry stains with lemon essential oil
How to remove sour smell from wet clothes
How to remove mud from clothing
Shelley is a boy mom, marine wife, and is blessed with an amazing family. She loves sharing recipes, travel reviews and tips that focus on helping busy families make memories.