Guide to Beginner Kayaking
If you are trying to find family-friendly outdoor activities to do, kayaking is a favorite. This guide to beginner kayaking is ideal to get you started on your way to learning how to make the most of your time in the sun. Get out on local rivers and creeks to paddle around to enjoy the beauty of nature while getting a bit of exercise.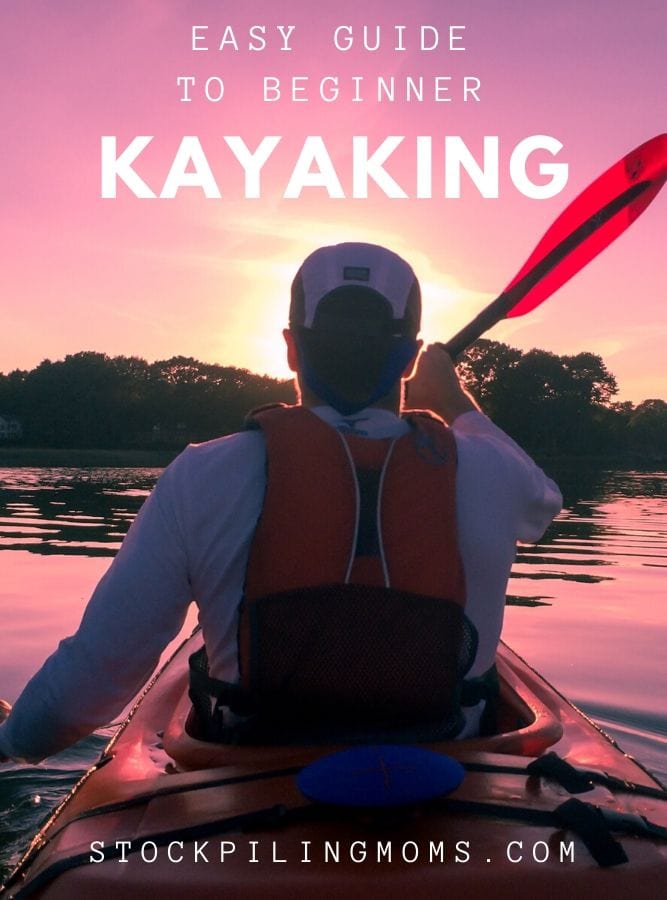 Guide to Beginner Kayaking
Kayaking is a great way to get out on the water and take in nature. It doesn't matter if you want to do it as a family or with a group of friends, there are so many opportunities to get out and enjoy yourself. Before you can get out on the water there are a few things you need to do first.
One of the first things you will want to do is try to figure out which type of kayak you would like to use.
Single
Sit on top Kayak
Sit on top kayaks are usually what I recommend for all kayaking beginners. These kayaks are really easy to get in and out of and are also known for being pretty stable on the water. Sit on top of kayaks are also great if the water is warm and you want to swim as well.
The down side to sit on top kayaks is that you can get pretty wet while using these. Not such a problem if the water is warm but if the water is cold it can be uncomfortable.
Sit in Kayak
Sit in kayaks may feel a bit more confining as the rider sits in a compartment inside the kayak with their feet extended into the hull of the kayak. This type of kayak isn't as easy to get in and out of but with a little practice it's not too bad. Sit in kayaks are definitely more comfortable when you plan to be out on the water for many hours at a time or if you plan to go a long distance. As far as getting wet, you still have a chance to get wet sitting in the sit in kayaks. Using a 'spray skirt' can help to minimize that by closing off a bit of the opening.
Tandem Kayak
Tandem kayaks are perfect if you or your kayaking partner may not have the necessary strength it takes to paddle a kayak. It does have a bit of a learning curve when it comes to paddling in unison but once you get the hang of it it's not too bad.
What's Next
Once you pick out the kayak you feel fits your strengths, you need to start working on the next steps before you head out to use that kayak. These tips for preparing yourself to have the safest and best experience.
What to Wear
It is very important that when you are kayaking you dress for the water temperature and not the weather. This way you can still be safely dressed if you happen to fall in.
Safety
Safety Practices
Since you are just starting out you probably aren't going to be hitting any white waters but, it is still important to know what to do if your kayak does flip as all bodies of water have a current in them. Learning the Rapids Safety Practices can help keep you safe no matter where you are kayaking.
Know the Area
Before you jump into the kayak and take off it is important to take a look at a map of the area you will be especially if it is a new area for you. I also suggest taking a laminated copy of the map with you in your dry bag in case you get turned around.
Weather
Make sure to start watching the weather a day or two before you plan to go out on the water. Light sprinkles aren't a big deal while you are out but, a downpour will most likely fill your kayak with water.
Another important thing to pay attention to is that if it downpours a day or two before you want to go out the waters may be a bit more harsh.
Tips
Storage
Any items you choose to bring with you on your kayaking trip can easily become waterlogged. I highly suggest investing in a decent air tight sealed container at the very least for your phone. If you are bringing more than just your phone with you I suggest getting a dry bag so that all of your belongings will stay dry during your trip.
Tape
Don't leave home without duct tape. Duct tape can be used for many things so having some on hand can be very helpful. You can tape your dry bag down so it doesn't roll around, tape up your paddle if it breaks, stabilize an injury and even temporarily fix your kayak so you can get back to your car.
Now that you have learned the safety rules, figured out which type of kayak you need, get your belongings ready for your trip, and checked the weather you are ready. Watch for my next post to get you out on the water.
More Summer Family Fun
Melissa is a football and soccer mom who has been married to her best friend for 24 years. She loves sharing recipes, travel reviews and tips that focus on helping busy families make memories.